September in Arizona is a significant time of year for residents of the Phoenix metropolitan area. The holidays are approaching, school is back in session, and, most importantly, for the first time in nearly four months, the average high temperatures have dropped into the lower 90s.
For the Arizona Coyotes organization, September takes on a different significance — it signifies the end of 'arena season,' and the start of another year of NHL hockey. The preseason is well underway in the Valley of the Sun, and, after multiple offseason changes, the Coyotes appear to be a vastly different team. With that, let's take a look at the completely revamped group of forwards that will help to usher in a new era of Coyotes hockey in Glendale this season:
Arrivals
C Derek Stepan (acquired from NYR)
C Nick Cousins (acquired from PHI)
Departures
RW Shane Doan (retired)
RW Radim Vrbata (signed with FLA)
RW Josh Jooris (signed with CAR)
RW Jamie McGinn (traded to FLA)
C Alexander Burmistrov (signed with VAN)
C Peter Holland (signed with MTL)
LW Teemu Pulkkinen (selected by VGK in expansion draft)
Line Projections
Max Domi – Derek Stepan – Anthony Duclair
Lawson Crouse – Christian Dvorak – Clayton Keller
Brendan Perlini – Dylan Strome – Christian Fischer
Jordan Martinook – Brad Richardson – Tobias Rieder
Extras: Nick Cousins and Emerson Etem
From the Big Apple to the Desert
While Shane Doan's retirement was the most talked-about story of the offseason in Arizona, the acquisition of Derek Stepan from the New York Rangers was the story that generated the most excitement around the Valley. On June 23, Stepan and goaltender Antti Raanta were acquired from the Rangers in exchange for defenseman Anthony DeAngelo and Arizona's seventh overall selection in this summer's draft.
With the trade, the Coyotes shored up two team needs — Stepan will fill the void at center left by the departure of Martin Hanzal, who was traded to Minnesota at the deadline on Feb. 26, while Raanta will become Arizona's new starting goaltender after Mike Smith was shipped off to Calgary on June 17.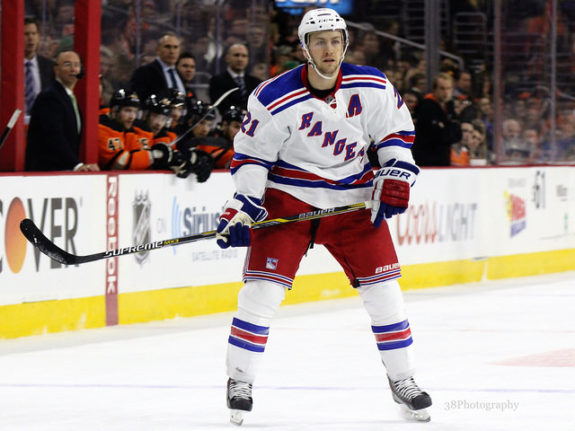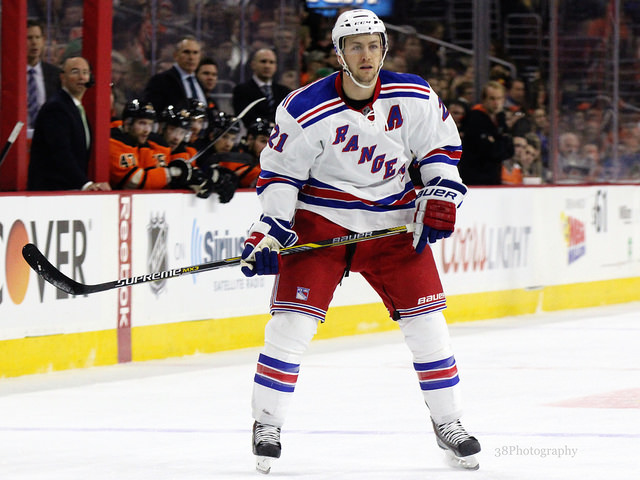 Stepan, who turned 27 over the offseason, will be with the Coyotes for the long-term, as he has four years remaining on his contract that pays him $6.5 million annually. He's put up at least 53 points in each of the last four seasons in New York, and will presumably serve as Arizona's number-one center for the foreseeable future.
Stepan's presence also bolsters Arizona's depth at the center position – the Coyotes have lacked a franchise centerman for most of their existence, and Stepan could potentially become the impact player that the team has been searching for since Jeremy Roenick and Keith Tkachuk left town following the 2000-01 season.
'Duclomi' Reunion?
Although the acquisition of Stepan will expedite Arizona's rebuild significantly, he'll still need some solid linemates to play with in order to shine in the desert. Could the dynamic duo of Max Domi and Anthony Duclair step in and play on Arizona's first line alongside Stepan?
For Domi, it's extremely likely that he'll be playing on Arizona's first line this season no matter the circumstance. He finished third on the Coyotes in scoring last year despite missing nearly two months with a broken hand and has clearly cemented himself as one of the team's better offensive players despite having played just two seasons in the NHL.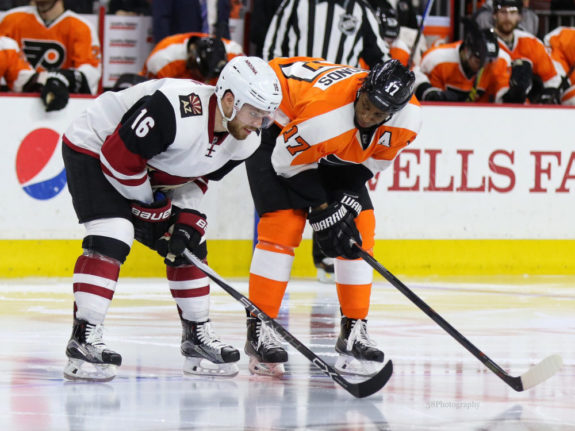 For Duclair, the future is a little less clear — although he scored 20 goals as a rookie in 2015-16, he took a major step backward last season. 'The Duke' tickled the twine just three times through the first 41 games of the 2016-17 campaign and was demoted to the AHL on Jan. 19 as a result. He was recalled from Tucson on March 1 but did not fare much better in his second stint with the Coyotes, as he finished the season with just five goals and 10 assists in 58 games.
However, despite his rough 2016-17 season, it appears as if new head coach Rick Tocchet will give Duclair every chance to succeed. The third-year pro has been spotted skating with Domi and Stepan on Arizona's top line during training camp, suggesting that he'll receive a chance to redeem himself on the ice this season.
Forward lines: Domi-Stepan-Duclair/Crouse-Dvorak-Keller/Martinook-Richardson-Rieder/Perlini-Strome-Fischer.

— Sarah McLellan (@sarah__mclellan) September 18, 2017
Tocchet has stated that every player will start training camp with a clean slate, and Duclair may be the biggest beneficiary of this train of thought. His 2016-17 campaign was, most decidedly, a season he'd like to forget, and it appears as if Tocchet will give him the opportunity to move on quickly.
The Kids Are All Right
As has been the case for each the last few seasons, multiple rookies will once again be playing major roles on this year's Coyotes squad.
Strome Set for Breakthrough Season?
We'll start with 2014 third-overall selection Dylan Strome. The 20-year-old centerman made his NHL debut last season, but it was clear that he wasn't quite ready to play in the league, and he was optioned back to the Erie Otters of the OHL after recording just a single point in seven games with the Coyotes.
Upon his return to Erie, Strome wasted no time in resuming his dominance over the OHL – he finished the regular season with 75 points in 35 contests and led all OHL players in points per game with 2.14. Strome also represented Canada at the 2017 World Junior Championship, where he picked up 10 points in seven games and captained his country to a silver medal.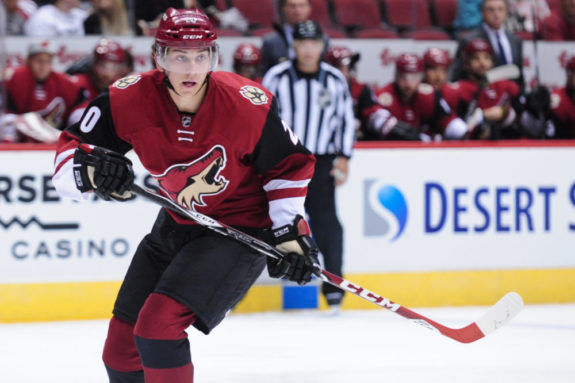 Now, as he takes part in his third NHL training camp, Strome appears ready to break through and become the dynamic NHL center the Coyotes thought he could be when they selected him ahead of Mitch Marner and Noah Hanifin in 2015. Strome put in significant work over the offseason with Dawn Braid, Arizona's skating coach, and has built up some additional muscle onto his big 6'3″ frame as well.
With a new coach to work under and another solid offseason of training behind him, Strome will undoubtedly be given the opportunity to succeed by Arizona's coaching staff. Could this be the year that Strome separates himself from his peers?
Keller for Calder?
Another former first-round pick who will be joining Strome in Arizona this season is Clayton Keller. The 5'10" Keller, who was selected seventh overall in 2016, tore up the NCAA last year at Boston University, as he picked up 45 points in just 31 contests as a Terrier. Like Strome, Keller also participated in the 2017 World Juniors, where he racked up 11 points in seven tournament games and won a gold medal as a member of Team USA.
Although Keller wasn't expected to make his Coyotes debut until 2017-18, his season at BU ended with exactly two weeks remaining in the 2016-17 NHL season, enabling the Coyotes and general manager John Chayka to get an early look at their prized prospect. Keller, who has drawn comparisons to Chicago Blackhawks forward Patrick Kane, signed his entry-level contract on March 26 and made his NHL debut the next day against the Blues in his hometown of St. Louis. Although he failed to record a point that night, the then-18-year-old Keller did not look out of place against NHL competition and further proved himself by picking up assists in his final two games of the season.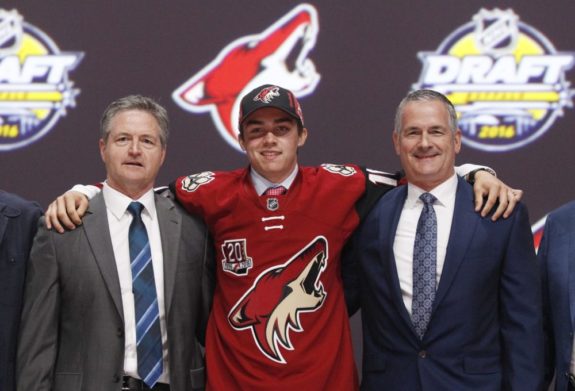 Keller further solidified his hold on an NHL roster spot this summer with his performance at the 2017 IIHF World Championship in Europe, where he scored five goals and added two helpers in eight games of tournament play against some of the world's top professionals. Although drafted as a center, it appears as if Keller will play on the wing in Arizona this season, as the Coyotes already have Stepan, Strome, and Christian Dvorak locked into the top-three center slots.
Despite the position change, Keller has already shown that he'll be dangerous no matter where he plays, as he scored twice and added an assist against the Anaheim Ducks on Sept. 20 while playing right wing in Arizona's preseason opener. Look for the 19-year-old to make a ton of noise as a rookie in 2017-18.
Overall, the Coyotes project to have a vastly improved forward group from a year ago. Numerous personnel changes over the offseason and the arrival of another group of rookies have brought more skill into the lineup, while the arrival of Tocchet should help usher in a new style of play that will bring more offense to the table. Will the myriad of changes be enough to get the Coyotes over the top and into the playoffs for the first time since the 2011-12 season? The odds might be stacked against them, but don't count the Coyotes out just yet.
A lifelong Phoenix resident, Louis has been following hockey since 2010, has covered the Arizona Coyotes since 2015, and has been playing hockey since 2020. So far, Louis has visited eight NHL cities, and one of his personal goals is to eventually make it to all 31 NHL arenas. For any questions or concerns, contact the writer via Twitter @LouisPannone.