Training camp is already about halfway over. After their game against the Chicago Blackhawks, the Columbus Blue Jackets will have played four of their eight preseason games.
Despite the team's 0-2-1 record, the Blue Jackets have had some things to smile about. Who has stood out? Which players find themselves in place to secure a precious roster spot? In our estimation, these three players have stood out the most.
Pierre-Luc Dubois
Dubois came into this training camp with a prime opportunity to make this roster given the holes on the bottom-six. Not only has Dubois impressed, he's starting to show flashes of his value.
Many expected Dubois to replace William Karlsson as the team's third-line center. That could still happen. But in Friday night's game against the Penguins, Dubois played the wing. The result?
He scored two goals while showing glimpses of the kind of player he might become. Unless he completely falls apart in the last half of camp, it's pretty safe to say that Dubois will make this roster. I'm not sure how safe it is yet to declare him a full-time center.
.@18Dubois talks about his two-goal night.#CBJ pic.twitter.com/nXxCLzBymy

— Columbus Blue Jackets (@BlueJacketsNHL) September 23, 2017
Thanks to an emphasis on playing center last season in junior, Dubois now can play all three forward positions. Although he still has things to prove at the next level, having someone who can play anywhere in your lineup is a nice asset to have.
Given the cloudiness of Josh Anderson's situation, Dubois' role might take on greater importance. The Blue Jackets could start him at center or start him on the wing, perhaps even in Anderson's normal spot.
The Blue Jackets needed a motivated and confident Dubois. To this point, they got him. Now the question is where does he fit on opening night?
Sonny Milano
Many fans wondered when Milano would make an impact. He's been arguably the best player in camp to this point of those fighting for a roster spot.
Milano collected three primary assists in his two appearances. What has stood out is his skating and vision. He's always had the offensive side of the game working for him. Now he brings a two-way game that could land him a roster spot.
He's making plays and making better decisions away from the puck. Milano recently told me that this was the camp he wouldn't let pass by him. He spent the summer working one-on-one's with a coach to improve his shot. He focused on an improved training regimen. The result is a player who knows the system and is ready to contribute on the Blue Jackets.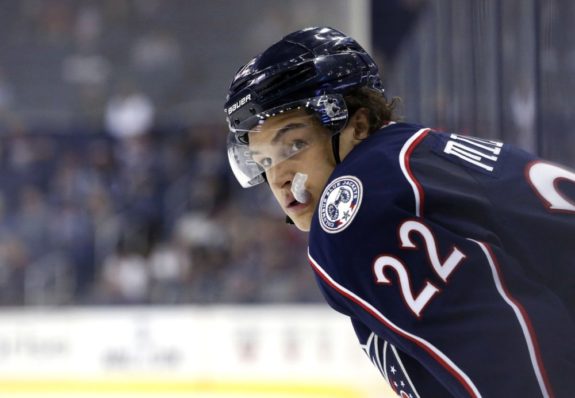 Zac Dalpe
With so many depth centers on the roster, somebody was bound to step up. That somebody is Dalpe thanks to his two-goal performance in St. Louis.
The Blue Jackets claimed Dalpe off waivers from the Minnesota Wild last season. He reported to Cleveland and gave the Monsters a jolt of offense that got them to the cusp of the playoffs.
The fourth-line center position could come down to how Dubois slots in the lineup. If Dubois finds himself on the wing say in Anderson's spot, it's not out of the question to see Lukas Sedlak center the third line and a player like Dalpe center the fourth line.
Thanks to injury and unexpected opportunity, Dalpe finds himself in group one at camp. The Blue Jackets split their roster into two groups. One group is for NHLers or those close to it. The other group is for AHLers or leaning that way. Dalpe remains in group one as of this writing. That could change daily, but it gives you a sense of what the team has thought of his play to this point.
The Anderson situation is the wild card. If he signs and gets to camp, he could earn his spot back, although coach John Tortorella has said that's not guaranteed. Thanks to Anderson's absence, players like Dubois, Milano and Dalpe find themselves primed to crack this roster.
Can someone overtake these players in the last four games? That's what we'll primarily watch for in these games.
I am a fully credentialed writer who covers the Columbus Blue Jackets, Cleveland Monsters and Erie Otters as well as the Ontario Hockey League and NHL Draft. The 2021-22 season will mark eight seasons with the Hockey Writers. I am also the site's Credentials Manager.