For the last few seasons, the Arizona Coyotes have been touted as having one of the deepest and most talented prospect pools in the NHL. Indeed, years of solid scouting and drafting by former general manager Don Maloney and current GM John Chayka have allowed the team to build up an impressive group of young talent that most NHL GMs would be happy to have. However, there eventually will come a time when simply boasting a solid group of prospects isn't enough – eventually, a team must successfully develop its prospects into solid NHL players in order for its "rebuild" to be considered a success.
For the Coyotes, that time appears to be now. Many of the team's highly-ranked prospects have graduated from junior hockey, and, as a result, there's a good chance that more half of the team will be under the age of 25 on opening night in October. Let's take a look at the four players who could make the biggest difference as rookies for the Coyotes during the 2017-18 season.
Clayton Keller
We'll start with last year's seventh overall selection – Clayton Keller. Keller turned pro near the end of the 2016-17 season after a successful freshman campaign at Boston University and immediately found success at the NHL level. He failed to record a point in his first career NHL game in his hometown of St. Louis on Mar. 27, but he registered an assist in each of his next two contests to finish the season with two points in three games.
After getting his feet wet at the NHL level, Keller earned a spot on Team USA at the 2017 IIHF World Championships and proved to everyone around the world that he's worthy of the hype that he's received since he was drafted. He scored five goals and added two assists in eight games for Team USA at the tournament and finished tied for fourth in scoring among all American skaters despite his relative lack of professional experience.
.@Jack_Eichel11 shoots, @ClaytonKeller37 puts home the rebound! 🚨#TeamUSA and Sweden tied, 1-1, eight minutes into the 1st. #2017MWC pic.twitter.com/z0klYwmKHp

— USA Hockey (@usahockey) May 8, 2017
After a solid showing during Arizona's prospect camp from June 26-30, Keller looks to be ready to make an impact at the NHL level during the 2017-18 season. He possesses an outstanding mix of speed and skill and could be a contender for the Calder Memorial Trophy in 2017-18 as he embarks upon his first full season as a professional.
Dylan Strome
It wouldn't be a stretch to say that the NHL career of Dylan Strome has, so far, been a disappointment when compared to the players he was drafted alongside in 2015. The third overall selection in that year's Entry Draft, Strome was drafted just behind Connor McDavid and Jack Eichel and just ahead of Mitch Marner and Noah Hanifin.
It's likely that even the casual hockey observer would look at this group of five players and determine that one of them is not like the others. Four made major contributions at the NHL level during the 2016-17 season (McDavid even won the Hart Trophy as the league's Most Valuable Player), while Strome played just seven games with the Coyotes, recording a single assist and a minus-five rating, before being optioned back to the Erie Otters of the OHL.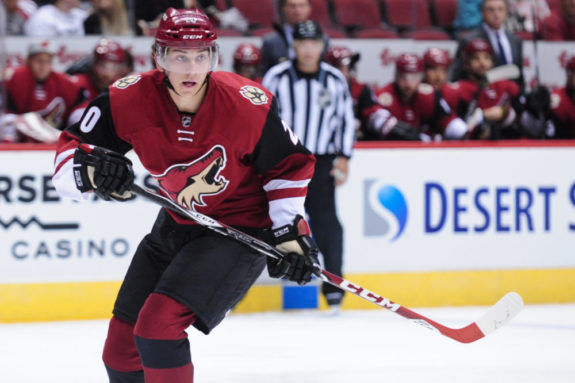 However, despite his professional struggles thus far, Strome still possesses outstanding potential – he was far and away the best player in junior hockey last season and will enter his third NHL training camp a year older and a year stronger. Strome was also solid during Arizona's prospect camp in June, and, at times, was the best player on the ice. With a new coach to learn under, could 2017-18 be the year that Strome breaks out and becomes the impact centerman that he undoubtedly has the potential to become?
Kyle Wood
Our first (and only) non-forward on this list, 6'5″ defenseman Kyle Wood made his professional debut during the 2016-17 season with the Tucson Roadrunners of the AHL and immediately had success, as he tickled the twine 14 times and added 29 helpers while playing all 68 games. He finished tied for third in scoring among all Tucson players and was named as an AHL All-Star for his efforts.
In addition to his size and solid offensive abilities, the fact that Wood is right-handed also will work in his favor as he attempts to land an NHL job in 2017-18. Last month's trades of Connor Murphy and Tony DeAngelo have left the cupboard bare in Arizona when it comes to right-handed defensemen, as only Luke Schenn returns in that role from last year's squad.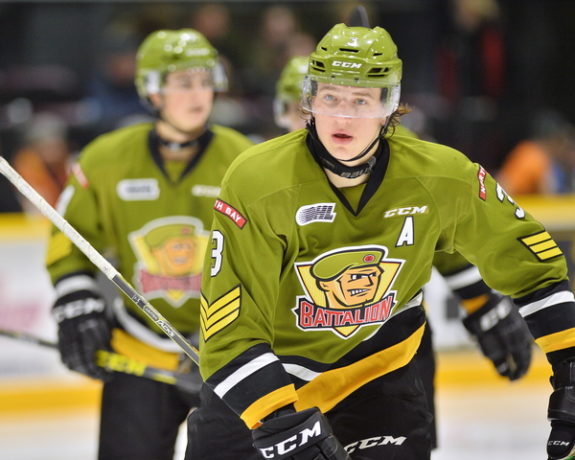 Adam Clendening was brought in earlier this month in an effort to help fill the gap left by Murphy and DeAngelo on the right side, but he's never played more than 31 games in any of his four seasons and it remains to be seen if he's capable of being an everyday NHL player. Although he's left-handed, new acquisition Niklas Hjalmarsson is also capable of playing on the right side, and likely will play on Arizona's top pairing alongside fellow Swede and new team captain Oliver Ekman-Larsson.
Schenn figures to fit in on Arizona's second pairing with Alex Goligoski, and it's likely that the spot alongside Jakob Chychrun on the third pairing will go to either Clendening or Wood. If Clendening falters during training camp, keep an eye on Wood – he could easily play his way onto the roster with a solid preseason performance.
Christian Fischer
Like Strome and Keller, winger Christian Fischer also had a brief audition in the NHL last season, and arguably was the most successful out of the three players during his stint with the Coyotes. In seven NHL games, Fischer managed to light the lamp three times on just 10 shots on goal. Fischer also had success in his full-time role last season with the Tucson Roadrunners – he was named as an AHL All-Star and picked up 47 points in 57 games while leading all Tucson skaters in goals with 20.
Christian Fischer finds the net for the first time in the NHL and its 4-1 #Coyotes. Catch the rest of the game: https://t.co/qERhgwH2ZF pic.twitter.com/DkU7rBxT30

— FOX Sports Arizona (@FOXSPORTSAZ) January 22, 2017
As a natural right winger, it's extremely likely that Fischer already has a spot locked up on Arizona's opening night roster, as the offseason departures of Shane Doan and Radim Vrbata have left a big void to fill on the right side. Fischer possesses not only the skill required to be a top-six right winger, but, at 6'2″, 210 lbs, he also possesses the size to be a physical force in all three zones. Look for him to contribute as a rookie next season in Glendale.
The upcoming season has the potential to be an interesting one in Arizona – will the team get back into the playoffs for the first time since their run to the 2012 Western Conference Final? Or will they falter and enter next summer with a six-year playoff drought? The performances of young players such as Strome, Keller, Wood, and Fischer likely will be the determining factor. If they're able to make big contributions (à la Max Domi, Anthony Duclair, and Louis Domingue during the 2015-16 season), then the Coyotes could make some noise in the Pacific Division. If not, it could be another long year in the Valley of the Sun.
A lifelong Phoenix resident, Louis has been following hockey since 2010, has covered the Arizona Coyotes since 2015, and has been playing hockey since 2020. So far, Louis has visited eight NHL cities, and one of his personal goals is to eventually make it to all 31 NHL arenas. For any questions or concerns, contact the writer via Twitter @LouisPannone.