The Calgary Flames have signed veteran forward Jaromir Jagr to a one-year contract worth $1 million in base salary with the potential to earn another $1 million in incentives over the course of the deal, Elliotte Friedman, Bob McKenzie and Pierre LeBrun reported Monday. The team has yet to confirm.
https://twitter.com/FriedgeHNIC/status/914869141416398850
After months of waiting for a contract, the NHL's second-highest scorer in history is finally set to join his ninth NHL team. The talks between Jagr and the Flames were originally reported to be serious Sunday and things quickly took off as Jagr is now a member of the up-start Flames who are hoping they can instill some veteran leadership in Jagr to help with the plethora of youth currently occupying the lineup.
As mentioned by John Shannon of Sportsnet, Jagr will likely be expected to play third-line minutes on the Flames. Getting depth scoring from someone with the pedigree of Jagr, who has scored 765 goals and 1,914 points in 1,711 games in the NHL (as well as 78 goals and 201 points in 208 postseason contests) should be a win-win for the Flames and the Kladno, Czech Republic-native who simply wanted to play hockey (as evidenced by his $1 million deal) for another season after continuing to find success after so many years in the league.
At 45 years old, it's clear that Jagr is on the back-nine of his career. Don't tell him that, though, as he scored 27 goals and 66 points in 79 games just two seasons ago before scoring 16 goals and 46 points in 82 games last season.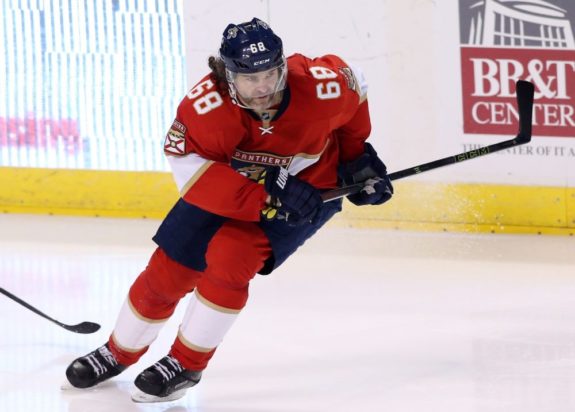 Despite his age, Jagr has still been a very productive forward who can last the physical grind of an NHL season. Jagr has also proven to work well with younger players in the past, most recently playing a major role with the Florida Panthers and their youthful lineup.
Jagr's Long Offseason & Future in Calgary
Throughout the course of the offseason, Jagr was making light of the situation he was in – a veteran looking for a contract and maintaining hope despite the clock ticking towards the start of a new season. While waiting for contract negotiations to take place, Jagr took to his own personal Twitter page to poke fun at his own expense. And then he did it again. And again. Jagr even decided against playing in the Czech Republic over the weekend due to interest from three NHL teams.
It became a central talking point for the hockey community. While it was funny, it was also curious that Jagr wasn't even approached by a single NHL team with serious interest. It's clear that Jagr is a step slower than he once was, but his production is still unquestioned.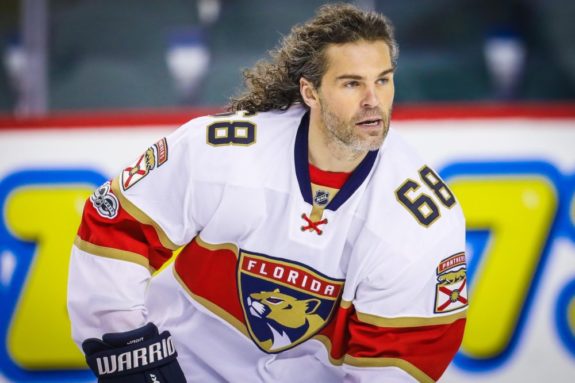 Set to join the Flames, Jagr will likely be skating alongside fourth-overall draft pick from the 2014 NHL Entry Draft, Sam Bennett. It could be a good opportunity for the former lottery pick to potentially breakout with the Flames – something the team has been waiting for since drafting the center out of Kingston of the OHL.
The Flames managed to return to the postseason in 2017 but were promptly swept by the Anaheim Ducks, quickly ending that journey. With some changes in the offseason, including the acquisitions of Travis Hamonic and Mike Smith, the Flames are hoping their next postseason venture can be more successful.
It'll certainly be interesting to see how Jagr performs at 45 years old as nobody has ever beaten father time. Still, if anyone has given father time a run for their money, Jagr is definitely the athlete to do so. It's a safe deal for the Flames who are getting one of the best to ever lace up a pair of skates on a deal that hardly affects their cap situation.