In the world of ice hockey, success often comes as a product of building a team correctly by creating a plan and sticking to it. In recent years, several management groups have espoused the philosophy of building up the middle by acquiring and developing centers and hoping they can develop some depth. The Calgary Flames are one of the clubs who have stuck to this plan over the past several years and recently it's begun to bear fruit. The key to the team's success in pivot development has arguably been accumulating a ton of centers and showing organizational patience with their development.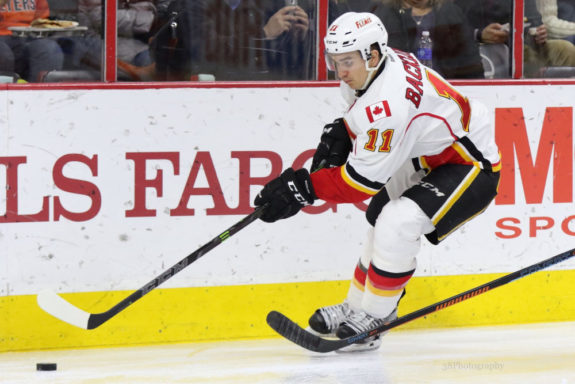 Asset Accumulation
The Flames have drafted at least one center in every NHL Draft since 2011. Of the 10 pivots selected by the club during that period, five of them were selected in the first two rounds of their respective drafts: Markus Granlund (2011), Mark Jankowski (2012), Sean Monahan (2013), Sam Bennett (2014) and Dillon Dube (2016). The Flames went a bit nuts in 2016, using several picks they had previously acquired to select four centers at the entire event – making up for skipping 2015 in terms of picking a pivot early.
The drafted centers have been added to a crop that general manager Brad Treliving inherited from his predecessors – Mikael Backlund from the 2007 Draft and Matt Stajan from a 2010 trade with Toronto – and accentuated by a couple trades that brought Freddie Hamilton and Curtis Lazar to town. Throughout his tenure, Treliving's moves have effectively spelled out a phrase in neon lights over downtown Calgary: you need good centers to be successful in the NHL.
The Flames' strategy to find good centers has been to accumulate a lot of them and hope some turn out.
Showing Patience
Asset accumulation is fine and dandy, but the tough part is showing patience with the assets that have been accumulated. A glance around the Flames professional center depth shows a mixture of players that were good right away and players that needed a patient approach to develop properly. The five most likely players to get regular time at center for the Flames in 2017-18 all, oddly enough, come from quite diverse development paths.
Backlund, Calgary's 2007 first round pick, was originally a defense-first complementary center before emerging as a shutdown specialist after the 2012 lockout and then finding his scoring touch beginning in 2014. He was the crux of one of the NHL's top two-way lines with Michael Frolik and Matthew Tkachuk in 2016-17.
Stajan was originally acquired from Toronto in a mega-deal that sent Dion Phaneuf to the Maple Leafs – widely considered one of the worst deals in Flames history. Stajan was used as a top-six center for a few seasons but eventually settled into a bottom-six role as a defensive specialist and valuable mentor for the Flames younger centers. He had his best defensive season in six seasons in 2016-17.
Jankowski was the Flames' 2012 first round selection and spent four seasons in the college ranks after being selected out of Quebec high school hockey. He eventually became a pretty good NCAA player, helping Providence College win a national championship. He went pro in 2016-17 and was runner-up for the American Hockey League's rookie of the year award. He's expected to challenge for an NHL job.
Monahan was the Flames' 2013 first round selection – the first of three they had that year – and immediately made the jump to full-time NHL duty, operating as a perfectly acceptable third line center as a 19-year-old. Originally an offensive player that needed sheltering from tough opponents, he's improved his defensive game immensely during his short NHL career. Based on shot rates in each situation from Natural Stat Trick, 2016-17 was both his best offensive and defensive campaign to date.
Bennett was the Flames' 2014 first round pick and the franchise's top draft selection since moving to Calgary. Originally used as a left wing as a rookie, he was transitioned to center as a sophomore. He hasn't mastered the position yet, but his performance during the 2017 playoffs suggests he may soon find a handle on it.
It's taken awhile, but the Flames finally have four centers well-suited to their NHL duties – and Jankowski could make it five as soon as this season.
Looking Ahead
Depending on what happens in training camp, the 2017-18 season could be the first in decades – possibly in team history – where all four regular centers are Flames-drafted and developed players. Monahan and Bennett are both signed for a few seasons, while Backlund's camp and the Flames are talking about an extension for his current contract (which ends after the 2017-18 campaign). Jankowski seems like a logical candidate to supplant Stajan on the fourth line with a good training camp. The veteran's contract expires following this season and unlike Backlund, there doesn't seem to be a logical place for him within the organization.
Beyond the NHL level, the Flames have Dube, Matthew Phillips, Linus Lindstrom and Adam Ruzicka percolating. None appear close to challenging for a job, but given the Flames seem to have four relatively young players eying the four NHL jobs, the players on the outside of that mix have plenty of time to develop. The past has shown that the Flames are willing to be patient.