With the puck dropping on the preseason today for the Edmonton Oilers — facing off with the rival Calgary Flames in split-squad games, one at each city — the roster appears mostly set for the team calling the Alberta capital home.
As it stands, based on the initial training-camp skates and scrimmage, the Oilers' lineup looks as follows:
Forwards
Patrick Maroon-Connor McDavid-Ryan Strome
Milan Lucic-Leon Draisaitl-Drake Caggiula
Jussi Jokinen-Ryan Nugent-Hopkins-Jesse Puljujarvi
Jujhar Khaira-Mark Letestu-Zack Kassian
Defence
Oscar Klefbom-Adam Larsson
Kris Russell-Matt Benning
Darnell Nurse-Eric Gryba
Goaltenders
Cam Talbot
Laurent Brossoit
Pretty straightforward and, barring injuries throughout the preseason, the odds seem very high of that 20-man group representing the Oilers on opening night — against the Flames in Edmonton on Oct. 4.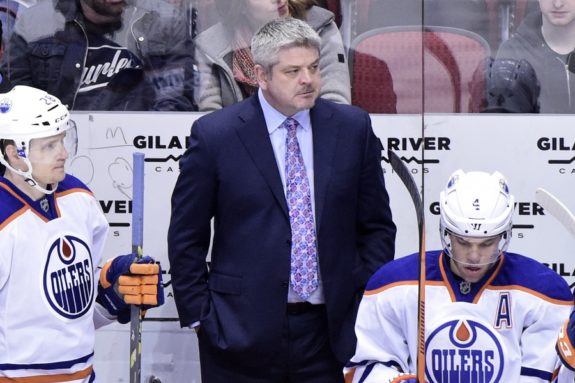 Granted, these exhibition games are all about experimentation and Todd McLellan likes to mix things up — trying out new line combinations and possibly even tweaking the pairings on the back end — but most expect the names to stay the same.
The deck might get shuffled a time or two, but the consensus prior to tonight's puck-drop is that these 20 players are already pencilled in for the regular-season opener.
That said, there's a reason they play September games — beyond developing chemistry and shaking the offseason rust for established lines. The preseason serves many purposes and, above all else, it is an opportunity for new or different faces to make an impression in hopes of stealing a roster spot.
Here are five Oilers' hopefuls with the best chance of cracking the opening-night roster:
1) Yohann Auvitu (LD)
No surprise here, with Auvitu arguably the favourite to claim the vacant No. 7 spot on defence. Andrej Sekera is sidelined — recovering from knee surgery until at least November and possibly February — so there is an opening, an opportunity for someone to at least stay on the roster and serve as an extra body in the press box.
However, Auvitu could force his way into the starting-six with a strong preseason. He's 28 years old — therefore should be in his prime and NHL-ready — and his strengths are somewhat similar to Sekera. Auvitu is an effective, if not flashy puck-mover, an impressive skater and positionally sound. He's not overly physical but works a good stick to separate opponents from the puck.
Oilers blueline could sport unsung free-agent signing Yohann Auvitu https://t.co/wfirKh0mce @NHLbyMatty #NHL pic.twitter.com/lli3Stk2rr

— Edmonton Journal (@EJ_Oilers) September 6, 2017
Auvitu could pair with Russell, who played the right side (his off side) with Sekera on the left last season. That would bump Benning down to a more familiar spot alongside Nurse.
Or, if Auvitu is capable of playing his off side, he could bump Gryba to the press box and slot in next to Nurse.
Or, if Nurse is excelling in the preseason and is ready for top-four minutes — which is entirely possibly, if not probable — then Nurse could move up with Russell shifting to his off side again, while Auvitu pairs with either of the natural righties, Benning or Gryba, at the bottom of the depth chart.
Auvitu in the opening-night lineup is a long-shot — especially if we assume the Oilers want Gryba's physical presence against the Flames — but it's not impossible. Many believe he'll be the No. 7, but Auvitu could work his way up as high as No. 4 over the next couple weeks.
That process starts tonight, where he'll debut in Calgary. The top pairing of Klefbom and Larsson will also be in the lineup there, meaning Auvitu's partner will be one of Ziyat Paigin, Dillon Simpson or Keegan Lowe — all lefties like him.
2) Ty Rattie (RW)
It's been fairly quiet on the Rattie front in training camp thus far, but he's a goal-scorer and if he manages to score tonight against his hometown Flames, that chatter will heat up.
Assuming the Oilers go with 14 forwards — two in the press box — as opposed to eight defencemen for opening night, the likely candidates to round out the roster are Anton Slepyshev, who is recovering from an ankle injury but should be available by Oct. 4, and Iiro Pakarinen. Both are returnees and right-handed wingers, like Rattie, though Slepyshev can play either side.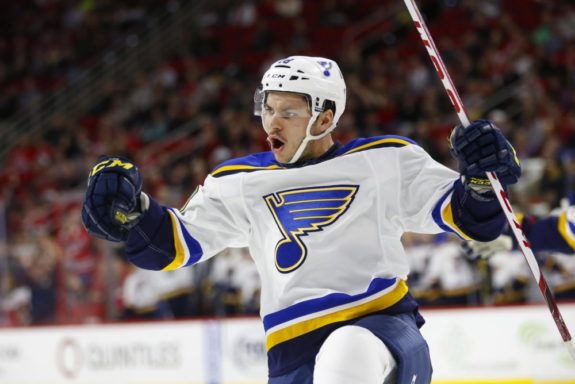 So Rattie, an under-the-radar free-agent signing on July 1, will have his work cut out for him to overtake either of those two in the preseason. Slepyshev being hurt gives Rattie a glimmer of hope, but he still needs to light the lamp in order to stick.
A sniper in junior and once considered a top prospect for St. Louis, Rattie is looking to capitalize on this change of scenery and make the most of his second chance. He'll need to capitalize on his preseason chances — as in, score some goals.
The first chance comes tonight in Calgary, though Rattie's linemates were yet to be determined when this piece was published.
3) Joey LaLeggia (LW/LD)
LaLeggia isn't new to the Oilers' organization — a fifth-round pick for Edmonton in 2012 — but he's playing a new position. A converted forward, making the switch from defence midway through last season with AHL Bakersfield, LaLeggia scored 20 goals for the Condors in flanking either Khaira or Anton Lander on the farm team's top line.
Interestingly enough, LaLeggia has taken a few spins with Nugent-Hopkins and Puljujarvi in training camp and got glowing reviews from McLellan. Even Bob Stauffer, the team's connected colour commentator, took to Twitter to label LaLeggia a sleeper.
Joey Laleggia is with RNH-Puljujarvi today.
Converted D to W.
Can skate, smart and skilled could be late bloomer like Bryan Rust.
Sleeper!

— Bob Stauffer (@Bob_Stauffer) September 16, 2017
Worth noting, LaLeggia and Nugent-Hopkins have long been best friends and were minor hockey teammates while growing up together in Burnaby, B.C. That won't give LaLeggia a leg up on Jokinen or anybody else, but it adds to the intrigue. And McLellan is intrigued enough to keep that trio together tonight — playing LaLeggia with Nugent-Hopkins and Puljujarvi against Calgary in Edmonton. A sleeper, indeed.
4) Mitch Callahan (LW/RW/C)
Accustomed to being an underdog, Callahan is another newcomer looking to show some bite in the preseason.
Capable of playing all three forward positions — the Oilers love their versatile forwards — Callahan is perhaps Khaira's main competition for the role of fourth-line left winger. Slepyshev, once healthy, could be the frontrunner to claim that spot alongside Letestu and Khaira. Chris Kelly, in camp on a professional tryout and turning 37 in November but a veteran of 12 NHL seasons and having won a Stanley Cup with Peter Chiarelli in Boston, is the other contender there.
Let's focus on Callahan, though, since he's a terrific story that isn't often told. The California kid, now 26, came out of nowhere to make the WHL's Kelowna Rockets as a training-camp invite (a walk-on) in 2008-09 and played an integral role as a rookie — albeit as a fourth-line energy player — in helping that Jamie Benn-led team win a league championship and advance to the Memorial Cup final, losing to Taylor Hall's Windsor Spitfires.
Callahan went on to score consecutive 20-goal seasons in the Dub while proving fearless in protecting his teammates and holding his own in fighting much bigger foes. That combination of grit and offence, in that order, was enough to get him drafted in the sixth round in 2009, 180th overall by Detroit.
In his NHL debut with the Red Wings, Callahan blocked a slapshot with his face, then tweeted out the evidence in the form of a gruesome selfie that went viral and had stomachs churning.
Ouch pic.twitter.com/8DfILryNg7

— Mitch Callahan (@Mcally15) April 3, 2014
Callahan didn't get much of a shot in Detroit's deep system — totalling five NHL games, including four last season — but he again played a key role on a championship team by contributing 16 points in 19 playoff games as the Grand Rapids Griffins won the AHL title this spring. For Callahan, it was his second time hoisting the Calder Cup, also getting the honour in 2013 as a sophomore pro in more of a support role. So he's a winner.
Callahan does have an underrated offensive skill-set, but it's his drive and doggedness that makes him a candidate to crack the Oilers' opening-night roster. Callahan and Kassian on the same line could be a lot of fun to watch, and a real pain for the opposition since they both like to bark and have plenty of bite to back it up.
Not sure if the nickname 'Dirty Harry' stuck with Callahan coming out of junior, but his workmanlike approach certainly hasn't changed. His signature hair and toothless smile aren't getting any prettier either.
Callahan doesn't have Khaira's size — listed at six-feet tall and 190 pounds to Khaira's 6-4, 219 — but, as the saying goes, it's not the size of the dog in the fight but the size of the fight in the dog. Callahan will put up a fight as the preseason progresses, but Khaira has the upper hand as of today after scoring in regulation and adding the shootout winner in Sunday's scrimmage, while also being a homegrown talent on the verge of graduating from Edmonton's prospect pipeline.
Worst-case scenario, Callahan will wind up playing close to home in Bakersfield — he's from Whittier, slightly more than a two-hour drive away. Playing professional hockey in his home state, it doesn't get much better than that, but Callahan no doubt wants to be part of another championship team in Edmonton.
Callahan will get a good look in Calgary tonight, suiting up amongst most of his competition — including Khaira and Kelly.
5) Caleb Jones (LD)
This would be the biggest surprise of all, but Jones could be the shocker of Edmonton's preseason — remember, you heard it here first.
Jones has all the ability of Benning — cut from that same cloth as Sekera and Auvitu — but he's young and lacking pro experience.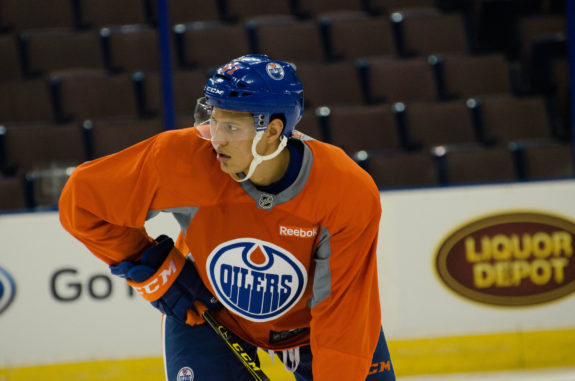 That makes Jones an afterthought from the outset, presumably way down the depth chart — behind the likes of Auvitu, Ryan Stanton and Simpson, plus perhaps Paigin and Lowe. That's the perceived pecking order, with only one or possibly two of them making the cut if Edmonton decides to keep eight defencemen instead of seven (thus only 13 forwards).
Jones wouldn't be staying up in Edmonton to sit in the press box, so most automatically assume he'll be bound for Bakersfield, along with fellow junior standouts and rookie pros Ethan Bear and Ryan Mantha.
If Jones makes the opening-night roster — and that's a massive IF — he'll be in the lineup, likely partnering with Russell or Benning, depending on whether Nurse plays second or third pairing.
Sure, Jones could benefit from a definite top-four role down on the farm, with power-play time to boot, but if he's one of Edmonton's six best defencemen coming out of camp and gives the Oilers a better chance of winning than having Gryba, Auvitu or those other aforementioned names in the lineup, then Jones should get that opportunity. The Oilers are in the business of winning, after all.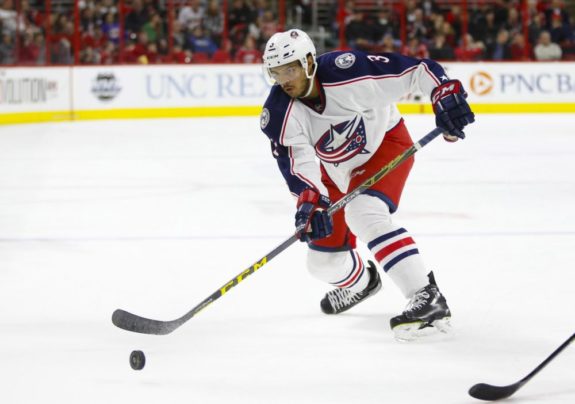 Like his older and bigger brother Seth, a budding star in Columbus, Caleb Jones is an effortless skater with a smooth all-around game and high hockey intelligence. You could tell, just watching the prospects tournament in Penticton, that Jones thinks the game at a higher level than most — higher than Bear and Paigin from live viewings at that showcase.
There are very few holes in Jones' skill-set — aside from the fact he needs to get heavier and stronger to handle the big-bodied pros — and, strange as it might sound, he could be Edmonton's safest option to slide in alongside Russell. Of course, that is a matter of debate with Benning already filling that void, and Auvitu, Stanton and Simpson more proven in the professional ranks.
Regardless, Jones making the cut — even if it amounts to a temporary audition — isn't as farfetched as it may seem. He'll be paired with Bear to start the preseason in Edmonton tonight, but don't sleep on Jones. He might just be the last man standing when the dust settles on defence.