As the Calgary Flames rebuild has kicked into gear this season, the club has featured three former first round picks prominently in its roster. However, the three men have taken different paths to the National Hockey League, and all three have faced varying challenges during this season.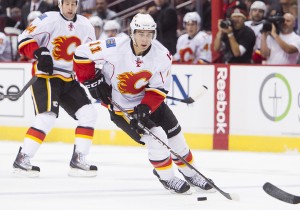 Calgary's first round choice, 24th overall, in the 2007 Entry Draft, Sweden's Mikael Backlund has played over 200 games in the NHL since his debut in early 2009. However, Backlund initially faced some challenges with the bigger, faster and stronger NHL staters, and his experience can shine some light on some of the challenges that 2011 first rounder Sven Baertschi and 2013 first rounder Sean Monahan have faced this season.
When Backlund first turned pro, it was with much bally-hoo and fan-fare, as he was the first Flames first rounder in quite some time to appear destined to become a regular on the club. His first season saw some ups and downs, as he at times struggled with the jump in size, speed and physicality as compared to his previous stints in Sweden and the WHL. Backlund needed to adjust to facing big-league defensemen, to playing a more well-rounded, three-zone game, and had to adapt his game and take his lumps while trying to maintain his tenacity and fearlessness in the offensive zone.
Now with over 200 NHL games (and 55 AHL contests) under his belt, Backlund is playing the best hockey of his career. He entered the Flames' Christmas break with 15 points in 36 games, but he earned 7 of those points in the month of December, as he's seen his play (and ice-time) elevate. He credits his success to simply playing hard and not worrying about things on the ice.
"I've just been leaving it all out there," said Backlund. "Playing more, whatever I see out there, not thinking, working hard and making plays. Holding onto the puck and skating with it. I haven't been thinking too much, just going out and enjoy it, creating things out there."
During the NHL's 2012-13 lockout, Backlund returned to his hometown team in Vasteras, Sweden and had great success. He came back to Calgary with a great deal of confidence. After some early-season struggles, including a game where he was a healthy scratch, Backlund has re-discovered his confidence and is now playing with swagger.
"I have more swagger in my game," said Backlund. "[I] feel bigger out there, taking more charge. That's what I did in Sweden. That's what I took back with me. I feel I'm playing even better now than I did last year. The goals and everything will come, but I feel like in all zones I'm playing solid right now and I'm gonna keep getting better and trying to improve my game."
Backlund's resurgence comes at a time when Baertschi and Monahan – have been facing challenges of their own. Baertschi was assigned to the AHL's Abbotsford Heat on December 12 after falling down the club's depth chart. While Baertschi was putting up some points, his two-way play was suffering and it seemingly made more sense to Flames brass to give him top-line action in the AHL rather than 10 minutes a night in the NHL. The likely goal is to give Baertschi some time in the American League to build up his confidence after he seemed to lose it during the first half of the season.
One of the players that returned to the line-up and displaced Baertschi was Sean Monahan, who missed 7 games with a hairline fracture in his foot. After a couple games where he appeared to be battling against the current, even though he scored a key goal against the New York Rangers, Monahan was dropped to the fourth line and his ice-time trimmed down as he finds his legs again after his injury. Even though he was used in favourable circumstances – often getting offensive zone starts against the other team's lesser lights – Monahan hasn't driven play to the degree he did prior to his injury. The stint on the fourth line with Lance Bouma and Brian McGrattan may result in less ice-time for the 2013 first rounder, but may also condition Monahan to simplify his game. Bouma's season thus far is proof that focusing on having simple, energetic shifts on Calgary's bottom-six lines is a recipe for finding your way into more ice-time.
Backlund himself is no stranger to either young players' circumstance. He split his first pro season between the AHL and NHL, and noted he was usually on the fourth line during his rookie season in the NHL. He noted one key to success as a young player is playing with a certain degree of fearlessness and, yes, even "swagger."
"Just look at [Paul] Byron," said Backlund. "When he came in, he right away took charge, and became a really good player for us. He wasn't scared at all. Same with Monny [Sean Monahan], [he] came in and was great for us. That's what you gotta do as a young guy, just come in and play hard."
After 200 NHL contests, Backlund has emerged as one of Calgary's best possession players. He's frequently used against the other team's best forwards, takes key draws in the defensive zone and on the penalty kill, and now he's supplemented those two-way skills with more sizzle on the offensive side of the puck.
Sean Monahan and Sven Baertschi combined have played less than half as many NHL games as Backlund. Adapting to the professional game is a process that each player works through at their own pace. But Backlund's experience can hopefully provide some inspiration to both of these players that, given a bit of time and a lot of hard work, they, too, can adapt, grow and thrive as NHLers.