There's plenty for Calgary Flames fans to be excited about so far this season. Mike Smith's proving to be the goalie they've been in search of since Miikka Kiprusoff, Johnny Gaudreau is on pace for a career-best season, and of course the legendary Jaromir Jagr in Flames silks. But, despite all the rage around the present, it's the future that should also have Flames fans buzzing.
Through recent drafts, the Flames have stockpiled themselves a nice mass of promising prospects. The youngsters are currently honing their skills with their junior clubs, and, no doubt, are turning some heads. There's no telling when they'll find themselves on the Flames roster, but the more they continue their exemplary play, the sooner their moment will come.
Dillon Dube
Now in his fourth full season with the Kelowna Rockets of the WHL, Dillon Dube, 19, continues to do it all. Through 18 games this season, he's totalled 24 points and is on pace for a career-best year. But despite tallying 172 points (73 goals, 99 assists) in 168 regular season WHL games as of Nov. 16, 2017, he's much more than just a sniper. He's one of those players a coach can use anywhere on the ice, at any moment of a game. The Flames selected him in the second round of the 2016 draft at 56th overall.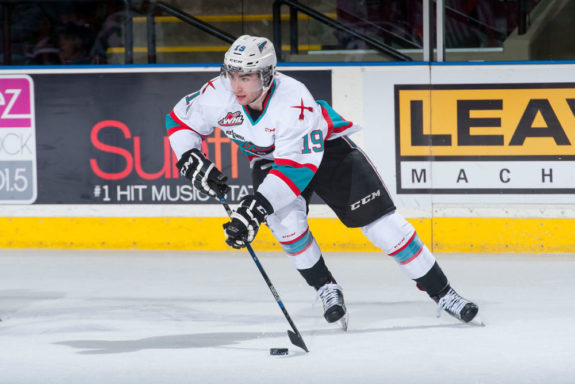 The Cochrane, AB native's speed, versatility, grit, and two-way mindset allow him to play anywhere from a top line and top power play unit role, to a third or fourth line grinder role, to killing penalties. Although he's featured in a more prominent, offensive role with the Rockets, he was asked to fulfill more of a shutdown, grinder role when playing for Canada at the 2017 WJHC, further showcasing the multi-dimensional game he possesses. "I wanted to make that team, and that was the role that I knew I had to play, so I committed to it 100 percent," said Dube in a Calgary Herald article.
Going forward, the Flames have all the makings of a reliable, two-way forward in Dube. He's able to play at center or at right wing and will bring a nice combination of offense and defense to a second or third line role down the road.
Related: Dillon Dube – The Next Ones: 2016 NHL Draft Prospect Profile
Matthew Phillips
Perhaps the most intriguing Flames prospect, Matthew Phillips, drafted in the sixth round at 166th overall in 2016, is yet another one of those smaller players the Flames seem to love. At 5-foot-7, the 19-year-old is becoming known as an offensive machine. Now in his fourth season with the Victoria Royals, he's amassed a staggering 38 points (16 goals, 22 assists) in only 22 games as of Nov. 16, 2017, bringing his career WHL regular season total to 207 points (104 goals, 103 assists) in 166 games. The Calgary native has also added another 11 points (six goals, five assists) in 19 career WHL playoff games.
On a Royals team leading the WHL in goals-for, Phillips is the main catalyst in their offense, playing heavy minutes on the top line and top power-play unit. Given his talent and ability to find the back of the net, it's not a matter of if, it's a matter of when the speedster is playing in front of his hometown crowd full-time. He's still a few years away from developing into an NHL player, but down the road, he's going to provide the Flames that top-line right winger they've been in search of.
Related: Flames Prospect Matthew Phillips Compares to Gaudreau
Adam Ruzicka
Yet another Flames prospect is also having a career-year. Adam Ruzicka currently sits at 31 points (14 goals, 17 assists) through 21 games, on pace to annihilate his totals from the 2016-17 season, and good for third in OHL scoring as of Nov. 16. The 18-year-old's 6-foot-4, 215-lb frame has made him a beast to handle so far this season, and he's only going to continue growing. The Slovakia native owns a 57.9 face-off percentage this season, as well as a whopping 91 shots-on-goal. His 77 points in 82 career OHL games may be slightly behind the pace of his fellow Flames prospects, but with his rapid pace to start the season, he's certain to narrow that deficit.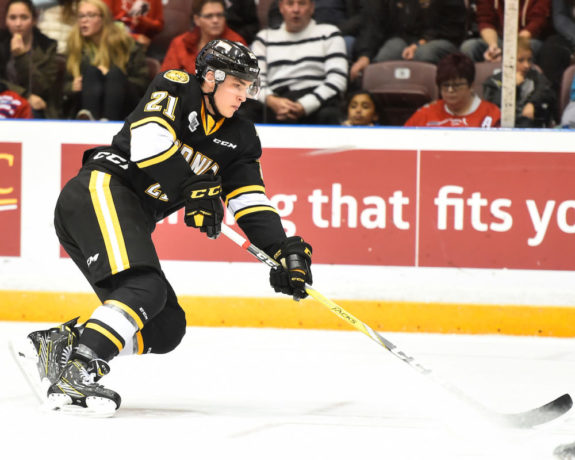 Since Ruzicka was drafted in the fourth round at 109th overall this past draft, it's never been a question of talent, it's been his ability to compete at a high-level game in and game out. Inconsistency was a big drawback to his game last season, and in past years playing in Slovakia and Czech Republic. But if this year is any indication, he's left that in his rearview mirror and is ready to showcase his real worth.
"He's taking advantage of his skills because he's competing on a real consistent basis, and he's seeing results because of it," said Flames GM Brad Treliving in a Calgary Sun article. "He's learning to do that regularly, and if he can continue, that's good for him and good for us."
Related: Reviewing the 2017 Calgary Flames Draft Class
Juuso Välimäki
The most recent first-round selection for the Flames, Juuso Välimäki, had Flames fans buzzing during training camp and continues to have them buzzing with his play so far this season with the Tri-City Americans. The 6-foot-2, 205-lb defenseman picked up right where he left off last season with 13 points (four goals, nine assists) in 14 games, after being selected 16th overall in the 2017 draft.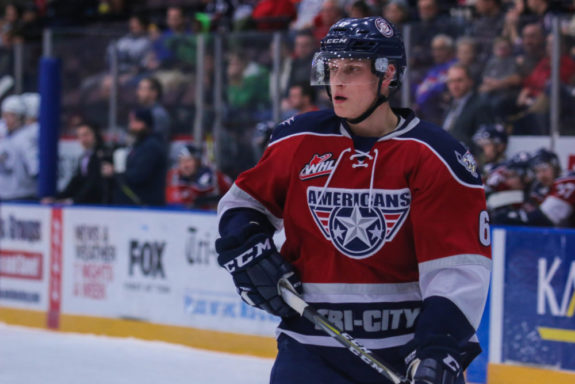 In 130 WHL games as of Nov. 16, he's amassed 106 points (30 goals, 76 assists), impressive offensive numbers for a defenseman. He continues to display great vision and puck-handling skills, but, like the majority of defenders, will take some time to become acclimated to NHL play. When he's ready, the Flames could very well have themselves a top pairing defenseman who's able to quarterback the top power-play unit, and produce offensively.
Related: Juuso Valimaki Adds Skill, Poise To Flames
Glenn Gawdin
A part of the Swift Current Broncos dynamic trio that has taken the WHL by storm this year, Glenn Gawdin has thrived off the play of his linemates, and vice versa, posting 40 points (14 goals, 26 assists) in only 18 games. He was originally drafted by the St. Louis Blues in 2015, taken in the fourth round at 116th overall. His leadership and sudden offensive explosion sure caught the attention of Flames management as they announced the signing of Gawdin to a three-year entry-level contract on Nov. 16. As of now, it's unclear where he will play going forward, but the Richmond, B.C. native has no doubt been rewarded for his play.