Groan. Crash! Thunk!
Yesterday marked the 21-year anniversary of the 20-ton, 23-foot high Jumbotron crashing down to the ice in the Sabre's new venue, Marine Midland Arena. The electronic scoreboard became a mangled mess of metal, plastic, and lights.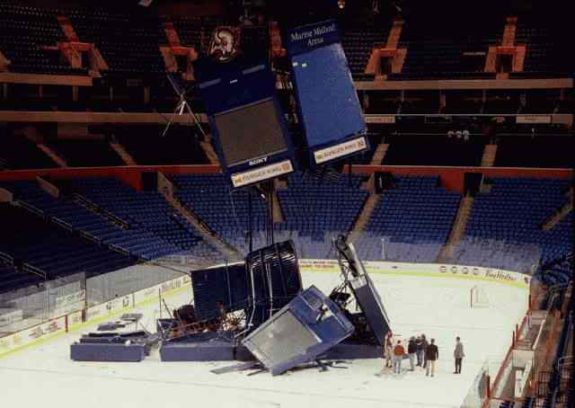 Fortunately, there were no injuries. The incident occurred roughly 90 minutes after Boston Bruins players and coaches had finished up a morning practice.
The giant scoreboard was being lowered into position for routine maintenance. When this happens, no one is permitted to be underneath the fixture or on the ice.
"It was incredible," said one arena worker who witnessed the incident. "It was a like a loud groan, and then another groan, and another, and then it dropped."
That season's Ted Nolan-coached team, captained by Hall of Famer Pat LaFontaine, went 40-30-12 for 92 points for first place in the Northeast Division. They defeated the Ottawa Senators in seven games in the first round before losing in the Conference Semifinals to the Philadelphia Flyers in five. That edition of the Sabres was led in scoring by 26-year-old Derek Plante (27G, 26A) and backstopped by Hall of Fame goalie Dominik Hasek.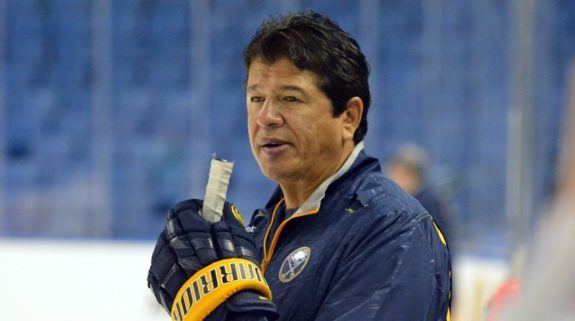 Related: Sabres: Love Them, Hate Them or Both
A Mess in 1996
The eight-sided Jumbotron video scoreboard was the centerpiece of the new, $127.5 million arena that's still home to the Sabres today. The arena, now renamed the KeyBank Center, replaced the beloved 56-year-old Memorial Auditorium.
Sabres executives relied on the insurance policy to cover most of the repairs to the scoreboard as well as an estimated $3 million in lost revenue. The Saturday evening game between the Sabres and Bruins had to be postponed. The ice was significantly damaged. In the interim, two working screens were set up at both ends of the 100 section inside the arena. Some seats had to be removed to make room. In all, it took nearly five months for a new, even better board to be installed.
A Mess in 2017
Today's Sabres are a different kind of mess.
After a 27-point year-over-year improvement in 2015-16, and looking like they were about to turn a corner, the Sabres regressed in 2016-17. They went from two years of being historically awful (2013-15) to being just plain awful. At this rate, another generation will miss seeing playoff hockey.
Injuries have ripped apart an already patched blueline corp. Overpaid, slow-footed vets with cumbersome contracts are being dragged on this team like anchors. Big name players are not coming through.
Fans are irate. They're debating the tank that brought in phenom Jack Eichel. Some have already resigned themselves to another failed, playoff-less year and say the team should commit to another tank.
Frustrated fans are calling the team 'hot garbage', a 'waste of time' and are railing bottom-six forwards that don't even belong in the NHL. Other than a few games, this team is consistently boring to watch.
Eichel and Hyde
This team produces for stretches at a time, then completely disappears. One never knows which team will show up on any given night.
Will it be the team that played a complete game and soundly defeated the Washington Capitals? Or one that gives up countless odd-man rushes and fails to make a decent first pass?
Conor Sheary has six points in his last six games (4G-2A) vs. Buffalo. This one is probably our favorite. pic.twitter.com/A3k1oAJbBo

— Pittsburgh Penguins (@penguins) November 15, 2017
Will Jack Eichel, the young phenom who inked an $80 million contract, show up? Or will he be the one who misses his defensive assignment and skates off with his head hung low in another tough loss?
"We all need to relax," said Eichel after a loss in San Jose. "We have a lot of good players on this team. It will come. It will come. It's frustrating it's not coming right now. We want to see results. We're working hard but sometimes working hard is not enough."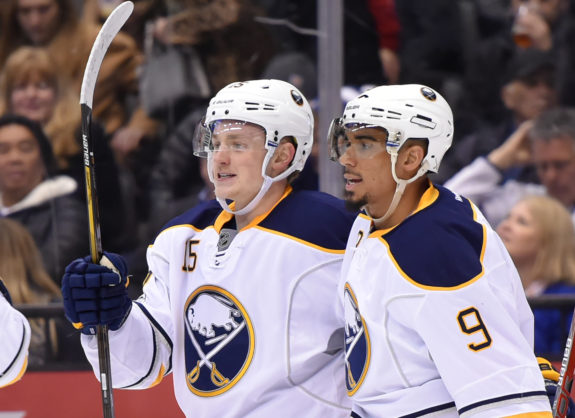 No Show Offense
Players like Ryan O'Reilly and Kyle Okposo, believed to be key acquisitions during the rebuild, have been major disappointments.
Moving forward, it's fair to wonder whether O'Reilly, in the second year of a seven-year $52.5 million contract, will be seen as part of the problem or part of the solution. Though he had two productive seasons in his first two years with the team, he's been pretty quiet this year, coincidentally since Jack signed his monster contract extension.
Fans claim they've seen O'Reilly's picture on milk cartons at Wegman's. They ponder if he's been placed into the federal Witness Protection Program. He's filled with the same excuses night after night.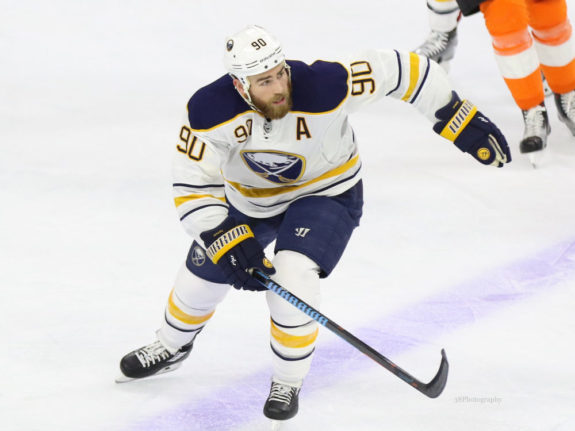 Okposo, in the second year of a 7-year, $42 million contract, has two goals in 16 games. For perspective, former Sabre and current Anaheim Duck, Derek Grant has three goals. He's outscoring all of Buffalo's bottom six. Not to mention Phil Housley's 'join the rush' defense who have yet to light the lamp.
Related: Sabres Already out of the Playoff Hunt?
Mangled Defense
The injury-ravaged defense has yet to suit up its top six players in a single game. Social media whipping-boys, Matt Tennyson and Zach Redmond, were thrust into significant minutes and have struggled mightily. Why is Botterill playing either of them over Brendan Guhle, or even Casey Nelson?
First-year head coach Phil Housley, the D-whisperer, has learned the hard way that things aren't so easy when your lineup is filled with Redmond, Tennyson, Viktor Antipin and Josh Gorges instead of Mattias Ekholm, Roman Josi, Ryan Ellis and P.K. Subban.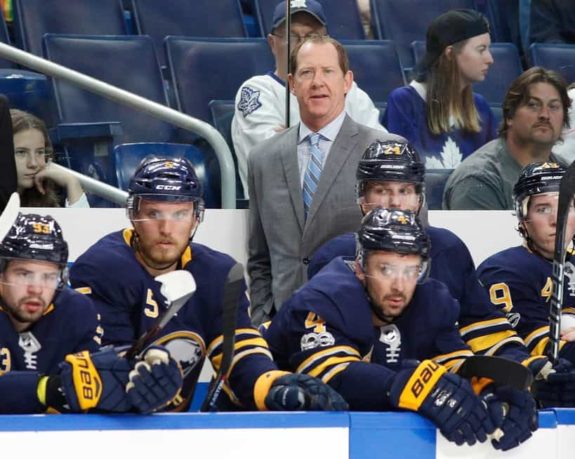 He's full of praise for his losing team. And while it's nice to hear positive thoughts, the fact remains: this team has four regulation wins in 18 games. The only team with fewer is the woeful Arizona Coyotes, who have just a single regulation victory this season.
Mr. Positive, err… Housley is constantly offering high fives and back slaps for a team that has a fragile mentality. It's as though we're at the point where we praise our team for not giving up odd-man rushes.
That's not to suggest he needs to rip the wallpaper off the walls between periods or after games. But it sure was refreshing to hear Calgary Flames coach Glen Gulutzan utter these remarks after an 8-2 loss to the Red Wings, "We have some lessons to learn. You should learn from getting your ass kicked and not being prepared. But that's not acceptable, either."
Maybe Housley feels his team is too fragile to handle the truth. What would happen if he destroyed the locker room and yelled his throat raw?
Related: Sabres Secondary Scoring Starting to Simmer
Cleaning It Up
Bylsma was an easy scapegoat for the Tim Murray apologists, who now are finally coming to grips that he was the major problem in his roster construction. He wasted assets like a trust fund baby. It will take years for current general manager Jason Botterill to undo Murray's damaging work.
Would this year's team beat last year's team in a seven-game series?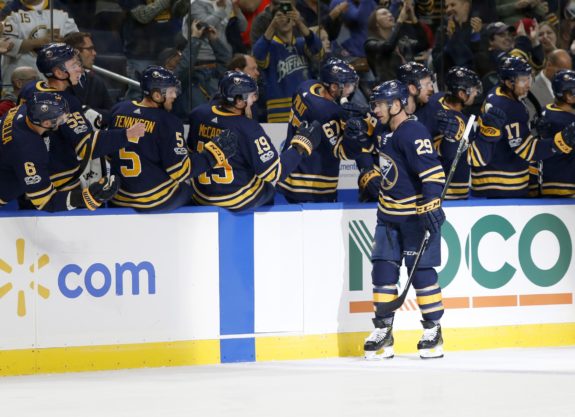 "It's a league of results, right?" said Jason Pominville. "It's frustrating we're not getting the results that we want but I thought our effort was way better and we've got to take that with us. At the end of the day, we didn't get the two points and that's what we play for and what we want."
Just as it took months to clean up the crumpled and broken Jumbotron, it will take time to sort through this tattered, messy roster. Botterill and Housley will sift through what they have and see what's worth keeping before replacing the damaged, unproductive parts. Until then, expect the Sabres and Coyotes to duke it out for last place and the best odds of securing the 2018 first-overall draft pick.