If you or someone you know is a die-hard fan of the Detroit Red Wings, there's one phrase that you've probably heard more than once over the last few NHL seasons – "Play the kids!" Now, nearly a quarter of the way through the 2017-18 schedule the Wings are indeed letting their talented youngsters off of their leashes and getting both exciting and encouraging results.
If you look at Detroit's stats you'll notice some new names other than "Zetterberg" at the top of each individual category. Through 19 games played Anthony Mantha leads the team in goals (10), points (19), power play goals (5), and shots (49). Dylan Larkin, who is developing into a fantastic playmaker right before our very eyes, ranks second in assists (15), points (18), and shots (40).
Before the start of the season, I pondered if Zetterberg could lead the team in points for a third straight year in 2017-18. Judging from the way the next generation of Detroit superstars are currently playing and producing, it's going to be a longshot for the captain to achieve the hat trick, and I'm sure he's having just as much fun watching the kids as we are.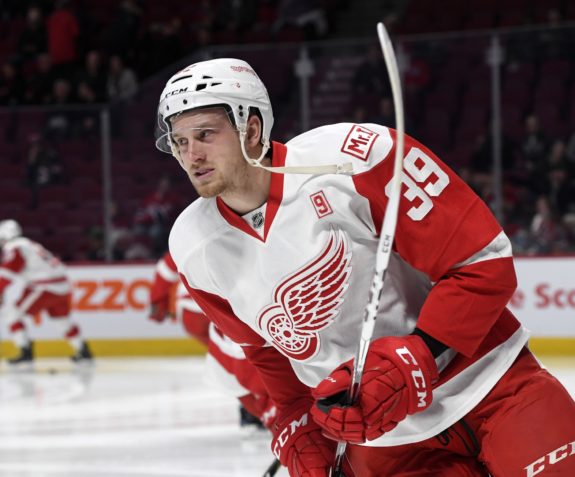 Head coach Jeff Blashill, who has often been the target of the "Play the kids!" cries, is well aware of just how important his young players are to his club's success, and perhaps ultimately, his job:
"They are playing fairly complete games which doesn't just translate to points, it translates to winning. That's a real important thing I think for people to remember — we want winning hockey players, not point players, and they've done a real good job of that. They've played complete games. They're obviously really talented guys. We need guys to step up and produce and they're guys that can do it."
And it's not just Mantha and Larkin leading the youth movement in Hockeytown, Martin Frk and Andreas Athanasiou have also pitched in along the way as well. Frk is tied for third in goals (six) with Frans Nielsen, ranks second in power play goals (three), and third in power play points (five).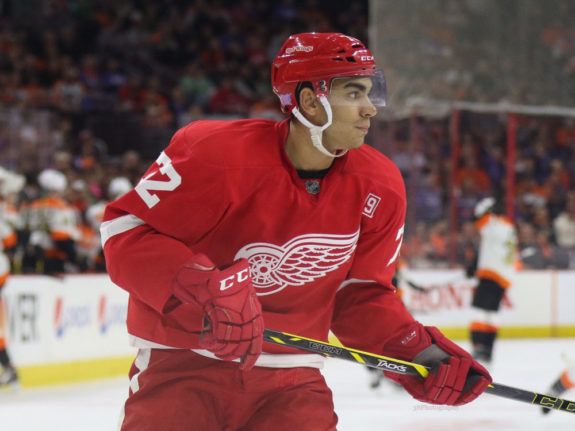 After ending a frustrating off-season contract standoff with the Wings in October, the speedy and electrifying Athanasiou is showing no signs of rust during his return with the team. In nine games played he's managed to total four goals and two assists on 30 total shots taken while simultaneously providing undeniable chemistry with his aforementioned youthful counterparts.
Related: Red Wings Trade Thoughts: Rebuilding or Draft Spot?
Youth Boosts Special Teams
Pretty much every aspect of the Red Wings' game was forgettable in 2016-17, especially the power play. The team finished 27th in the league last season with a success rate of 15.1% with the man-advantage. As it stands through 19 games played, Detroit has the sixth best power play unit in the NHL converting on 23.7% of their opportunities.
Mantha, Frk, Larkin, and Athanasiou have a combined total of 18 power play points so far in 2017-18 and it's hard not to get excited when any combination of the four are out on the ice during special teams play. Here's an example of Larkin, Athanasiou, and Mantha all contributing/creating a quality scoring chance:
So what can Detroit attribute their recent special teams' success to? Mike Green, who leads the team in power play points (nine), is certainly doing a fine job quarterbacking the whole operation, but it's the kids who are using their various skills as well. The speed of Athanasiou and Larkin helps in cycling the play, Frk has an explosive Ovechkin-like slapshot that he's always ready to unleash, and Mantha uses his large-frame and long reach to create screens and deflections in front of the goaltender. Ultimately, it's an effective combination of skills that are giving the Wings a top-ten power play unit.
A Reason to Believe?
ESPN recently posted a roundtable discussion asking if Detroit's youth movement provides a reason for fan's and outsiders alike to believe in the Red Wings hopes of once again returning to the NHL's forefront. Greg Wyshynski offered his senior take on the topic:
Alas, I can't. They're better than expected, fun to watch and at the very least have momentarily quieted the talk about coach Jeff Blashill's job security. But they're a slightly-below-average possession team, a little leaky defensively and I don't expect Mantha to finish the season with a 20.4 shooting percentage. If nothing else, they've offered hope for the future, which is great, because they might still be mired in salary-cap hell in 2018-19, with Larkin and Mantha both coming off entry-level deals.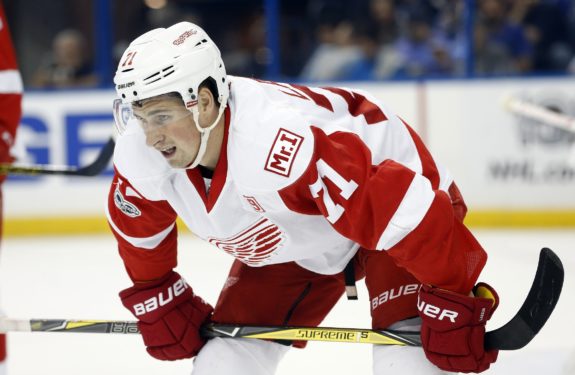 It's not hard to argue against Wyshynski 's statement. Despite the stellar early season play from the youngsters, the Wings still have several issues they need to address and rectify if they hope to get back into the playoffs and make a legitimate run at the Stanley Cup, and I don't honestly think any informed fan would challenge that theory. But with several promising prospects in the pipeline, especially on defense, there is certainly hope for future success in Hockeytown.
In a crucial time of year for a team to earn points that can either help or hinder any postseason aspirations, the Red Wings and their young players are at least giving fans a reason to tune in and fill the seats at Little Caesars Arena. If they can keep on building on the momentum they are currently generating, the reality of returning to playoff contention may not be as far-fetched as once believed.
Left handed hockey fanatic, born and raised in Erie, PA. Currently residing in Nashville, TN. Proudly covering the Detroit Red Wings.