The Columbus Blue Jackets and forward Cam Atkinson have agreed to terms on a seven-year contract extension worth $40.25 million. The deal comes with an annual cap hit of $5.75 million per season and was originally reported by Aaron Portzline of the Athletic on Thursday night.
EXCLUSIVE: The Athletic: #CBJ, Cam Atkinson agree to terms on 7-year contract extension https://t.co/sk07PxPIaU pic.twitter.com/1MKU0ataQm

— Aaron Portzline (@Aportzline) November 17, 2017
A sixth-round draft pick in 2008, Atkinson has proven to be a dynamic offensive talent despite being undersized at only 5 foot 8 and 179 pounds. With four consecutive seasons with at least 20 goals, including a career-high 35 goals last season, Atkinson has proven to be a lethal goal scorer for the Blue Jackets on one of the NHL's best young teams.
Atkinson Earned This Contract
What's been most impressive about Atkinson is the fact that he hasn't just been consistent, but he's found ways to improve in each of the last four seasons. Scoring 21, 22, 27 and 35 goals in the last four seasons respectively while increasing his point totals from 40 points (twice, in 2013-14 and 2014-15) to 53 points to 62 points.
Starting the season off slowly, Atkinson has scored only four goals and six points through 15 games to this point in the year. Those totals project to be roughly 22 goals and roughly 33 points over the course of an 82 game season. It wouldn't be surprising to see him go on a tear at some point in the year, however. Evidently, the Blue Jackets have seen enough out of the 28-year-old forward to justify signing him to a long-term extension to keep their core together as they look to compete for a championship.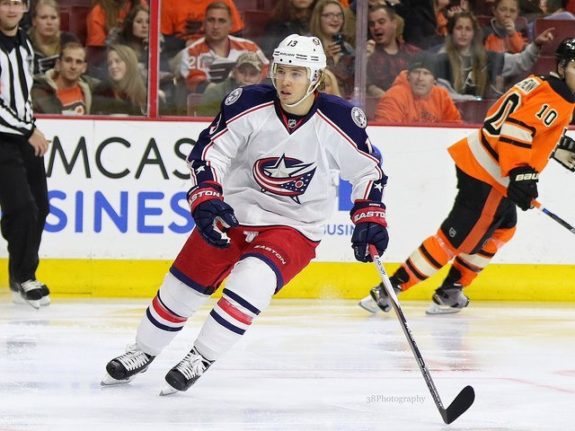 Balancing youth and established veterans, the Blue Jackets have gone from one of the NHL's perennial cellar-dwellers to one of the best teams in the entire league with tremendous drafting, signing and trading. Earlier in the offseason, the Blue Jackets locked up one of their best young players in Alexander Wennberg who is signed until the end of the 2022-23 season. Previously the lengthiest contract on the team, Atkinson's new deal that will keep him under contract through the 2024-25 season now holds that distinction in Columbus.
Blue Jackets Looking for a Championship
By extending Atkinson to a long-term deal, it's clear that they believe he can be a major contributor for years to come on what management hopes will be legitimate championship contenders for years. Currently sitting in second place in the Metropolitan Division with an 11-7-1 record – good for 23 points and seventh place in the NHL, the Blue Jackets are looking to prove that their impressive 2016-17 season was anything but a fluke.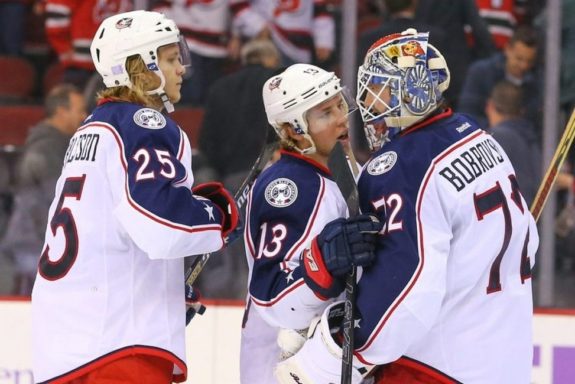 Winning 50 games just a season ago and earning 108 points with an impressive 249 goals-for and only 195 goals against, the Blue Jackets have done a good job at balancing offense, defense and goaltending to build a solid team. Though their playoff hopes were crushed early last season, they have a legitimate chance at making the playoffs again this season and potentially pushing deep into the postseason with new faces like Artemi Panarin, Pierre-Luc Dubois and others.
Not only is the future bright for the Blue Jackets, but the present looks like it could be laden with success if everything continues to click for them as the season rolls on. There will be obvious bumps in the road, but that's the case with every team in the league throughout all professional sports. The Blue Jackets have a good thing going and with Atkinson locked up, the hope is that he can now start to excel once again without the worry of free agency looming.