This month marks the six-year anniversary of Boston Bruins' forward Milan Lucic steamrolling then-Sabres' franchise goalie Ryan Miller. More than the hit itself, it marked the anniversary of no one making him pay for it, revealing a void of pride, character and leadership.
Andrej Sekera, Thomas Vanek, Tyler Myers, Jason Pominville and Paul Gaustad were all on the ice. Not one player on the ice stuck up for Miller and went after Lucic on that shift, or for that matter, the rest of the game. "I've got your back," said no one on the Sabres.
Lacking Character
To be fair, squaring off with Lucic is not exactly an enticing idea. The 235 pound, 6'4" broadneck is rarely on the losing end of a fight. And though most fans wanted him to be pounded into oblivion, the least anyone expected was for someone to stand up to him. Paul Gaustad, on the ice at the time and the only player with any size or experience dropping the gloves, didn't.
"Somebody oughta clean his clock! He took dead aim at Miller! That was NOT an accidental collision," yelled Sabres legendary broadcaster Rick Jeanneret of Lucic.
That team was exposed for what it was: bereft of dignity and leaderless. The franchise let their big brother get trampled, not to mention their pride and self-confidence, and did nothing to retaliate. Words like "soft, weak and gutless" were used to characterize the Sabres.
TSN analyst Bob McKenzie cut to the chase on Twitter after the game with this: "I don't think the appropriate Buffalo reaction is to fight Lucic. Sounds honourable — code, etc. — but Lucic probably dusts any Sabre in a fight. Win-win. Isn't the more meaningful response for Buffalo to do the same to (Bruins goalie Tim Thomas)? Mayhem would ensue but if one team wants to make goalies fair game …"
That didn't happen either.
After the game, Gaustad was tough on himself. "I'm embarrassed that we didn't respond the way we should have," he said. "It falls on myself. I look at myself first and I wasn't good enough. We didn't push back. There's no reason to be scared. We had to go after it and we didn't."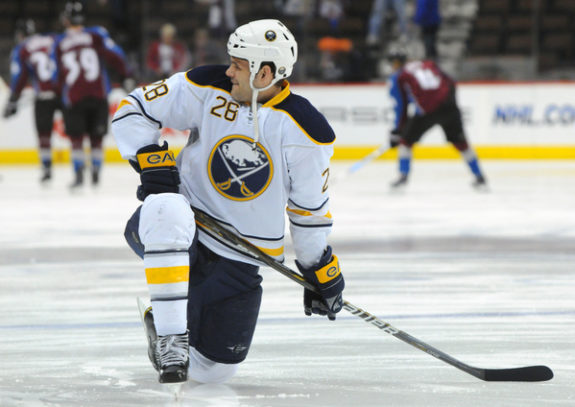 It wasn't until the Sabres met the Bruins five games later that Gaustad attempted to save face and retaliate for his fallen teammate. It was too little, too late.
Popping the Sabres' Balloon
The game, a microcosm of the season, ended with Boston scoring six unanswered goals in the final two periods for an easy 6-2 win. It was a low point for the Sabres. Every player and fan in Western New York felt it. The loss weighed on the team; they lost 23 of their next 33 games and missed the playoffs.
The tailspin of this rattled team started that night. The following year, the Sabres rented 6-foot-8-inch John Scott in an effort to temporarily fill a gaping character void. Six years later, the roster has been thoroughly overhauled. Jason Pominville, swapped in a trade with Minnesota over the summer, is the only player on this year's team that played in that game against the Bruins back on Nov. 12, 2011.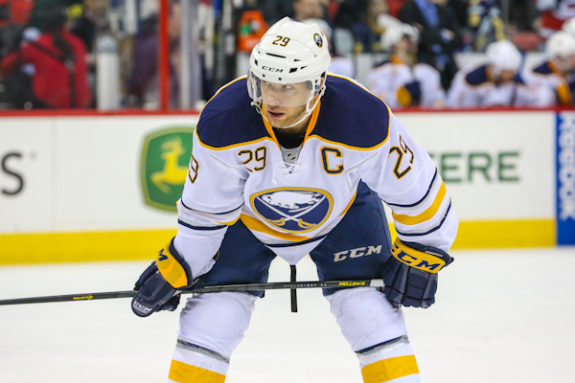 Running in Place
So here we are, November 2017, with zero playoff appearances since 'the hit' — six consecutive years of missing the postseason. And more than ten years since the team has won its last playoff series. One has to wonder, how far has this team come? Are they any harder to play against? Where are the results and where is the leadership? Which player or players set the tone for the franchise? Who has the ability to turn this group of individuals into a band of brothers? Who is the player that fans pin their hopes on singlehandedly lifting the team?
The sad truth is, the players have changed but the results haven't. The lack of bona fide leadership and a true captain remain. With all due respect to Brian Gionta, he wasn't the answer.
This year's "leadership group" of rotating alternate captains is an admission that there is a lack of true leadership. Kyle Okposo is a good soldier, but not a general. Ryan O'Reilly may run his mini practice sessions, but he's a broken record of excuses. He's forever noticing his periodic invisible play then self-flagellating without correcting it. He has trouble leading himself much less his teammates. The Sabres cannot consider the overpaid, past-their-prime veterans Zach Bogosian and Josh Gorges as the voices of the organization. The only possibility is Jack Eichel. Now that he's inked his eight-year, $80 million contract, he's the only logical choice.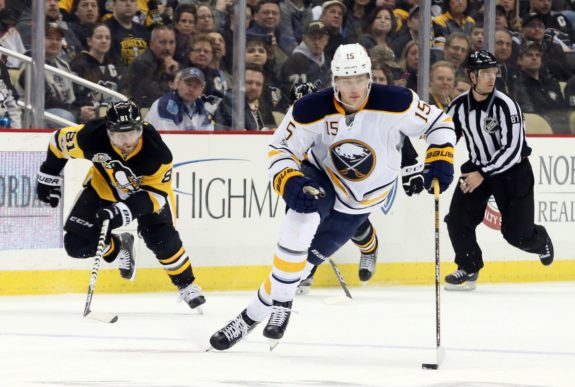 Successful teams have true leaders, like Jonathan Toews of Chicago, Joe Pavelski or Joe Thornton of San Jose, Erik Karlsson of Ottawa, Jamie Benn of the Stars or P.K. Subban of Nashville. They're the type to step up and score a sorely-needed goal or deliver an extra cross-check to an opposing player that's taking liberties with a rookie linemate.
Going Backwards
Last year, apologists hid behind Eichel's ankle injury that kept him out 21 games. The team struggled offensively while moping around without their star player. Even with Eichel's near point-per-game contributions upon his return, the team ultimately regressed in the standings.
The reality is that far beyond the excuses du jour – injuries and snakebitten underperforming players — then general manager Tim Murray repeatedly squandered a bevy of high picks and bungled personnel. His ill-advised moves have set this team back years. Murray mismanaged the team and misused or whiffed on too many draft picks. Tight to the cap, this team is flawed and far from being a postseason threat.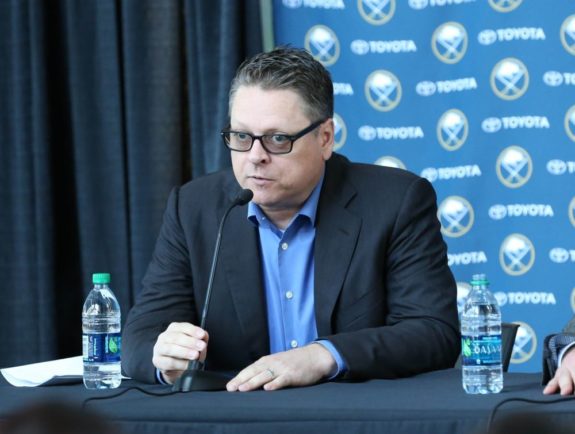 The silly chatter on social media about another 'tank' is just that — silly. A tank isn't required to build a good team; smart talent acquisitions and drafting can do that for you. Just look 90 miles north of Buffalo.
Since the night Lucic freight-trained Miller, the Sabres have played 455 games, posting a record of 165-230-60. It's the worst record of any team in the league over that period of time. Their shootout record is 32 wins and 35 losses, and they have a minus-316 goal differential. In other words, out of 455 games played, they've won a grand total of 133 in regulation – 29% of their games.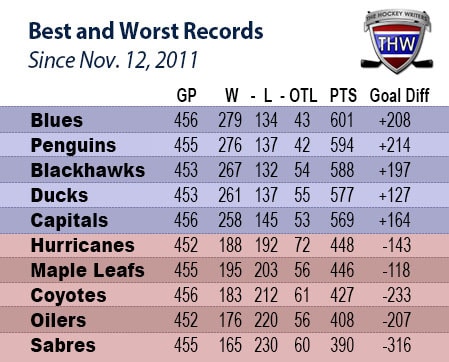 Irony of Timing
Almost exactly a year ago, in an ironic twist of timing, Vancouver Canucks goaltender Ryan Miller bolted out of his crease to defend his teammate who was outmatched in a tussle. Two other Canucks quickly jumped in. It's exactly the kind of leadership the Sabres still lack today. And it starts from the top.
A Never-Ending Transition
This year's team has the feel of an expansion team, with nearly a dozen new faces comprised of undistinguished, no-name journeymen.
A quarter of the 2017-18 roster (Josh Gorges, Johan Larsson, Matt Moulson, Zemgus Girgensons, Zach Bogosian and Rasmus Ristolainen) are holdovers from the tank roster. Other than Risto, they have little value to the future of this team. They're mostly anchors with bloated contracts that are difficult to move.
Rounding out the squad is a group of non-performing, expensive veterans. This Sabres team looks soft, fragile and mentally weak. After his team's 3-7-2 start, rookie head coach Phil Housley offered his assessment, "All I can judge what I see is right now. And I see a team that at key times in the game, we sort of break. We have to have a mental toughness in that area where we can't crack and that's part of the culture too, building that reassurance."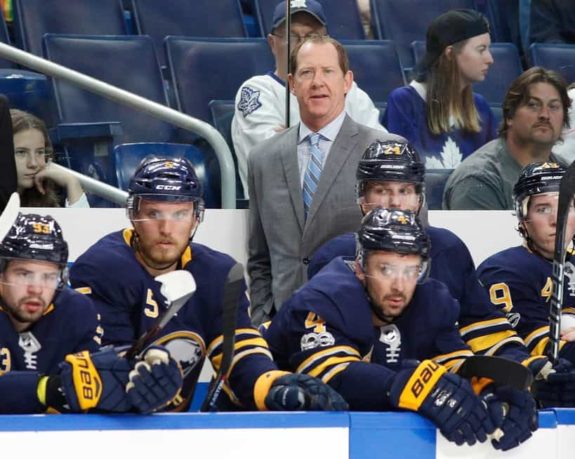 Housley believes players can be taught to win: "I think it's the culture and the habit that we have to continue to work on in this group. I think deep down these guys really care. It's a great group. These guys work hard but you have to start chiseling away with that."
The stench of losing permeates throughout this organization. Housley isn't about to change it in six weeks or six months. It likely won't come from his self-proclaimed "up-tempo" system, either. The best way to change culture is with effective, consistent leadership.
Since 2011, the Sabres have had five different coaches (Lindy Ruff, Ron Rolston, Ted Nolan, Dan Bylsma and Phil Housley) and three general managers (Darcy Regier, Tim Murray and Jason Botterill). Even if one were to assume the new management has the ability to turn things around, this team is still years away from even being competitive.
Long Road Ahead
Sabres fans deserve much better than this. Not surprisingly, their patience has worn thin.
After the Sabres roared back with three goals late in the third period to tie the expansion Vegas Golden Knights a few weeks ago (eventually to lose in overtime), Housley spoke of his team's troubles.
"I think it's just unacceptable the way we approached the game," Housley said. "We had a chance to build on something and I know this is a process but the process was a little broken tonight. The lack of preparation, accountability, and urgency to start the game the way we finished was lacking."
This thought not only summed up the game, but also the past six years. In addition to lacking talent and leadership, they're lacking heart and character.
Searching for Heart and Character
Teeming with frustration, Eichel was seen smashing his stick over his knee while yelling an expletive after the Sabres' loss to the Sharks last Saturday.
Jack Eichel furious after Sabres lose to the Sharks on his 21st birthday pic.twitter.com/H5HHHZdv5Y

— Brady Trettenero (@BradyTrett) October 28, 2017
Either he needs to step up, take the bull by the horns and lead this team out of the abyss or Jason Botterill needs to orchestrate a trade to bring in a Cup-winning take-charge kind of veteran to help change the culture.
Lucic's reckless act of skating into Miller should never be condoned. However, if nothing else, it uncovered a problem that still has yet to be addressed in the Sabres organization.
The Sabres do not have a player who is willing to pay the price of skating to the net the way he did, with an attitude that he will not be denied, as a response to adversity. Until one of these things happen, the run on the never-ending treadmill of transition will continue without end.
Jeff has been covering the NHL for over a decade for various sites. He's been with The Hockey Writers as a lead Sabres writer three years, while also writing a satire column called "Off the Crossbar."