Great captains bring success to lesser teams and take good teams to new heights. They lead in the locker room and on the ice.
Responsibilities
Being named captain of an NHL team is both a prestigious honor and a tremendous responsibility. Each team may select one captain and two alternate captains per game, although having them is not required. According to the NHL rulebook, "[only] when the Captain is not in uniform, the Coach shall have the right to designate three Alternate Captains. This must be done prior to the start of the game." Many NHL teams with a captain select more than two alternate captains and rotate who wears the 'A' for different games during the season.
The captain is the only one who may discuss interpretation of the rules with the referee during a game. When the captain is not on the ice, any of the team's alternate captains may fill in.
The List
Here is a current list of 2017-18 NHL captains, ranked from 1 through 31. It takes into consideration what each player has accomplished in the past but is more weighted by what they accomplished last year, any prior years as captain, and what they bring to the table this season. 
1. Jonathan Toews, C
Captain since: 2008-09
Captain Serious, a nickname he earned because he never smiles, is everything one could ask for in a leader. As Chicago Blackhawks coach Joel Quenneville told ESPN, "The bigger the game, the bigger the setting, you know what you're going to get from Jonathan Toews. He just knows how to play hockey. Whether he's productive or not, absorbs a lot of big minutes from their matchup guys and he never gets outscored…the one thing is he plays the way you want a hockey player to play, and our captain, as well."
When his team needs to step up, the four-time all-star is the first one to lead the charge with a killer instinct. He has ice in his veins and never believes his team is out of it. The 29-year-old center has won three Stanley Cups, a Conn Smyth, a Selke trophy, and a Mark Messier Leadership Award. He also has a career plus-194 rating.
Playoff Success: As captain, Toews has never missed the playoffs. He has three Stanley Cup rings, 40 goals and 70 assists in 128 playoff games. More than numbers and talent, Toews has an intangible leadership quality that separates him from others. Interesting stat: Toews was named captain after only 64 career games played, the quickest any player has been named captain.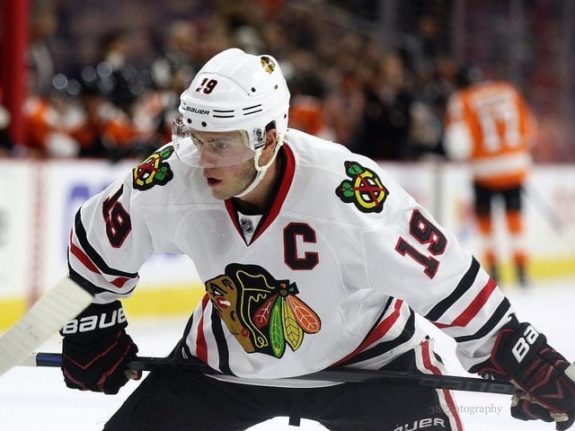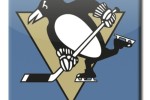 2. Sidney Crosby, C
Captain since: 2007-08
Crosby is one of the best players in the history of the game. His strengths go well beyond him being a point-producing machine, consistently atop the scoring leaderboard. Love him or hate him, one can't deny his success. He actually turned down an offer to be captain during the 2006-07 season, afraid that he'd disrupt team chemistry. When he did accept the honor, he was the youngest captain in NHL history.
Playoff Success: As a three-time Stanley Cup winner, two-time Conn Smythe winner, and Team Canada and World Cup captain, he's led and succeeded at every level, in every form of competition. He shines in the playoffs, when it really matters. He has 57 goals and 107 assists in 148 playoff games. These stats rank him second among active players–behind the leader, Jaromir Jagr–despite playing 60 fewer games.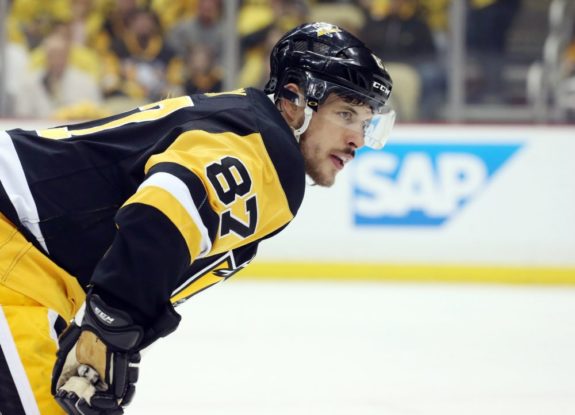 3. Erik Karlsson, D
Captain since: 2014-15
Erik Karlsson, a two-time Norris Trophy winner and four-time all-star, is as gifted offensively as he is defensively. The durable 27-year-old is routinely a 20-goal scorer and 70-point player. His skating is effortless and explosive while his stickhandling is like that of a forward. He's a stabilizing presence on the ice and in the locker room. He's a leader in every sense.
Playoff Success: The Sens surprised many by reaching the Eastern Conference Final last year. Karlsson was a force, putting up 18 points in 19 games. The Swede has 37 points in 48 career postseason games. The Sens have made the playoffs in two of the four seasons he has worn he 'C'.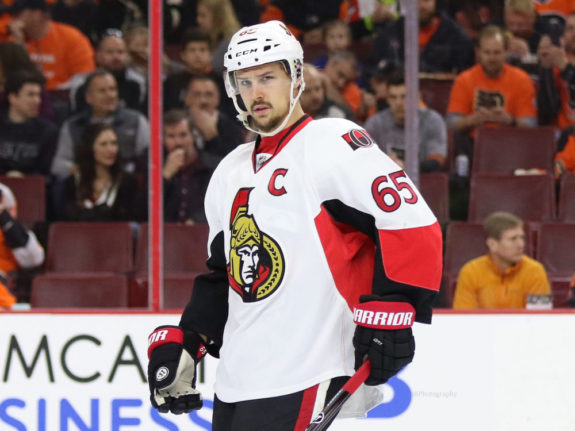 4. Joe Pavelski, C/RW
Captain since: 2015-16
Pavelski is consistently among the Sharks point leaders. He's tallied 145 goals in the last four seasons–one more than Sidney Crosby and second only to Alex Ovehkin (187). Little Joe has been a stabilizing force for the Sharks, stepping in and leading them to their first Stanley Cup Final in franchise history.
Playoff Success: Though the Sharks lost to the Penguins in the 2015-16 Final, they gave it all they had with a never-say-die spirit. In 24 playoff games that year, he scored 14 goals to go with nine assists for 23 points. The two-time all-star's leadership is unquestionable, having also worn the 'C' for team USA during the 2016 World Cup of Hockey.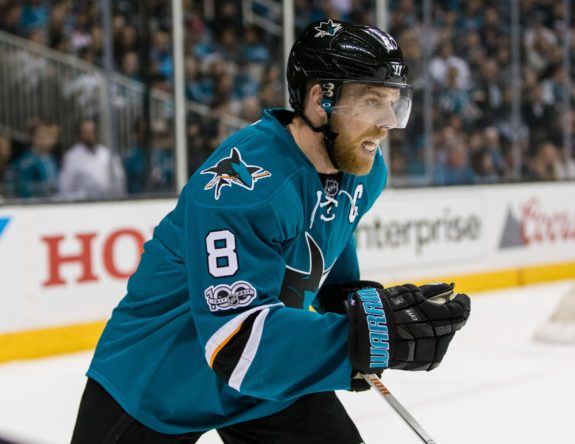 5. Connor McDavid, C
Captain since: 2016-17
McDavid is the real deal–he's an explosive skater and a virtual scoring machine. Since entering the league, he's put up better than point-per-game numbers. If it weren't for missing near half his rookie season with a collarbone injury, he likely would have carried the franchise into the playoffs (not to mention won the Calder trophy). As one of the youngest captains in league history, he already has the confidence of his teammates and the respect of his peers.
He will be THE GUY in Edmonton for the next decade.
Playoff Success: In 13 postseason games last year, McDavid put up five goals and four assists.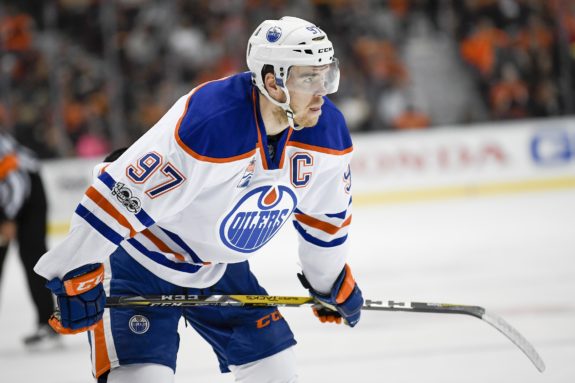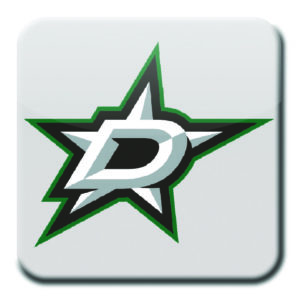 6. Jamie Benn, LW
Captain since: 2013-14
Benn is a power forward, with both size and toughness. He's a durable, determined leader with an incredible work ethic. Despite two major surgeries in successive offseasons, he's missed only six games in the last four seasons. Benn is one of the league's most consistent goal scorers. In the past four years, he's lit the lamp 34, 35, 41 and 26 times, tied for sixth most goals in the league over that span. Only Sidney Crosby and Patrick Kane have more points over the last four years than Benn.
Playoff Success: Benn has led the Stars into the playoffs twice in four seasons as captain. He has nine goals and 11 assists in 19 games.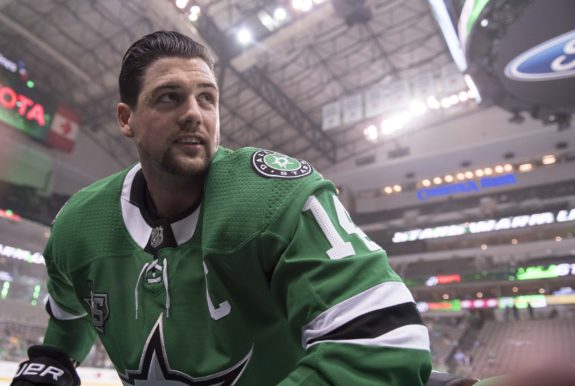 7. Roman Josi, D
Captain since: 2017
Josi, a former alternate captain, will wear the 'C' this year for the Preds. He is a young, competitive guy who is well liked in the locker room. The 2016 all-star defenseman brings speed and scoring, with 64 goals and 175 assists in 406 NHL games.
Playoff Success: Josi was a cog in the Preds' defensive force, helping them reach the Stanley Cup Final last year. He contributed six goals and eight assists in 22 postseason games.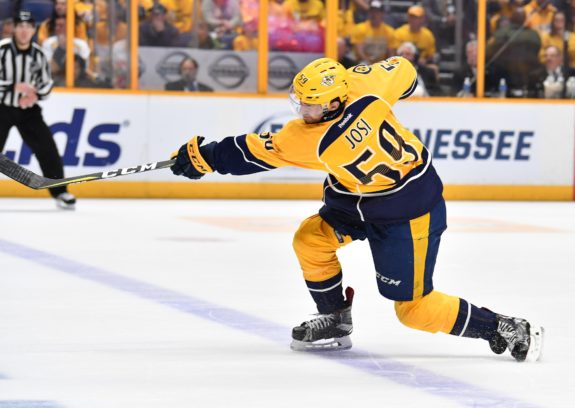 8. John Tavares, C
Captain since: 2013-14
Tavares is a shining example that a quiet presence can be every bit as strong as a loud one. The 2009 first round overall pick doesn't talk smack or make guarantees to members of the media. He simply leads by example. The four-time all-star has led the Islanders in scoring almost every year with a great shot and an ability to see the ice better than most. He's a consummate teammate, who will always stand up for his players.
Playoff Success: As captain, Tavares has led the Isles out of the basement into the playoffs in three of the last five seasons. He's nearly a point-per-game player guy when it matters most, with 22 points in 24 playoff games.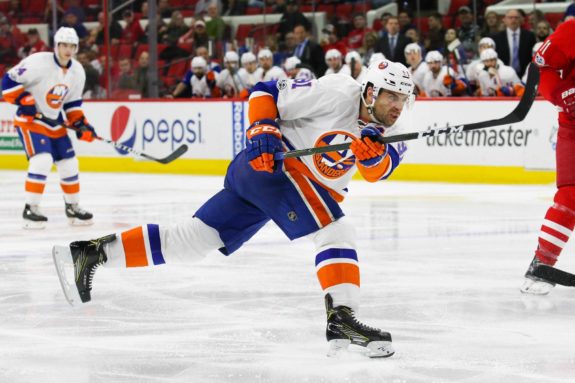 9. Anze Kopitar, C
Captain since: 2015-16
Kopitar was an alternate captain for eight years before taking over the Kings' captaincy from Dustin Brown. The three-time all-star is a relatively soft-spoken, consistent, point-per-game guy that sets an example by his play. The Selke (2015-16) and Lady Byng (2015-16) Trophy winner has been nearly a point-per-game player every year, with 736 points in 840 career NHL games.
Playoff Success: Kopitar is a two-time Stanley Cup winner (2012 and 2014). In those seasons, he put up 46 points in 46 games. Overall, he has 20 goals to go along with 44 assists in 75 playoff games.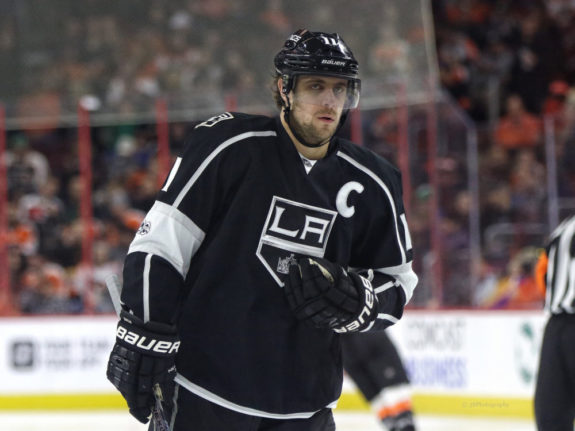 10. Ryan Getzlaf, C
Captain since: 2010-11
Getzlaf, a three-time NHL All-Star and 2007 Stanley Cup Champion can score goals and be a physical presence. He's a natural leader and a stabilizing influence for the Ducks with strong two-way play. He's a playmaker more than a scorer–he's not a 50-goal guy, but is a consistent 50-assist player, having notched that six times in his career. His downfall is his speed which has slowed over the years.
Getzlaf is a selfless, class act off the ice. His "Getzlaf's Gamers" program with the WHL's Calgary Hitmen, his junior team, enables underprivileged children to attend games.
Playoff Success: Getzlaf has 29 goals and 70 assists in 104 career games. He has one Stanley Cup ring and is a two-time finalist for the Mark Messier Leadership Award.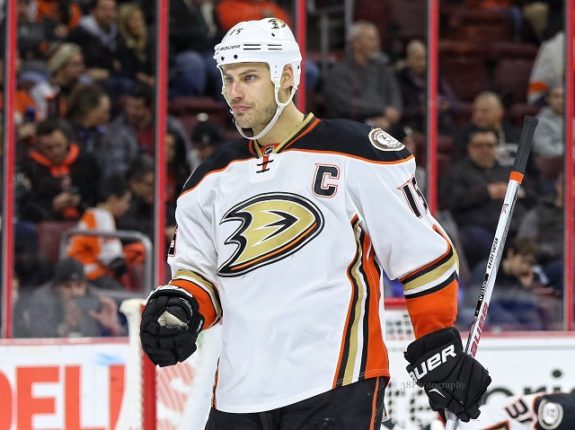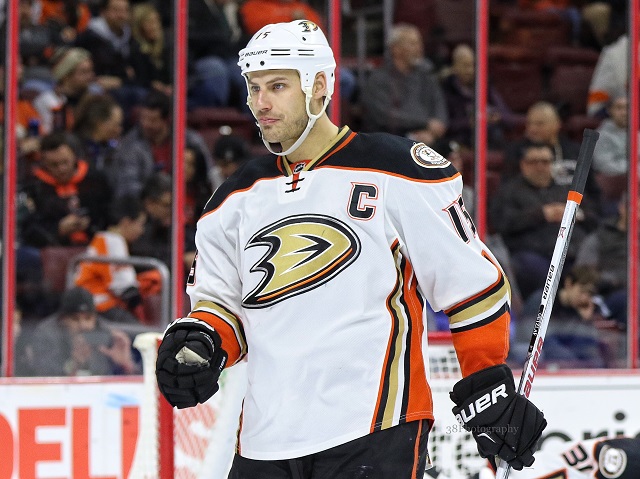 11. Blake Wheeler, RW
Captain since: 2016-17
Wheeler is a tough, durable winger who consistently puts the puck in the net–he's scored 106 goals in the last four years for the Jets. At 6'5", 225 lbs., the 31-year-old is an imposing player who isn't afraid to drop the gloves for himself or his teammates. "Regardless of what letter I have on my jersey, my role on the team and who I am with the team is not going to change," said Wheeler when assuming the captaincy from Andrew Ladd.
Playoff Success: Wheeler has seven points in 25 postseason games, with 21 of those with the Boston Bruins. He's yet to have any trips to the playoff with the Jets, but he can't be expected to do that single-handedly.
12. Zdeno Chara, D
Captain since: 2006-07
In his prime, Chara was one of the best defensemen in the game. The problem is, it's not 2012 anymore. The hulking Slovak who is likely headed to the Hall of Fame, seemed to peak in the 2011-12 season, when he posted 12 goals and 42 assists. The six-time all-star is smart with the puck, has a laser-like slapshot and uses his intimidating, massive size to his advantage which helps create space for his teammates. While his intense passion for winning remains constant, he's slowed down and his $6.9 million annual contract sets an expectation that he isn't delivering on anymore. Everyone looks up to him. Then again, they have to–he's nine feet tall.
Every five years or so there is a player who takes on the mantle of "Old Man Hockey" like the Old Man of The Sea. Right now, it's Chara. It's someone who once was great but still commands respect.
Playoff Success: Chara has 15 goals and 44 assists in 147 career playoff games. In 2011, he won a Stanley Cup and a Norris Trophy for best defenseman in 2008-09.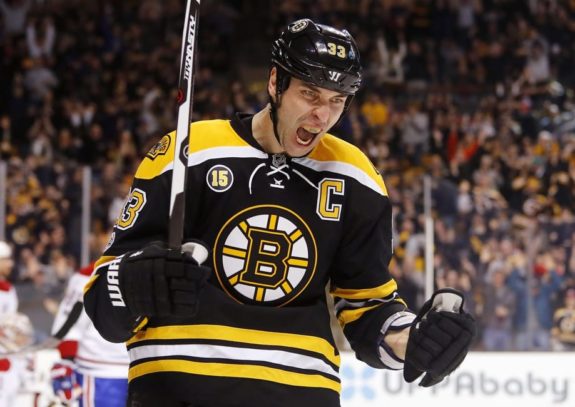 13. Steven Stamkos, C
Captain since: 2013-14
Stamkos is a dynamic goal scorer who commands respect. At just 27-years-old, the four-time all-star and two-time Maurice Richard winner has already scored 321 goals and 261 assists in 586 regular season games.
Playoff Success: The Lightning failed to reach the postseason while Stamkos was sidelined for most of last season. However, Stamkos led his team to the playoffs in each of the previous three years. They lost in the Eastern Conference Final in 2016 to the Pens and lost in the Stanley Cup Final in 2015 to the Blackhawks. The first overall pick in 2008 has 35 points in 49 career playoff games.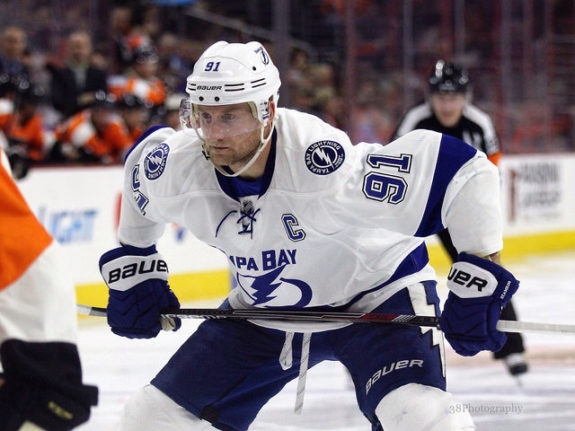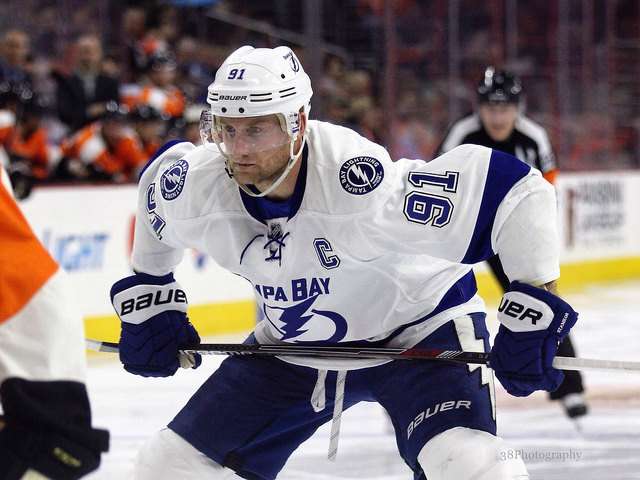 14. Ryan McDonagh, D
Captain since: 2014-15
At 28 years old, McDonagh has already finished in the top 15 for the Norris Trophy four times. The two-time all-star has finished every season with a plus-11 rating or better. He's a minute-hogging machine, logging 23:31 minutes on the ice per game for his career.
Playoff Success: McDonagh's Rangers have advanced past the first round in three of the last four years, even reaching the Stanley Cup Final in 2014. He has ten goals and 31 assists for 41 points in 96 playoff games. Pretty impressive for a defenseman. The Rangers have made the postseason every year he's worn the 'C'.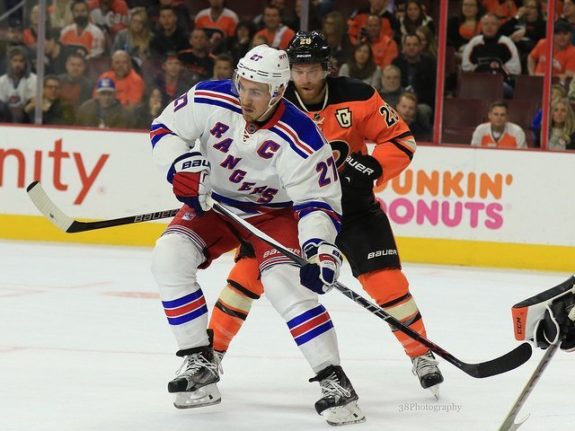 15. Alex Ovechkin, LW
Captain since: 2009-10
Ovechkin is one of the greatest goal scorers in the history of the game, with six Rocket Richard trophies and three Ted Lindsay Awards. He has 558 goals in 921 games, including seven seasons with at least 50 goals. He worked hard to be a more complete player and improve his defensive game as well. Ovi's bold promise of a Game 7 win against the Rangers didn't materialize, but he played a great game and scored his team's lone goal.
Playoff Success: The Caps are champs of the regular season success, but their postseason success has never materialized. The problem has been a failure to get past the Penguins. He's potted 46 goals and 44 assists in 97 career playoff games. But until Ovechkin can propel his team into the Eastern Conference Final, he's hit a ceiling on this list.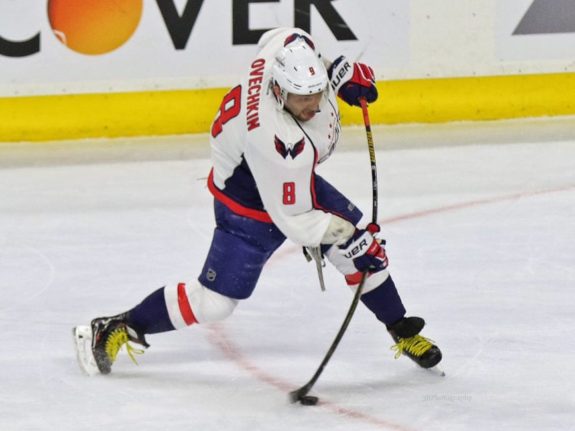 16. Alex Pietrangelo, D
Captain since: 2016-17
Formerly an alternate captain, Alex Pietrangelo took over the captaincy when David Backes signed with the Boston Bruins. He's an excellent skater and his puck control and passing are every bit as good. The 27-year-old, two-time all-star seems to improve every year as he solidifies his place as the backbone of the franchise while chipping in 30 to 40 points during the regular season.
Playoff Success: The Blues' regular season success hasn't necessarily translated to the postseason. Last year they advanced to the second round. The year before, they lost in the Conference Final to the Sharks. Pietrangelo has pitched in four goals and 22 assists in 57 career playoff games.
17. Max Pacioretty, LW
Captain since: 2015-16
Pacioretty, an American born player, has a lot of goal scoring talent, with seasons of 39, 37, 30 and 35 goals in his last four seasons. The two-time all-star is also responsible in his own end. However, one has to question his ability to lead given his alleged feud with former Habs' defenseman P.K. Subban and his inability of rallying his team once star goalie, Carey Price fell with injury in 2015-16. The team looked timid and fell out of postseason action despite a very strong start to the season. Though injuries are unavoidable, a complete team collapse isn't acceptable. Some of the blame falls on the shoulders of the captain.
Playoff Success: Since Pacioretty has taken the reigns as captain, the Habs have had limited playoff success. They made the playoffs twice in three years, advancing past the first round just once.
18. Mikko Koivu, C
Captain since: 2009-10
Koivu's strength is being a complete player, with the ability to contribute at both ends of the rink and at the faceoff dot. Though he had three 60-plus point seasons from 2008-1010, his production has trailed off a bit. If nothing else, he's brought stability to the Wild's revolving door of captains before him. He's the franchise's all-time leader in points and games played.
Playoff Success: Expectations for the Wild to go deep have never materialized, even with the tandem of Zach Parise and Ryan Suter. Though appearing in the playoffs each of the last five season, the Wild have won only two series. Koivu has 24 points in 50 postseason games.
19. Nick Foligno, LW
Captain since: 2015-16
Foligno's individual success has been a bit of a roller coaster. He was honored with the Blue Jackets' captaincy after a breakout 2014-15 season, when he scored 31 goals and added 42 assists, enough to earn him a trip to the NHL All-Star Game. Hopes were that he'd fill Rick Nash's shoes (or skates) as he inked a five-year deal worth $5.5 million annually, but his production has plummeted in virtually every statistical category. Still, he's got the respect of his peers.
Foligno's biggest asset is his ability to translate for head coach Tortorella. Without him there could be a mutiny. He holds the team together and makes the whole greater than the sum of its parts.
Playoff Success: During his three seasons as captain, the Blue Jackets have only seen the postseason once (last year). Foligno has two assists in four playoff games.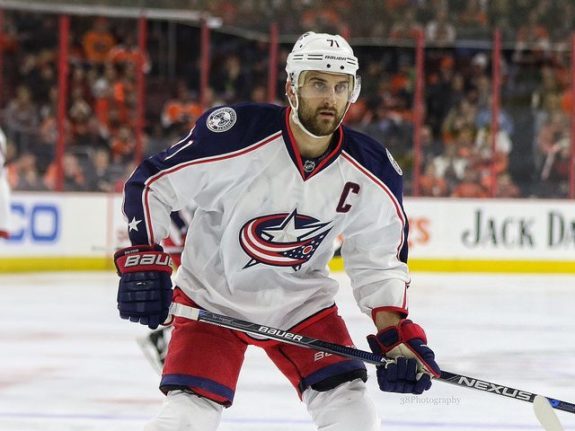 20. Claude Giroux, C
Captain since: 2012-13
Statistically, Giroux may have peaked in 2011-12, when he put up 93 points. Since then, the four-time all-star's numbers have trailed off a little, but his all-around game is still solid. The 29-year-old is a good mix of toughness and skill.
Playoff Success: Giroux has 23 goals and 39 assists for 62 points in 63 playoff games. As captain, he's yet to propel the Flyers out of the first round.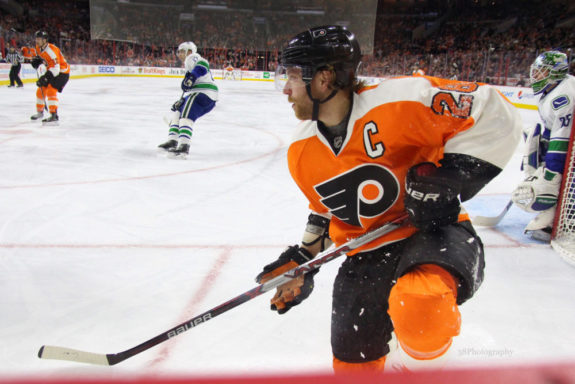 21. Justin Faulk, D and Jordan Staal, C/LW
Captain since: 2016-17
Jordan Staal will wear the 'C' that his brother, Eric once wore in Carolina. He's consistently one of the better defensive centers in the league. At 25 years old, Faulk is already a three-time all-star. Are two heads better than one? We'll see in Carolina.
Playoff Success: Staal won a Cup in 2009. He has 36 points in 73 playoff games, all with the Penguins. Faulk has yet to see postseason action.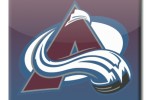 22. Gabriel Landeskog, LW
Captain since: 2012-13
Landeskog was drafted second overall in 2011 and took home the Calder Trophy in his rookie season with 22 goals and 52 points. The 23-year-old Swede put up 65 points in 2013, leading a surprising Avalanche team to a conference-best 112 points. His game and leadership qualities continue to grow, though his team struggles to find itself. There's an undisciplined element to him as he's averaged more than 70 penalty minutes per year in each of the last four years.
Playoff Success: In five seasons as captain, his only trip to the postseason came in 2013-14. He has three goals and one assist in seven games.
23. Henrik Zetterberg, LW/C
Captain since: 2012-13
After several years as an alternate captain to Nick Lidstrom, Zetterberg took over the captaincy from Nick Lidstrom after he retired. In his prime, 'Z' was one of the game's top players, scoring goals and playing a terrific 200-foot game. The aging Swede's production has remained near a point-per-game in his 14-year NHL career. That said, the one-time all-star is a lead-by-example type of player that competes hard every shift, every night.
Playoff Success: Zetterberg raised the Cup in 2008 and took home Conn Smythe honors that year as well. However, since he's been captain, the Red Wings have had limited success. Detroit has been eliminated from the playoffs in the first round each of the last three seasons. He has 57 career playoff goals and 120 points in 137 postseason games.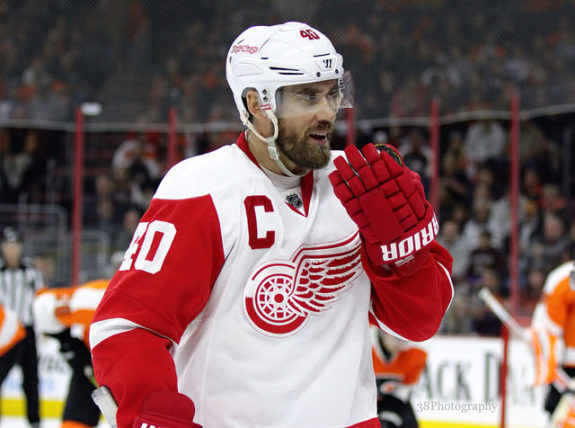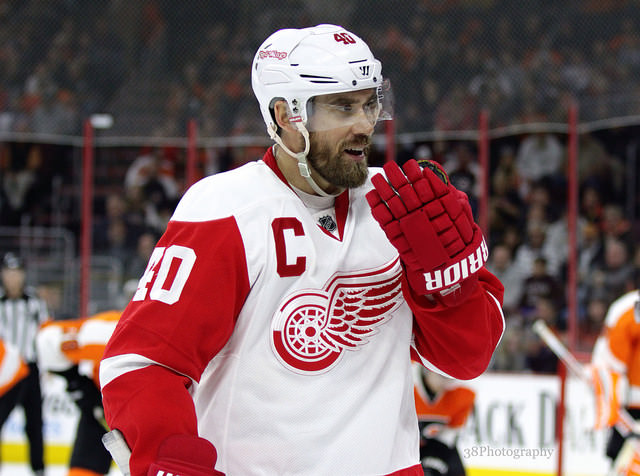 24. Henrik Sedin, C
Captain since: 2010-11
Sedin is a tremendous playmaker whose numbers have trailed off since peaking in 2009-10. The center hasn't hit the 20-goal mark since that year when he netted a career-high 29 goals. Though he has 1,020 points in 1,248 games, his success and the team's success hasn't translated to the postseason.
Playoff Success: The Canucks made a magical run to the Stanley Cup Final in 2011, eventually losing to the Boston Bruins. They've made the playoffs three times since then, but have yet to advance out of the first round. Sedin has 23 goals and 78 points in 105 playoff games.
25. Mark Giordano, D
Captain since: 2013-14
It's hard to believe Giordano was an undrafted player. The two-time all-star is one of the more offensively talented defensemen in the NHL. After a year in Russia, Giordano established himself on a rather weak team and peaked in 2014-15 with 48 points in 61 games. He's tied with Johnny Gaudreau, one of the Flames' alternate captains, as the team's highest paid player ($6.75 million annually) but has yet to help carry the Flames anywhere into the playoffs.
Playoff Success: Giordano has barely seen postseason hockey, only making it to the playoffs last year. As captain, he has one assist in four games.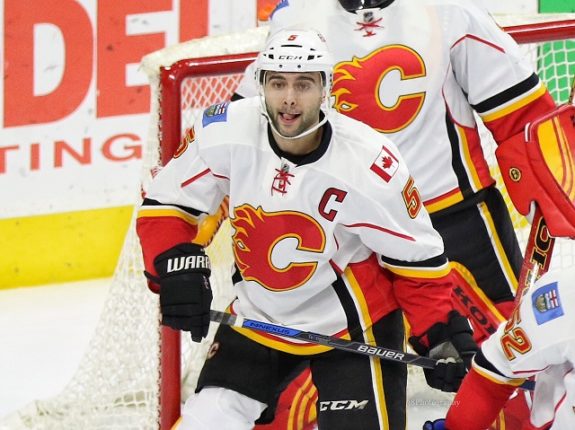 26. Andy Greene, D
Captain since: 2015-16
Greene, an undrafted free agent, has come a long way in his 11-year NHL career. While he was once a rock solid defenseman, he's lost a step and rarely contributes on the score sheet offensively anymore. He's lit the lamp a mere 39 times in his 707-game NHL career. Looking at his stats, nothing really jumps off the page.
Playoff Success: The Devils haven't made the playoffs since 2011-12. In 45 postseason games, Greene has three goals and four assists. While he isn't the problem, he certainly isn't doing much to help his cause.
27. Derek MacKenzie, C
Captain since: 2016-17
MacKenzie was an alternate captain before taking on the 'C' for the 2016-17 season. At 36 years old, he's one of the oldest captains in the league today. At the time, many were surprised that young defenseman Aaron Ekblad, only two years into his NHL career, or legendary veteran Jaromir Jagr wasn't tagged instead. With a career-best 23-point season with the Columbus Blue Jackets in 2010-11, MacKenzie is not an offensive threat. With the Panthers, he's totaled 40 points in 228 games over the last three seasons. MacKenzie must be a dominant leader in the locker room, because his piddly production doesn't warrant his selection.
Playoff Success: MacKenzie has played in 12 playoff games in his career, notching a goal and an assist.
28-31
Vegas Golden Knights
The Golden Knights have said they will not name a captain to start this season.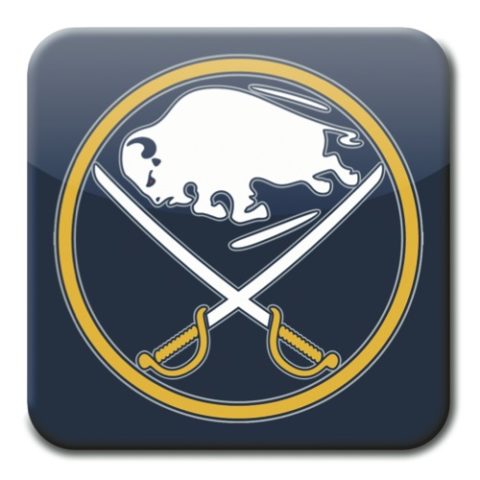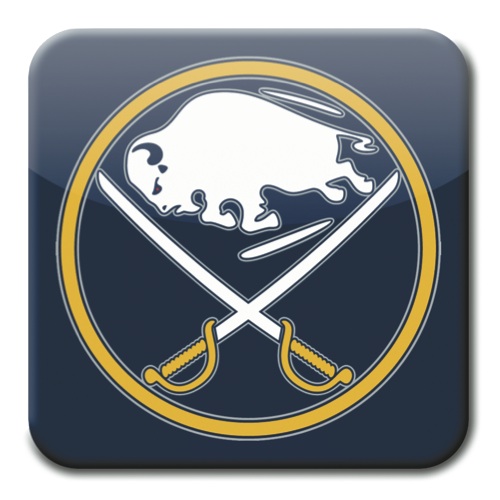 Buffalo Sabres
The Sabres have said they will not name a captain to start this season.
Toronto Maple Leafs
The Leafs have said they will not name a captain for this season.
Arizona Coyotes
The Coyotes have said they will not name a captain to start the season.