As is to be expected after 100 years of league operation, there aren't many more feats or records left that haven't been accomplished at some point in NHL history.
However, the 2-15-3 Arizona Coyotes have indeed managed to pull off something that's never been done before. They're the first team ever to fail to win at least one of their first 20 games in regulation.
The Arizona Coyotes have become the first team in NHL history to fail to record a regulation win through 20-games. #Yotes pic.twitter.com/GoojGm6Kay

— Complete Hockey News (@CompleteHkyNews) November 15, 2017
Put another way, every other team to ever take the ice in the century-long history of the National Hockey League has managed to pick up one or more regulation victories in their first 20 games.
The Coyotes are the only team that hasn't.
How bad have the Coyotes been? Well, every expansion team, even the 1992-93 Ottawa Senators, who lost a record 38 consecutive road games at one point, and the 1974-75 Washington Capitals, who won eight games all season, managed to pull off the feat of outscoring their opposition in regulation at least once during the first quarter of the season.
Add their dubious 20-game start to their record-tying 11-game losing streak to start the year, and it's been a historically bad season so far for the Arizona Coyotes.
What's the Problem?
Other than the play of Clayton Keller, absolutely nothing has gone right in Arizona this year. Whether it's on offense, defense, or on special teams, the Coyotes can't seem to have any degree of success in any area of the ice.
Offensively, the Desert Dogs have scored just 45 goals this season. There are a handful of teams who have scored fewer goals, but those clubs (San Jose, Buffalo, and Boston) have all played at least two fewer games than the Coyotes, meaning that Arizona holds the league's lowest scoring average at 2.25 goals per game. The 'Yotes have been especially bad in November – they've lit the lamp 12 times in seven games this month (1.71 goals per game), with four of their goals coming against the Buffalo Sabres on Nov. 2.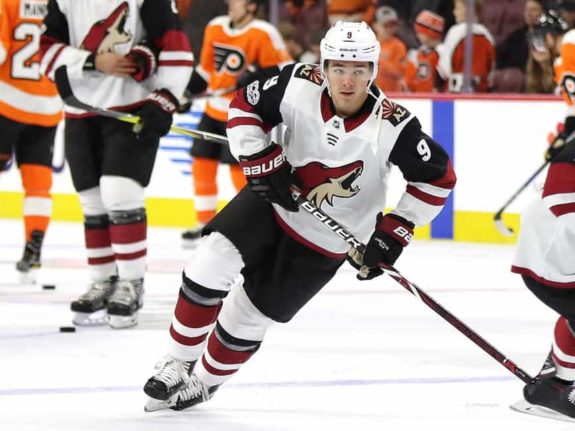 Defensively, the Coyotes are by far the worst team in the league – they've allowed 78 goals in 20 games this year, which is the highest total in the NHL. Arizona is allowing goals at a rate not seen in over two decades – if the season ended today, the 'Yotes would join the 1995-96 San Jose Sharks as the only clubs in the last 22 seasons to have a team goals-against-average of 3.90 or higher.
Arizona's minus-33 goal differential is also the worst in the league. Only three teams since the 2004-05 lockout have been outscored by more than 100 goals in a season – the Coyotes are well on their way to becoming the fourth, and the first team to do so twice, having previously 'accomplished' the feat while unsuccessfully tanking for Connor McDavid in 2014-15.
The power play, converting at a rate of just 14.8%, ranks 26th in the league. Five times this season, the Coyotes have been gifted a 5-on-3 power play by the opposition. All five times, they failed to convert. Shorthanded goals have also been a problem – Arizona has allowed three this season, including this inexcusable 2-on-0 shorty against the Sabres on Nov. 2:
The penalty kill isn't in any better shape – with a 75% success rate, Arizona's penalty killers have been the fifth-worst at preventing power play goals this season. This year's Coyotes, more likely than not, can be found at or near the bottom in every meaningful statistical category kept by the NHL.
What's the Solution?
The first step towards fixing this problem is admitting that there is indeed a problem – Rick Tocchet just isn't getting the job done in Arizona right now. Since training camp, he's been saying all of the right things during his press conferences. His assistant coaching resume is impressive, as was his long and illustrious career as a player. For whatever reason, though, he just isn't getting through to his players.
On paper, this team should be better than the Coyotes teams we've seen in years past under former coach Dave Tippett. The offseason additions of Derek Stepan, Niklas Hjalmarsson, Jason Demers, and Antti Raanta should have made this team better, not worse. The continued development of youngsters like Max Domi, Clayton Keller, Anthony Duclair, Brendan Perlini, and others should have resulted in a net improvement in the standings as well.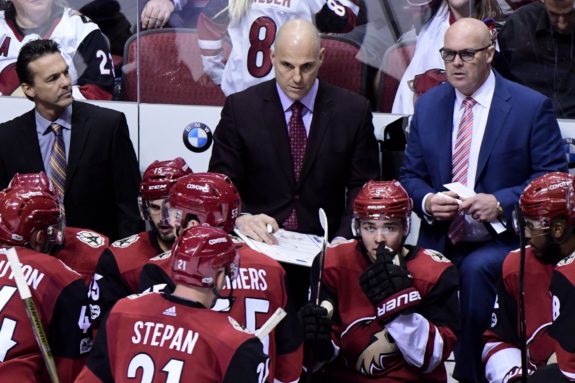 However, this just hasn't been the case, and it's looking more and more like the team's coaching is to blame. Tocchet possesses a career 55-84-29 record, which equals a points percentage of just .414%. He received his first shot at being a bench boss in 2008-09 with the Tampa Bay Lightning when Barry Melrose was fired after his team went 5-7-4 through 16 games.
Tocchet posted a worse record than his predecessor upon being promoted to interim coach, going 19-33-14 in 66 games on the job, but was still given permanent status by the club at the end of the season. In his first full season as head coach, the Lightning made a 14-point improvement in the standings, but Tocchet was still relieved of his duties following the season and was replaced by Guy Boucher.
Following Tocchet's departure, the Lightning improved rapidly under their new coach – in Boucher's first season, Tampa Bay improved from 80 to 103 points in the standings and advanced to the Eastern Conference Final, where they lost Game 7 to the eventual-champion Boston Bruins by a 1-0 score. Other than a coaching change, there wasn't much personnel turnover in Tampa Bay over that summer, so it appears as if it was Boucher that made the difference.
Changes Coming?
Firing a coach during his first season on the job is something that doesn't happen often. Current Coyotes assistant John MacLean was the most recent first-year bench boss to be fired by his team – the New Jersey Devils relieved MacLean of his duties just 33 games into his tenure after a 9-22-2 start in 2010-11. In 2008-09, two coaches were fired in their first seasons – Melrose after 16 games (see above) and Ottawa Senators' coach Craig Hartsburg, who was sacked after a 17-24-7 start.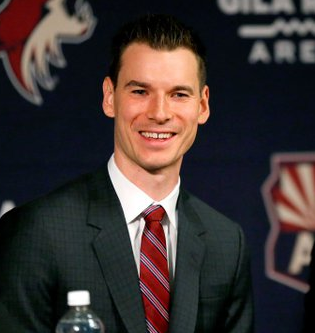 I can understand why general manager John Chayka might not want to fire his head coach just yet. Firing a coach just 20 games into his tenure would set a precedent that might discourage other coaching candidates from taking a job in Arizona. Why go somewhere with no job security when you can wait for a better opportunity to present itself?
It might also be premature to pull the plug on Tocchet so soon. The front office of the Colorado Avalanche retained Jared Bednar after last year's 22-56-4 campaign and have been rewarded for their patience, as Bednar has the Avs playing competitive hockey this season.
Tocchet also needs time to work with his team in practice, and Arizona's hectic travel schedule so far has done him no favors in that regard. The Coyotes have had just three home games since Oct. 21, and won't be home again until Nov. 22. Arizona has also played the most games in the NHL this season (20, tied with Pittsburgh), with only eight of those games having been played in Glendale. The 'Yotes need time to practice and learn Tocchet's system, and they just haven't had much of an opportunity to do so this season.
From a financial aspect, owner Andrew Barroway also might have some concerns with making a head coaching change – he's already paying the buyout of former coach Dave Tippett, who was fired one year into the five-year contract extension he was given last summer. Barroway likely doesn't want to add a second buyout (along with the salary of another coaching staff) to his payroll.
Although an infrequent occurrence, making a change in year one of Tocchet's tenure is an idea the Coyotes should entertain if things don't turn around within the next month or so. We're almost a quarter of the way through the season and this team has two wins, with none coming in regulation. Something in the organization needs to change, and switching coaches is a whole lot easier than changing the entire roster.
A lifelong Phoenix resident, Louis has been following hockey since 2010, has covered the Arizona Coyotes since 2015, and has been playing hockey since 2020. So far, Louis has visited eight NHL cities, and one of his personal goals is to eventually make it to all 31 NHL arenas. For any questions or concerns, contact the writer via Twitter @LouisPannone.