Brendan Smith has not played a game in the month of November for the New York Rangers. It is not an injury or illness or even a personal leave that has left him out of the lineup. It is his poor play. The Rangers signed him to a four-year contract with an average annual value of $4.35 million each year. In theory, that sort of investment is tough to bench for long periods of time. But the Rangers are 5-0 to start the month without him, so Alain Vigneault keeps rolling with Smith out of the lineup.
Smith has never been much of a point-getter in his career. In 18 games for the Rangers last season, he scored one goal to go along with three assists. In 11 games this season, he has two assists. But what is most glaring is his giveaway number. In those same 18 games for the Rangers last season, he gave the puck away ten times. In just 11 games this season, he has already given the puck away ten times. The Rangers were bleeding giveaways early in the season and Smith played his part in New York's struggles. Currently, Smith has the worst expected plus-minus on the team and has seen his Corsi rating drop from 45.8% last season to 41.5% this year. Any way you slice it, he has been a shell of himself from last season and that needs to change if he is going to get back on the ice consistently.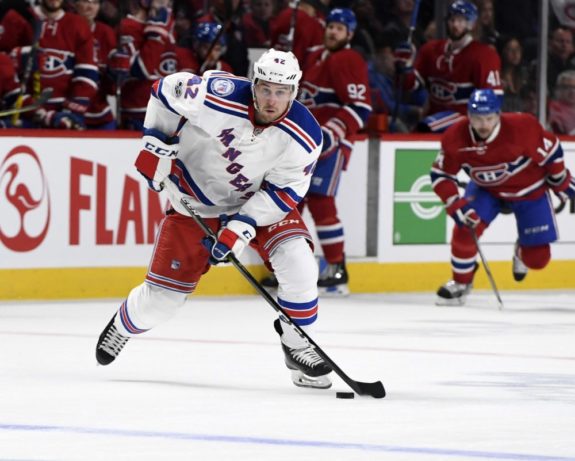 Filling in for Smith has been Steven Kampfer. Kampfer is undoubtedly a less talented player than Smith, yet he has done well to stabilize the Rangers 'defense. In eight games this season, he has not registered a point. However, the Rangers are 7-1 in those eight games. Compare that to the 3-6-2 record the Rangers have with Smith in the lineup and you can see why Vigneault has kept the lineup consistent as of late. Something is working and with how poorly the team started the season, you don't want to mess with success.
Brendan Smith's Value
Last season, the Rangers acquired Smith from the Detroit Red Wings. He was a standout performer down the stretch and shined in the playoffs. He brought an edge to the ice, as well as a good skating ability. However, his form as precipitously dropped this season, which has resulted in his benching.
The Rangers are paying him too much money to simply leave him as a healthy scratch all season. He will eventually find his way back into the lineup, but that time frame is yet to be determined. Vigneault seems to be waiting for the right time to insert him back into the squad, but as Larry Brooks of the New York Post put it, this situation needs to be addressed sooner than later.
Though I feel exploring a trade may be a bit premature, Smith does have value. But it would be a hard pill to swallow if they go that route considering the contract he just signed. Shades of Wade Redden and the debacle that relationship turned out to be. This situation will never reach those levels, but to capitalize on Smith's value, he needs to play again. And play well. No team would risk a trade for Smith with how poorly he has played this season.
AV confirms no changes on D and @HLundqvist30 will start for #NYR against the Blackhawks Wednesday night.

— New York Rangers (@NYRangers) November 13, 2017
And with the news that Vigneault is continuing with the same lineup against the Chicago Blackhawks on Wednesday night, Smith will be on the bench once again. Adding to the streak of not yet starting a game in the month of November.
Minor-League Replacements
Entering the season, Nick Holden seemed the likely defenseman to be moved due to his expiring contract. And though his time may still come, Smith might have played his way into shaky territory as well. If they do decide to move on from one of these defensemen and do not get another NHL quality blue-liner in return, then they will have to resort to a minor league call-up.
In the preseason, Ryan Graves, Neil Pionk, and Anthony DeAngelo all showed promise. Of the three, only DeAngelo made the opening night roster. Unfortunately, his stay on the Rangers only lasted eight games before he got sent down to the AHL. He struggled at five-on-five and had a propensity to turn the puck over.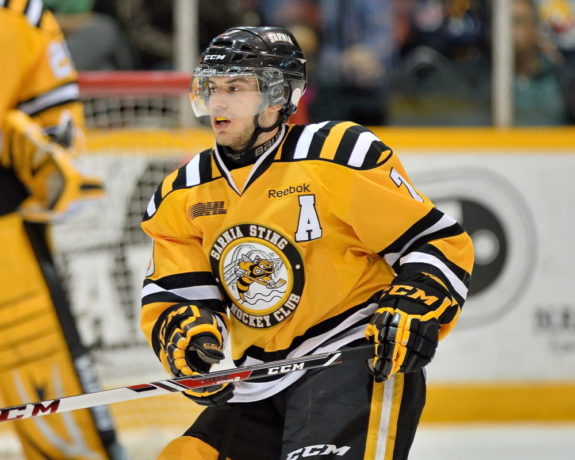 Before his demotion, DeAngelo started 83 percent of his shifts in the offensive zone. It is tough to utilize a player that cannot be trusted in his own zone. However, his skating ability cannot be overlooked, as well as his high Corsi rating, which sits at 55.4 percent, a number that currently leads the team. His offensive skills are well in line to being a consistent contributor, so if he can clean up some of his sloppy play in the minors then he could get the call-up at some point this season. DeAngelo is only 22 years old, so he is still young with plenty of time to mature.
With the Rangers in the midst of a winning streak, it might be hard for Smith to crack the lineup. Their defensive struggles seem to be on the mend and putting out a consistent lineup helps to keep things running smoothly. I am sure he is champing at the bit to get back on the ice, but he needs to show he can consistently perform. And he will get that opportunity at some point. This winning streak will end or Kampfer will struggle. Either way, he'll get his chance to prove his worth. But if he struggles a second time around, this four-year contract might not make it to the trade deadline. Let's hope for everyone's sake it does not come down to that.