Adding some stability to what has been a disappointing defense the past two seasons, the Rangers inked Brendan Smith to a four-year contract with a $4.35 million average annual value (AAV). He is destined to take a big role in a defense going through a major overhaul and continue his career with the Rangers.
The Rangers have been busy altering their blue line this offseason. They bought out long-time Ranger Dan Girardi, which sparked even more change. Early on the day of the Entry Draft, they traded another long-time Ranger, Derek Stepan, and backup goalie Antti Raanta to the Arizona Coyotes for a young defenseman, Anthony DeAngelo, and the seventh overall pick in the draft.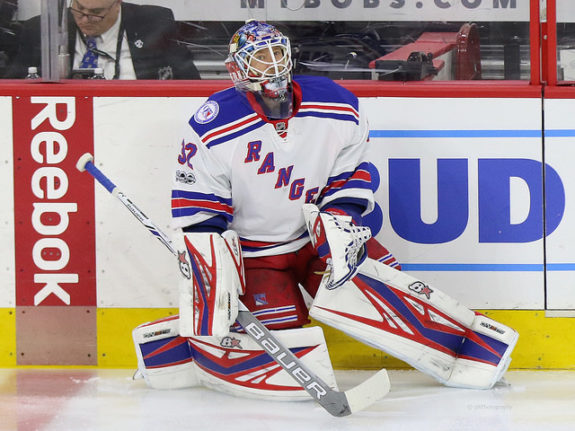 The defense is still in flux and the newly-acquired DeAngelo is hardly to be relied upon. The talented defenseman is already in his third organization (one for each professional season) and has a bevy of suspensions under his belt, ranging from abuse of officials to sexist, homophobic, and race-based language. Smith's steady play will help bring necessary stability to the Rangers, and signing him was
Smith's steady play will help bring necessary stability to the Rangers, and signing him was business they needed to get done.
A Versatile Partner
Smith was acquired at the trade deadline by the Rangers and was instantly inserted into their top four. His most frequent partner (on either the Rangers or the Red Wings) was Brady Skjei, and the pair went well together—they had a positive-eight goal differential in 193 minutes and a respectable 49.1 percent score-adjusted Corsi-for. They were outshot a little bit, but nothing major.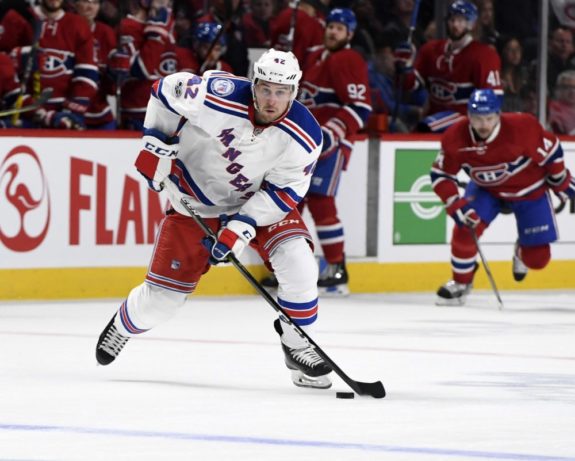 He was solid in 172 minutes (third-most out of any of his teammates) with Nick Holden as well, as the pair had a positive goal differential of four, and a score-adjusted Corsi-for of 50.9 percent.
Smith was acquired by the Rangers and given a bigger role than he ever had. His average time on ice in six years with the Red Wings was 18:00. With the Rangers, it bumped up to 20:10—and, with the blue line in flux, it looks like he is primed to do that again.
An Excellent Shot Suppressor
The thing that Smith brings to the team the most is his ability to prevent shots. Below is a chart showing five-on-five shots against the Rangers while he is on the ice:
Smith does a very good job of keeping shots out of the high-danger areas. Most of the front of the net is covered, and while there are some big hot spots to the right side, this chart mostly puts Smith in a good light. His HERO Chart, when compared to the Archetype number-two defenseman (his ceiling on the Rangers, because Ryan McDonagh is their number-one), also tells an interesting story: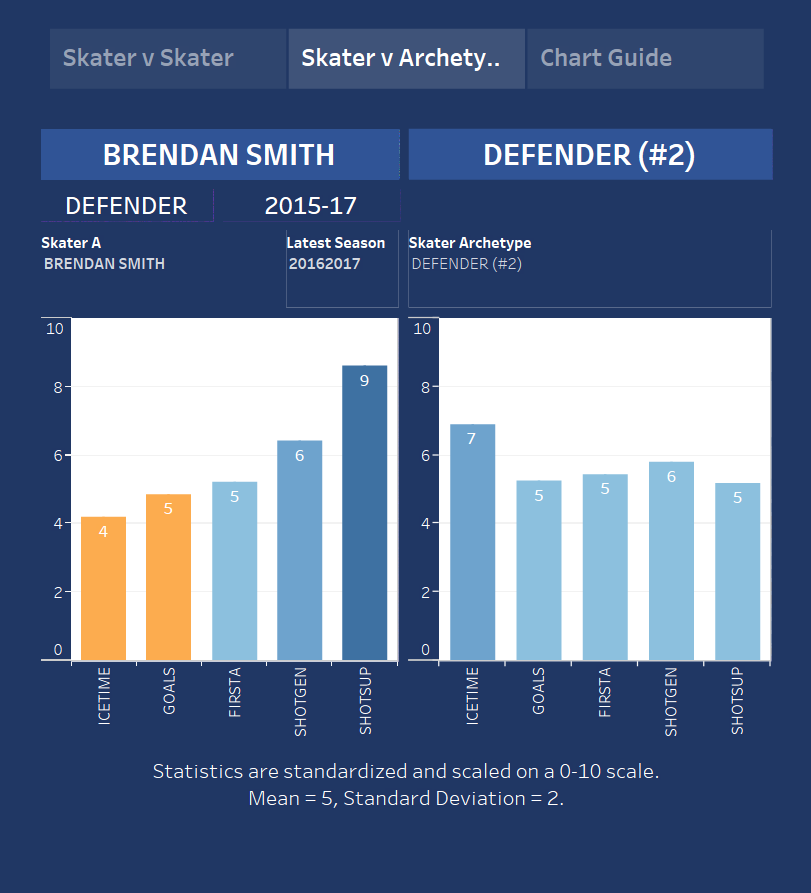 Smith obliterates the average number-two defenseman in shot suppression and does the job in every other category. The one glaring difference is his ice time. He has been used conservatively for the majority of his career, but now all bets are off—as it stands, he is one of the three best defensemen on the Rangers roster, alongside McDonagh and Skjei, and he is likely going to get adequate ice time.
McDonagh's partner next season is up in the air. It very well could be Smith, who shared 59 rather unexciting minutes with McDonagh last season (zero goal differential, 45.2 percent score-adjusted Corsi-for), or it could be someone not on the roster (paging Kevin Shattenkirk). Either way, Smith will be in the top four for the Rangers next season and take a big bite out of the defensive responsibility that is up for grabs on Broadway.
Time on ice from hockey-reference, and statistics from datarink.