On June 14, 2017, the Rangers made a move that shook their current core. They announced they would buy out the contract of alternate captain Dan Girardi. Girardi was signed by the Rangers as an undrafted free agent prior to the 2005-06 season and worked his way to the NHL through their minor league affiliates. He made his NHL debut on Jan. 27, 2007, and never looked back, taking a spot in the top six.
However, after eleven seasons, and a franchise record in playoff games played, the Rangers decided it was time to part ways with Girardi. It was the correct decision. In fact, they had no choice.
Declining Play
While buying out Girardi halfway into a six-year, $33 million contract is a somewhat expensive endeavor (more on that later), it is worth the multiple cap hits. As the two charts below show, the Rangers were worse with Girardi on the ice than when he was off of it: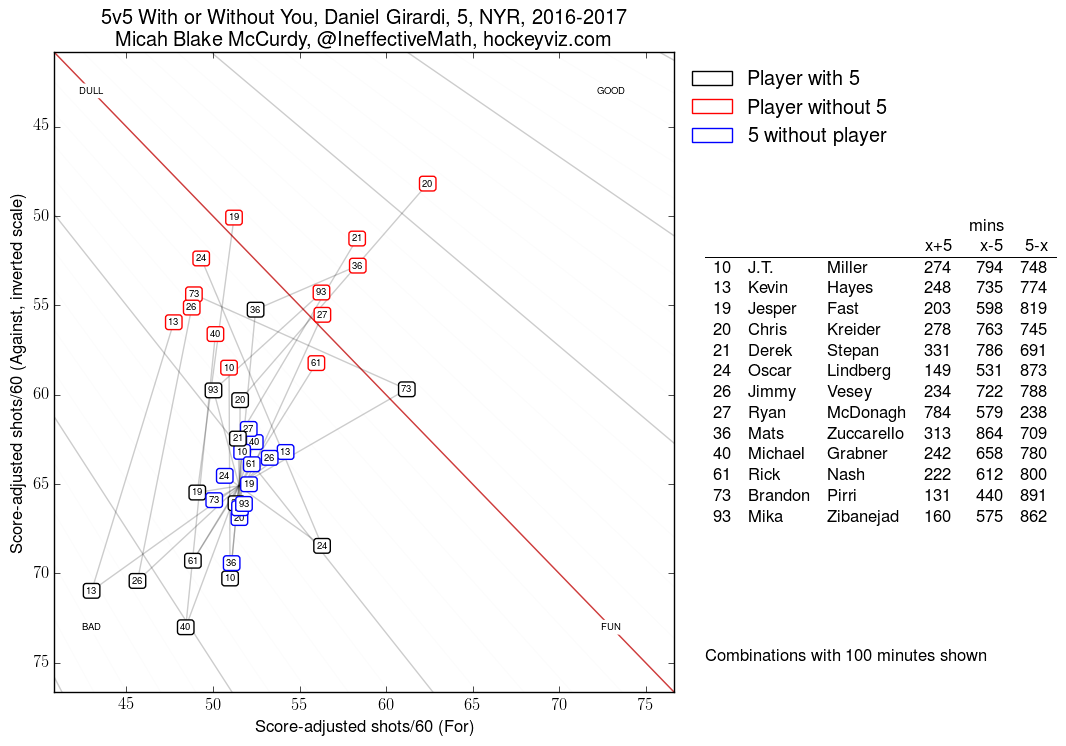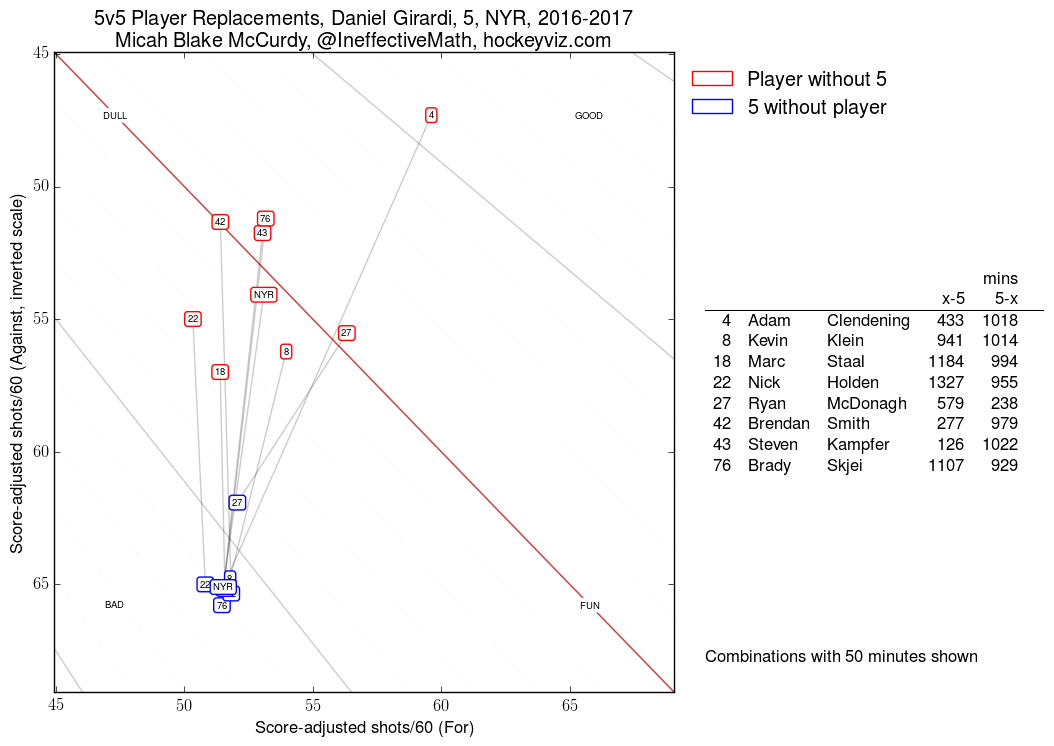 The charts above highlight Girardi's poor play this season. The first chart is his WOWY chart. WOWY, or with or without you, is how Girardi performed with a certain player, without a certain player, and how that player performed without him. The idea behind it is to see if each player is pulling their weight. The further above the red line, the better, and the further below, the worse.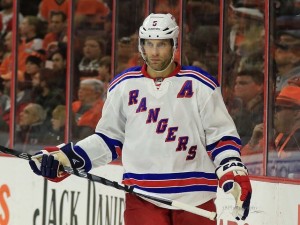 As you can see, Girardi was consistent last season, consistently bad. He (the blue box) is bunched below the red line, well into "bad" territory. The black boxes show different Rangers forwards (and frequent partner Ryan McDonagh), and how they performed with him on the ice and the results are almost exclusively bad. However, the red boxes – showing the same players, but when Girardi is not on the ice – all shoot up. While not every forward shoots into the "good" range, they are all significantly better when he is on the bench. For someone making upwards of $5 million per year, that is unacceptable. especially on a team with Stanley Cup aspirations.
The bottom chart is his replacement chart. It is basically WOWY, but with all of the team's defensemen. Again, Girardi is consistently huddled in the "bad" portion of the chart (in fact, he is nearly at the bottom, which is awful). His fellow defensemen are, just like the forwards, far and away better players when they were not paired with him.
Every Rangers player suffered when Girardi was on the ice. He could not keep up with his opponents, and it cost the Rangers often. One look at his shots allowed chart shows that: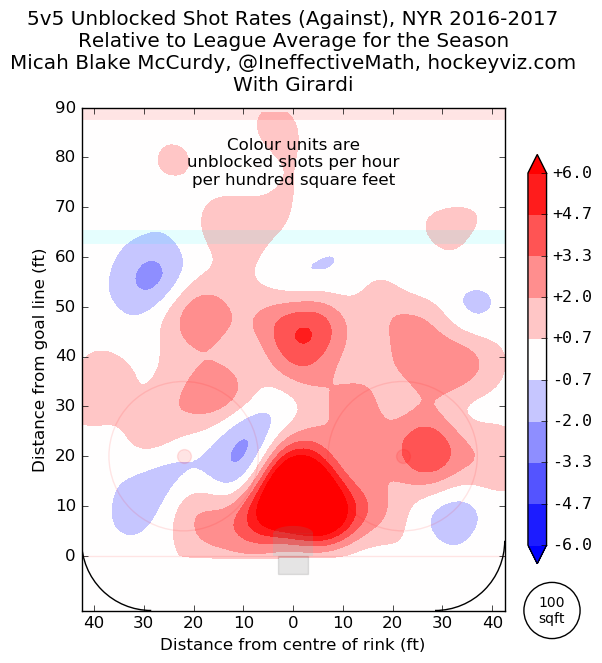 This is an ugly shot allowed chart for anyone, not to mention someone who was paired with the team's best defenseman and had top pairing minutes. When he was on the ice the Rangers bled shots from nearly everywhere, including a bevy of high danger shots. It is not like Girardi can offset this with a strong offensive game; he is as defensive a defenseman as they come, and always was. His career high in points is 31 in 2010-11, and he only had a lowly 15 points this season.
This is not just one season of porous play, either, but the writing has been on the wall for a few seasons.
A Steady Decline
Girardi did not have the best season this year, but it should come as no surprise. He has been struggling for a while now:
https://twitter.com/JeffVeillette/status/875038542862438400
https://twitter.com/JeffVeillette/status/875040169661001729
He has been one of the worst defensemen in the NHL since the 2014-15 season. The Rangers also offered him a big extension that season, so the bet they took on Girardi failed, and they will pay for it with the buyout.
Financial Implications
Buying out any player is tough on an organization, but for the Rangers, it is a (self-inflicted) wound. Instead of paying Girardi and his declining game $5.5 million for the next three seasons, the team will choose immediate cap relief, something they sorely need.
Next season, his cap hit is only $2,611,111, and is $3,611,111 for the 2018-19 and 2019-2020 seasons. While it looks like dead cap space, it gives the Rangers a few extra million to play with instead of playing a bad player and paying him a premium salary. However, because buyouts are spread over double the years left on a deal, the Rangers have to pay $1,111,111 for three seasons following the 2019-2020 campaign. That is dead cap space but not an unreasonable amount.
Simply put, Father Time caught up with Girardi. The Rangers could not afford to pay someone that much money, when the defensive inefficiencies of the team have been obvious for well over a year, and Girardi's game has slipped this far:
At this point in his career, he is not even a third pairing defenseman, as evidenced by the chart above. While players like Brady Skjei are primed to take bigger roles on Broadway, and the Rangers have openly discussed getting younger, there is no place for Girardi to wear Ranger blue any longer.
Salary cap and contract information from Cap Friendly.