The Carolina Hurricanes and 22-year-old forward Teuvo Teravainen have agreed to a contract extension that will pay the Helsinki, Finland-native $2.86 million per season for each of the next two years. This is Tervainen's first contract extension after completing his original three-year entry-level contract which came with a total cap hit of $2.68 million over three years. It's a sizable raise for the young forward and an affordable one for the Hurricanes as they continue to evaluate Teravainen just one season after acquiring him from the Chicago Blackhawks.
It's #TeuvoTime for two more years!#Canes agree to terms with Teravainen on a two-year contract → Details: https://t.co/Xvc2Nlsi4l pic.twitter.com/xeFq73Hbvn

— Carolina Hurricanes (@Canes) June 15, 2017
"Teuvo is a highly-skilled player and an important part of what we are building here," Hurricanes' general manager Ron Francis said." "He's still a very young player and we look forward to seeing him take the next step in a Hurricanes uniform."
The 2016-17 season was the best of Tervainen's young career. Posting career highs in games played (81), goals (15), assists (27) and points (42), Tervainen showed that he is continuing to grow as a player despite the change of scenery from a Stanley Cup contender in the Chicago Blackhawks to a struggling young team in the Carolina Hurricanes. Originally drafted with the 18th overall selection in the 2012 NHL Entry Draft by Chicago, Teravainen quickly made an impact in the 2014-15 postseason, scoring four goals and 10 points in 18 games and flashing signs of a young Patrick Kane. With the Blackhawks in salary cap trouble following the 2015-16 season, however, the Hurricanes took advantage of the situation and worked out a deal with Chicago to relieve them of Bryan Bickell's contract while also acquiring Teravainen.
Youth Movement in Carolina
Tervainen is just one of many young faces in the Carolina Hurricanes locker room. At just 22 years old, he has the potential to the focal point of the Hurricanes offense moving forward. With a two-year bridge deal, the Hurricanes get an opportunity to further evaluate the talent they have in Teravainen – a player who already showed improvement when given a bigger role last season. It's been a long rebuild for the Hurricanes, but the team is turning a page on the past and looking to build a solid core of young players with Teravainen at the forefront.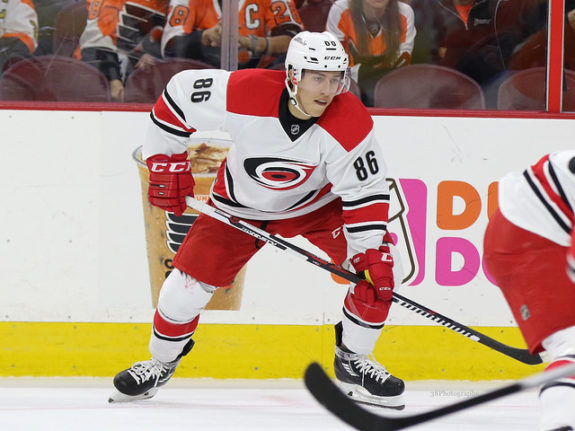 In 196 career games, Teravainen has scored 32 goals and 86 points. Those numbers aren't the most impressive on the surface, but when considering the role he played in Chicago on a Cup-contending team while also taking into consideration his age, there's certainly hope that Teravainen will reach his very high ceiling soon. As Teravainen continues to develop in this system, the Hurricanes will also continue to develop other potential young stars in Noah Hanifin, Elias Lindholm, Sebastian Aho and the rest of the young defensive core in Carolina. To put it all in perspective, the oldest player under contract for the Hurricanes on defense heading into the 2017-18 season is Justin Faulk at 25 years of age. It could be a very bright future for Carolina if all of their players can pan out and reach their potential.