It is not a secret that the Rangers have an issue on the blue line. After defensive breakdown after defensive breakdown in their six-game loss to the Ottawa Senators in the second round of the Stanley Cup Playoffs, it is time for a change. The time might be nigh to move on from Dan Girardi or Marc Staal (or both), for cap-related reasons and because of their play.
Regardless of the turnover among the defensive corps this offseason, captain Ryan McDonagh is a mainstay on defense. However, there is another defenseman on the roster that deserves to absorb a major share of the ice time left by the veterans, and that's Brady Skjei.
The 2016-17 season was not Skjei's first taste of the NHL. The former first-round pick played seven regular season and five playoff games last season. He had a job on the blue line from there, and had an incredible rookie campaign, even if he had to battle some issues of trust from his coach in the playoffs.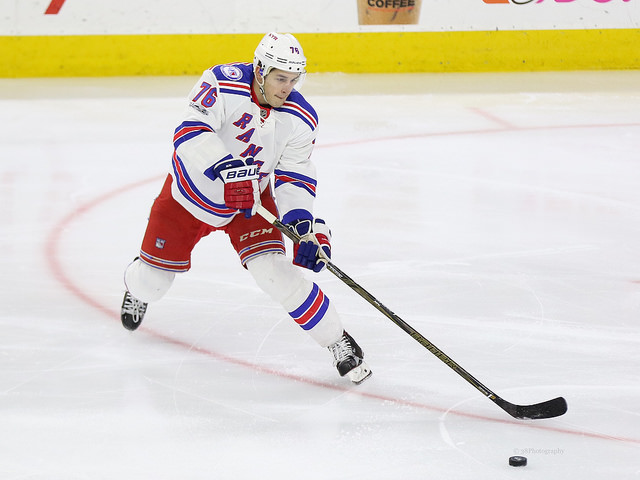 Unique Offensive Contribution
Skjei was a productive defenseman for the Rangers this season. He led the team's defensemen in GF/60 (goals scored for the team or player per his 60 minutes of ice time) with 3.4. He was second among Rangers defensemen in score-adjusted Corsi-for percentage (CF%) with a mark of 53 percent, trailing only Adam Clendening, who saw 1,122 fewer minutes of time on the ice than Skjei. For all intents and purposes, he led all regular defensemen in score-adjusted CF%. He also led Rangers defensemen in A/60 (assists per 60 minutes of ice time) with 1.3.
He was a very solid offensive contributor when looking at the statistics, but he also gave the Rangers a kind of offense they did not get from anyone else. A quick look at his five-on-five shot location shows where he set up during the season: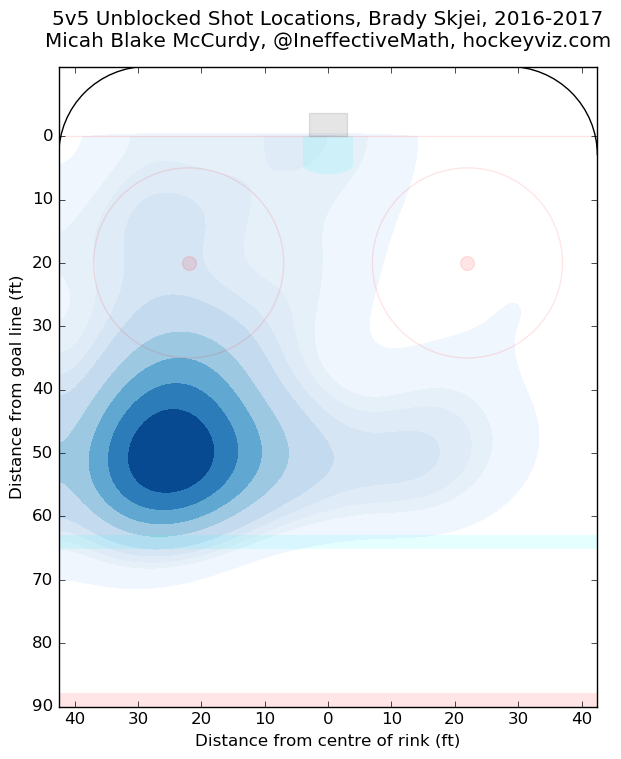 He took over the left side of the offensive zone, most notably towards the blue line. He got down towards the net a little bit, but the majority of his shots took place at the left side of the zone, near the blue line. Keep that in mind when looking at the two graphs below, the first being shots with him, the second shots without him.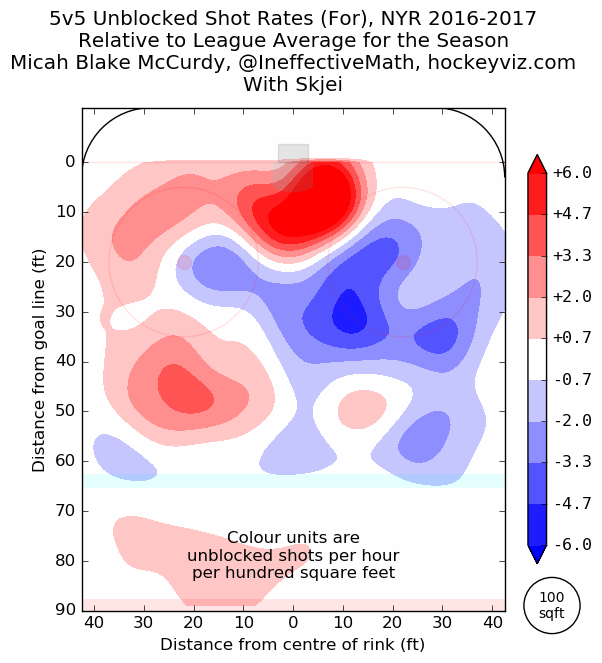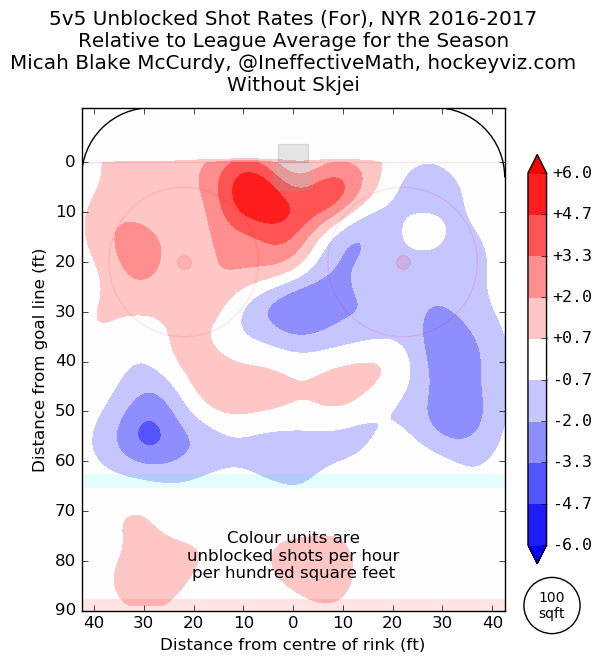 Skjei gave the Rangers a threat from the blue line they did not have without him. He gave them more shots from the left side of the ice in general—especially towards the blue line. And, while those shots are largely low-danger, they can create rebounds, tip-ins, and the like. It also stretches the defense out a little bit more and opens up the ice.
Skjei gave the Rangers a threat on the blue line that they did not have before, and it will be very valuable for them going forward. He also contributed on the other end of the ice as well.
Solid defensive play
Skjei certainly contributed offensively, but he also did so in his own zone, especially after the Rangers acquired Brendan Smith at the trade deadline. Skjei did not have a steady partner this year. His most frequent partners were: Kevin Klein, Adam Clendening, Brendan Smith, and Nick Holden in that order, in terms of time on ice together.
Outside of poor play with Klein (minus-5 goal differential, 47.9 percent score-adjusted CF%, though that was more on Klein's massive regression this season—Skjei was 3.2 percent better in score-adjusted CF% without him), he was solid with all of his partners. He and Clendening had a plus-two goal differential, and an impressive 60.6 percent score-adjusted CF% together. Smith and Skjei had a plus-eight goal differential, as well as a solid 49.1 percent score-adjusted CF%. He and Holden were similarly solid, with a plus-three goal differential and 49.3 percent score-adjusted CF%.
This is a largely unimpressive group of defensemen, but Skjei brought up the likes of Holden, played well in a small time with Smith, and lit the world on fire with Clendening. He also impresses when one looks at his five-on-five shots allowed graphs with and without him on the ice: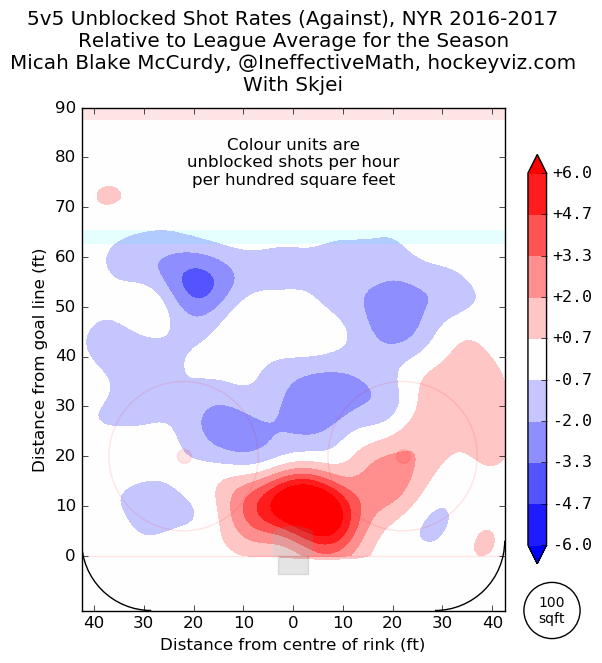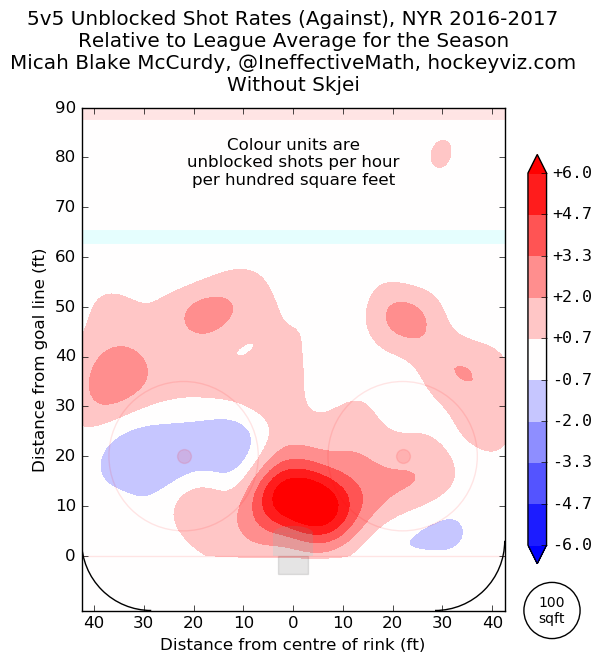 While the high-danger shots right in front of the netminder are way too frequent, the Rangers are much stronger defensively with Skjei on the ice than without him. Skjei's color units in the chart above are quite impressive—he was a force in his own zone this year.
Conversely, the rest of the defense had real problems, as they bled shots from basically everywhere. These two charts show Skjei's contributions to the Rangers in a nutshell—he is good, but most of the Rangers' defense is not.
A Big Future Role
Skjei, despite being arguably the best defenseman on the Rangers not named Ryan McDonagh, did not see the ice against the best competition: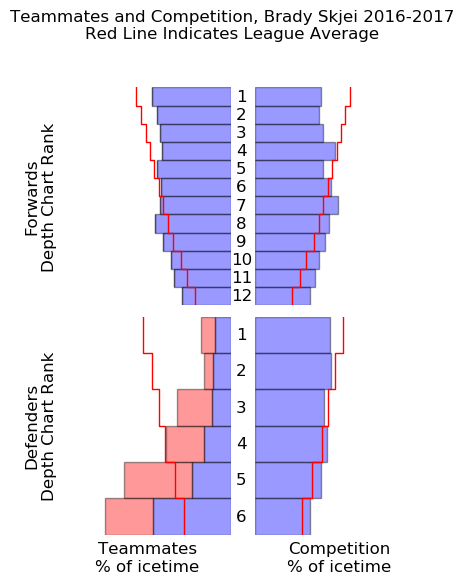 Skjei largely saw his ice time against (and with) the bottom of the Rangers' and their opponents' depth charts. While it can be argued that he feasted on lesser competition and he was good for that reason, this is also a reason to give him a run against better players—he can obviously handle being a mid-to-bottom-pair defenseman at the NHL level, and is young and should only continue to grow. The fact that he was a rookie last year is important too; Alain Vigneault can be conservative with his rookie deployment.
Brady Skjei was great this season, and he is primed for a big future on Broadway—and the future might be sooner rather than later, especially since his game was quite close to the archetype for a number-one defenseman this year: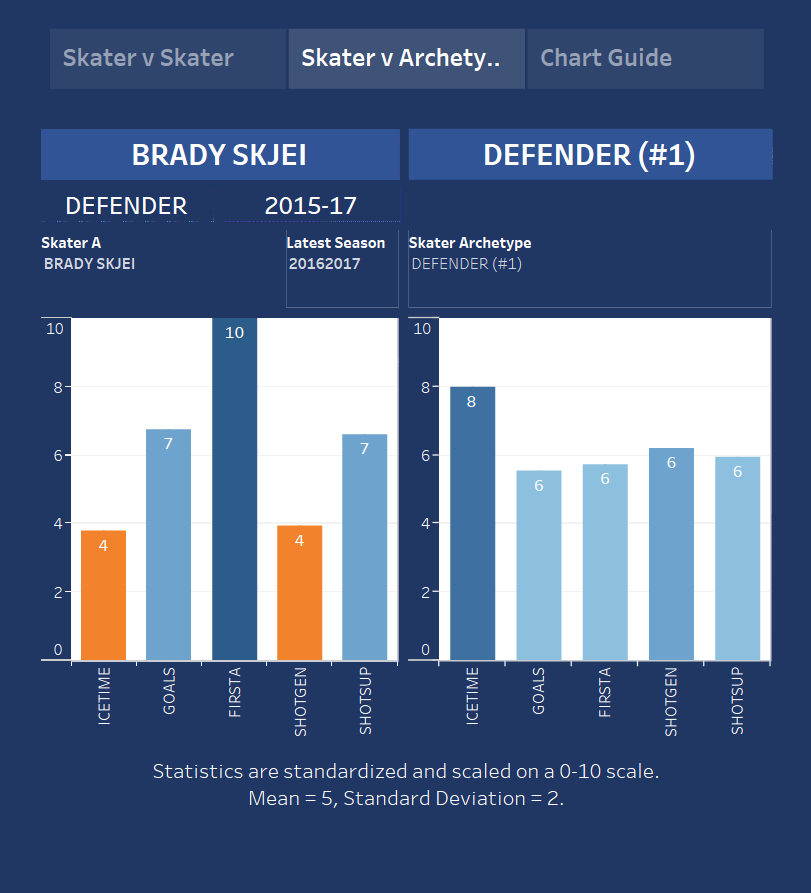 Note: All possession stats obtained from datarink.com 
Turned his Bachelors of Arts in English to write about baseball and hockey. Passionate New York Rangers fan who just wants to see Henrik Lundqvist win a Stanley Cup. Believer in sabermetrics and advanced statistics to give us a better understanding of incredibly intricate games. Follow him on twitter @ThomasHendo52 for sports opinions and live-tweeting.