Evander Kane has rarely been a player securely entrenched in one place. The most recent years of his still young career have been productive but also clouded by trade rumors. A polarizing player, he's been off and on with Sabres owner Terry Pegula and Kane is back in the rumor mill again, this time perhaps being dangled by new Buffalo Sabres general manager Jason Botterill. The question seems to be, can Kane fetch the Sabres a good defenseman?
Los Angeles Kings: Defense for Scoring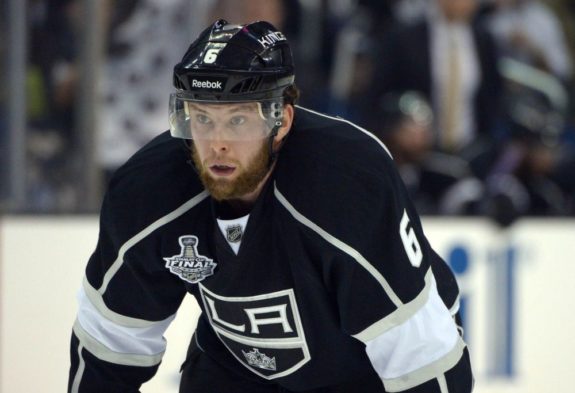 As the sixth lowest scoring team in the NHL last season, the Kings are a team that needs offense. Despite his off-ice drama, Kane is a player who can provide that. Since the Sabres might be looking for a solid defenseman in return, the names that immediately creep into the conversation are Jake Muzzin and Alec Martinez. But is that a trade that makes sense for the Kings?
Muzzin is a six-foot defenseman who comes in at over 215 pounds. In 2016-17 he had 9 goals and 19 assists for the Kings from their blue line and he would immediately help a Sabres blue that could use an addition to their top-four. Martinez is six feet tall and similar in size but even more offensive. Removing either player from the Kings organization creates a hole that would require filling immediately.
Vancouver Canucks: Chris Tanev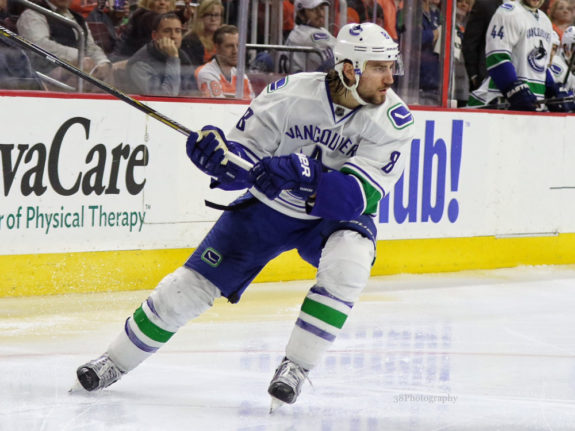 Tanev is another name that seems to be out there and he would need to be traded before his modified no-trade clause kicked in if Vancouver was looking to move him. Vancouver was even worse off than the Kings when it came to scoring goals and perhaps Kane is the type of player who could find good chemistry with Bo Horvat.
Tanev is a right-handed defenseman who isn't terribly physical but can play top pairing minutes against the best players in the league in a shut down role. He's a very good skater but offers little offensively. He'd be a solid defensive addition with a decent contract.
What Happens If You Trade Kane?
The Kings reportedly have interest in Evander Kane. https://t.co/4RIJOxtOCJ pic.twitter.com/ANe0xjctP2

— Yahoo Sports NHL (@YahooSportsNHL) June 4, 2017

The saying goes, if you trade a player like Kane, you no longer have a player like Kane in your organization. Buffalo scored 199 goals last season and Kane 28 of them. That's almost 14 percent of all goals scored and very few of those markers were on the power play.
Had the Sabres given Kane time on the first-unit man-advantage, it's hard to say how many more goals he might have potted than the 28 he did score. And, if the Buffalo Sabres choose to move Kane, they'll be immediately looking for an offensive winger to replace him.
The Sabres need help in both scoring and defense. Is it a good idea to move one for the other? Does it matter if the Sabres organization deems Kane too large a liability to keep around? Kane had a productive end to his most recent season. Perhaps the team feels it's best to move him while his value is at its highest.