The Chicago Blackhawks always seem prepared. Even when the team looks primed to blow up their team and start over, the Blackhawks find a way around it. Not many teams can trade Dustin Byfuglien, Andrew Ladd, Brandon Saad, among others following Stanley Cup wins and remain competitive. That hasn't stopped the Blackhawks, though. Finding cheap, solid options to potentially fill a role, Stan Bowman always gets the job done. It isn't easy keeping a Stanley Cup contender together. Still, that's exactly what the Blackhawks have been able to do since their 2010 Stanley Cup victory.
It's an impressive streak by the team. It's also one that many expect has to come to an end sooner or later. After all, the Blackhawks are committed to paying $21 million to just two players over the next six seasons in Jonathan Toews and Patrick Kane. Even more, the Blackhawks have an additional $26.338 million spread across five players in Marian Hossa, Artem Anisimov, Brent Seabrook, Duncan Keith and Niklas Hjalmarsson all of whom have no-movement clauses in their contracts. To make things even sticker, the average age of the latter five players is 32. The Blackhawks aren't getting any younger, in that sense – but they are still finding diamonds in the rough that are allowing them to navigate the salary cap and remain competitive.
Jan Rutta Signing
The Blackhawks won the "Jan Rutta Sweepstakes" on Wednesday. Signing the 26-year old Czech defender to a one-year, $925,000 entry-level contract, the Blackhawks beat out both the Edmonton Oilers and Calgary Flames who were also both reportedly interested in Rutta. In 46 games last season with Chomutov Pirati of the Czech League, the right-handed shot Rutta scored eight goals and career highs in assists (24) and points (32) while also adding two goals and 13 points in 17 postseason contests.
Signed! Czech defenseman Jan Rutta has inked a one-year deal with the #Blackhawks through 2017-18!

Full Release: https://t.co/QqznU4molo pic.twitter.com/pb9K8mjs0Y

— Chicago Blackhawks (@NHLBlackhawks) June 7, 2017
"Jan has been on our radar for a number of years and he has shown great progress on the ice during that time," said Bowman. "His addition to the organization makes our defense more dynamic and he has shown he can contribute offensively as well."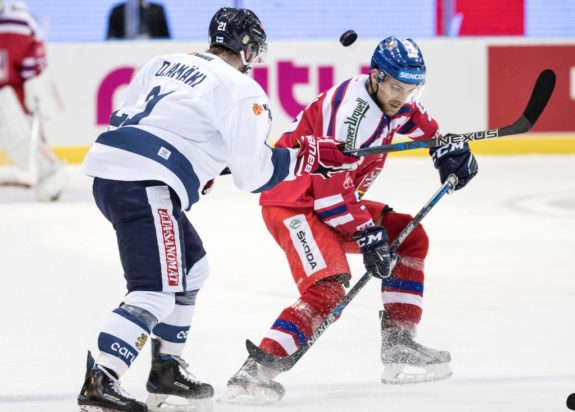 At 6 foot 2 and 211 pounds, Rutta certainly has the size that many teams covet from defenders. With his dynamic play, the Blackhawks may have found yet another piece to add to their Stanley Cup puzzle. Rutta plays defense with confidence and has a very good reach with his stick. His ability to make quick decisions on whether or not he should jump into a rush or drop back into coverage is invaluable, and while playing on the top pairing with the Pirati last season, Rutta showed more than enough for the Blackhawks to extend him a contract offer. Still, this signing has a familiar feeling to one that the Blackhawks made around this same time last year.
Michal Kempny Signing in Chicago
Last season, the Blackhawks identified Michal Kempny as a player they wanted to sign from the KHL. Coincidentally, Kempny is also a player who also had experience playing in the Czech League for the previous six seasons. The deal bolstered their defensive depth, and though Kempny had a chance to step into a major role with the team last season, the team used him sparingly as they made their journey back to the top of the Central Division standings. Playing in just 50 games and averaging 14:58 of ice time, Kempny recorded two goals and eight points in 2016-17. When looking at his HERO chart, however, it's clear that the Blackhawks were a better team with him on the ice than off of the ice.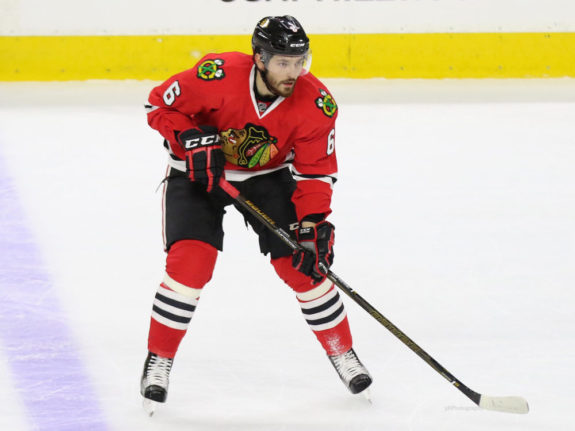 Signing another one-year deal with the team worth $900,000, Kempny can play a big role for the Blackhawks next season. If the Blackhawks can get production from both him and Rutta, they will be able to balance some of their more expensive defensive options with a flurry of young player. It's something that Blackhawks love to do – they have done so with Trevor Van Riemsdyk in the past. At forward, they have done so with players like Brandon Saad and more recently, Artemi Panarin. But this signing could also be foreshadowing another move for the Blackhawks.
Trevor Van Riemsdyk to Vegas Golden Knights?
By signing Rutta and knowing that players like Kempny and even Gustav Forsling are potentially able to contribute next season, the Blackhawks could be preparing for the Expansion Draft. As mentioned by Frank Seravalli, the Blackhawks could be open to letting the Golden Knights have Van Riemsdyk in the Expansion process, so long as they take Marcus Kruger and his contract back in return.
#Hawks would allow VGK to take D Trevor van Riemsdyk in draft, on consideration that @GoldenKnights also take Marcus Kruger in trade. #TSN

— Frank Seravalli (@frank_seravalli) May 31, 2017
Losing a player like Van Riemsdyk is obviously not something teams want to deal with. Especially when that player is still only 25 years old. Regardless, the entire league is facing similar decisions that are creating buzz and excitement about the entire Expansion Draft. Signing Rutta and having Kempny and Forsling under contract makes the transition easier, however. It's never easy to lose a young player for nothing. The Blackhawks aren't necessarily losing Van Riemsdyk without a return, though. By also shedding the $3 million contract of Kruger, the team is opening up options for next season. It's the cost of business in the NHL. A cost that Bowman isn't afraid to pay to remain competitive.