The Chicago Blackhawks signing Michal Kempny is a move that will benefit the team's defensive depth moving forward. Defensive depth is something the Blackhawks have notoriously been short on in the past, as evidenced by Duncan Keith's ice time back in the 2015 playoffs. Per Brian Hedger on NHL.com who wrote about Keith's unanimous Conn Smythe Trophy win back in 2015, Duncan Keith averaged 31:06 minutes of ice time per-game and was only the fourth skater in the history of the NHL to play more than 700 minutes in a postseason game.
Playing 715:37 worth of ice time is definitely an indication that Chicago was missing reliable depth necessary for winning a Stanley Cup, but that might change now that Kempny is set to play in the Madhouse next season.
What We Know About Michal Kempny
There is always a risk when signing players from overseas to come and play in the NHL. While there are some questions about Kempny that will be highlighted later, there are a few things that we already know about the 25-year-old Czech defenseman.
Kempny is a mobile defenseman who can play well in all three-zones. Players who perform well on both the offensive-side and defensive-side of the puck usually come at a premium price, but for at least one year, the Blackhawks will be getting Kempny for under $1,000,000 as he is signed to a one-year entry-level contract worth $925,000. Paying a player a relatively inexpensive contract who could potentially step right into a top-four role with the team will help the Blackhawks afford some other issues they may have on their roster. Such as finding a way to pay pending-RFA Andrew Shaw.
While playing overseas in the KHL, Michal Kempny showed that he was more than capable of putting up points at the professional level. In 59 games with Omsk Avangard of the KHL last season, Kempny scored five goals and added 16 assists for 21 points. He also recorded 46 penalty minutes and was a plus-18 player on the season. In the playoffs, he scored two goals and two assists for four points in 11 games to go along with 12 penalty minutes. It's clear that there is potential for Kempny to contribute points from the back-end, the hope is that his game will transition effectively to the NHL level, however.
The gamble of taking a player from the KHL worked out well for Chicago last season when they brought Artemi Panarin over from St. Petersburg SKA after two exceptional seasons. Over his last two seasons in the KHL, Panarin averaged 23 goals and 28 assists for 51 points in roughly 53 games. At the NHL level, Panarin immediately stepped into a top-six role alongside Artem Anisimov and Patrick Kane and he posted 30 goals and 47 assists for 77 points in 80 games.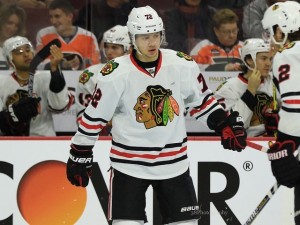 The consistency is remarkable after making the jump to a League with a smaller ice surface, different rules, and players who grew up playing under those aforementioned rules and ice surface parameters. Panarin may be the exception to the rule, but there's no reason to believe that Kempny can't step into the Blackhawks' lineup next season and perform just as well.
The style of game that Kempny plays is perfect for the Blackhawks second pairing alongside Niklas Hjalmarsson. Over the years, Hjalmarsson has played primarily alongside left-handed, mobile defensemen. Both Brian Campbell and Johnny Oduya performed very well alongside Hjalmarsson in their time in Chicago as evidenced by their Stanley Cup rings, and the Blackhawks would love to find another player who can step in and perform in that role next season. Trevor Van Riemsdyk performed well for Chicago last season in that role, although he is a right-handed shot. He may be better suited playing in a bottom-pairing role on his natural side as he continues to develop for the Hawks and showcase his ability.
What We Will Find Out In The 2016-17 Season
Some of the questions that are left to be determined with Michal Kempny revolve around his defensive game and how it will transition at the NHL level. While he was an accountable player in the KHL, there's no denying that a transition from the larger ice surface to the NHL's ice surface will result in some bumps along the way.
In a League where bigger defensemen are common-place, and in a division as tough as the Central Division, it will be interesting to see how Kempny performs. His size doesn't suggest that he will be a rough-and-tough player who uses his body to gain position or make plays, but his ability with his stick could be an invaluable asset.
Durability is important in the NHL, and Kempny's ability to stay healthy throughout the season will be a large factor in whether or not he succeeds in North America. Due to his size — not overly large, but certainly not undersized — his ability to withstand the grueling play of the Central Division will be tested on a nightly basis.
The Impact That This Signing Will Have On The Rest Of The Defense
Assuming Kempny steps into a top-four role alongside Hjalmarsson right away next season, the rest of the defensive depth should come together perfectly. As mentioned, Trevor Van Riemsdyk performed well in a top-four role last season while playing on the left side. Most coaches in the NHL prefer playing their defensive pairing based on their handedness, and that would make Van Riemsdyk the perfect candidate to slot into the right-side on the bottom pairing.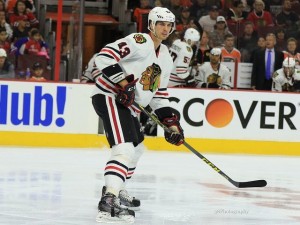 By moving Van Riemsdyk down to the bottom pairing, the most likely candidates to play alongside him include Erik Gustafsson or Niklas Svedberg. A return of fellow Czech-defenseman Michal Rozsival in a 7th-defenseman capacity could be beneficial to Kempny as he gets acclimated to North American culture, and the North American game. Rozsival has always been a valuable player in the NHL due to his solid defensive-awareness and good offensive instincts. He can be even more valuable to the Chicago Blackhawks now than ever if he can help Kempny's transition from the KHL to the NHL a more smooth transition.
All-in-all, signing Kempny should prove to be a low-risk move with a potentially very high reward. The signing could help the Hawks defensive depth, as well as provide more funds to lock-up key free agents during the offseason. The Blackhawks seem to find ways to reload their roster every year while remaining competitive, and Michal Kempny might very well be the next player to help them do so effectively.