The NHL's changing attitude towards size is starting to open doors for a new kind of hockey player. For fans of the game, one of the most intriguing aspects of the NHL entry draft are the varying lists of top prospects and how some players can make huge jumps up and down the rankings during any given month preceding the draft.
How can some players miss the rankings at the beginning of the year and then make it to the top 10 by May? Did they really get that much better throughout the season? If they did, was it simply because they doubled their point production? What if it improved so drastically due to a new role — one that would ensure them to garner more points?
On the flip side, what if a player cut his point production in half because of a new role, one that required him to focus on developing his two-way game. Although it doesn't help him on paper, it would certainly make him more valuable for teams lacking puck movers.
Top Prospects Come in All Sizes These Days
Even when it comes to players entering their major junior draft eligible years, they're still being overlooked. Sometimes, they're not even getting drafted at all. That was the case for Erik Brännström who played for the HV71 of the SHL this year. He's one of two European top prospects projected to go into the draft's first round in a few weeks and wasn't drafted in the CHL Import Draft, the USHL Entry/Futures Draft or the KHL Draft.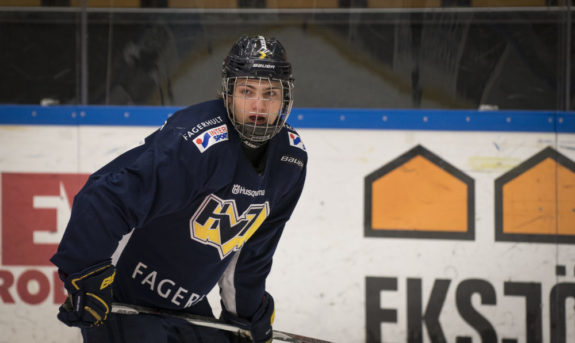 Brännström is a defenseman and he's still pretty small. With a height of 5-foot-9 and a weight of 179 pounds, perhaps that's the reason why he went overlooked for so long. But even though he's small, he doesn't fatigue easily. At the 2017 NHL Scouting Combine this past weekend, Brännström ranked sixth for highest fatigue index (of 36.8) in the anaerobic fitness wingate cycle ergometer test. This test helps prospective NHL teams understand the rate in which a player gets tired at. It can also be helpful in determining how much ice time per game he could potentially handle at the NHL level.
CHL Facing Elite Competition Overseas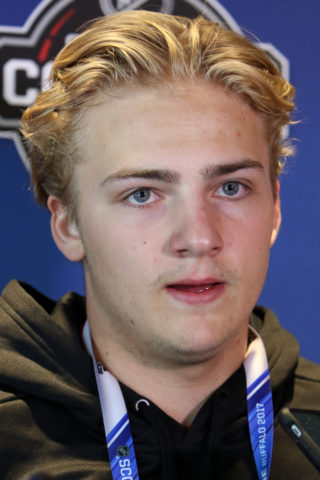 The wingate cycle ergometer measures three main components in athletes. It measures their mean power output, their peak power output, and their fatigue index. Interestingly, forwards tend to rank highest in this test. What's more interesting though is that six of the top 10 combine invitees with the highest mean power output spent the last season playing in the CHL. Five of the top 10 for highest peak power output spent the last year playing in the CHL and two of the top 10 for highest fatigue index spent the last year playing in the CHL.
This tells us that other feeder leagues are giving the CHL a run for their money when it comes to producing top prospects with high endurance. Although some athletes may be the best at scoring or setting their teammates up, how valuable will that skill be when they get too tired to stay that way in the NHL playoffs? If a team has to keep him well rested each game, it means they have to have another guy on the roster and how many salary-cap-strapped teams are going to want to pay for two guys when one with a higher fatigue index could technically do the job?
Playing in Sweden Paid Brännström Dividends
Brännström played 35 games in the SHL this season and only scored one goal. Although this isn't much, he's still only 17. "I describe myself as an offensive defenseman," he told reporters on Saturday at the NHL Scouting Combine in Buffalo, NY. "I like to join the rush. When I have the puck and skate and yeah, shoot the puck. An offensive defenseman there."
He definitely makes his job sound easy and apparently, playing with older men as a 17-year-old isn't as hard as it sounds. "They took care of me the whole year," he continued. "All the guys are pretty good and on the ice, I think it's pretty easy to play with them. They think much more like you. You pass the puck, you get it back so yeah, I think it's pretty good to play there."
Brännström comes from a big hockey family and he's really thankful for his parents and he understands the impact that being raised around hockey has had on him. "My dad is my role model," he told reporters. His father, Niklas Brännström, actually used to play for the same team in 2000-01 to 2002-03, back when it was still called the HV71 Blue Bulls. "We won the championship in Sweden now so, he didn't win that," he said with a chuckle and big smile on his face.
The CHL has been the long-time standing dominant feeder of top talent to the NHL but with the rise of non-Canadian players making their way to the NHL and then dominating, all signs indicate that this trend isn't slowing down anytime soon.
On the contrary, it's persisting in huge waves.
With larger pools of talent forming around the world, the resources NHL teams devote to their scouting departments are becoming increasingly important in terms of staying competitive. Clubs in the NHL must continue to invest in their scouting efforts so they can scour the growing number of top prospects around the world.
I'm a Hockey Journalist based out of Barrie, Ontario, a Contributing Writer for The Hockey Writers covering OHL, and NHL prospects with an insatiable thirst for all things LA Kings, and PR gal for Abel Sports Management.