The 2017 NHL Combine kicked off yesterday and from now unto Friday, 106 top NHL prospects will endure one-on-one interviews with numerous prospective draft teams. On Thursday, they'll do medical testing and on Saturday, their fitness tests begin.
For these guys, their performance throughout the 2016-17 season will play a hefty role when it comes to the position they're selected at during the 2017 NHL Entry Draft this June. With eyes from every scout and hockey media outlet on them, they've already been scrutinized from head to toe. From how many points they've registered, to power play time, to size and skill, these prospects have been measured and ranked more times than what's likely necessary. But fans from across the nation are always looking for their next hockey fix and player development seems to wet that insatiable thirst.
Factors Weighing on NHL Prospects' Overall Rankings
There's a number of different scouting organizations that rank NHL prospects and what makes these rankings interesting is that sometimes their lists can look quite different from one another. Sometimes, players are absent from one top prospects list for most of the season and then somehow show up in the top 10, 30 days before the draft.
One might conclude that their impressive development got them noticed between October and June and there may be a lot of truth to that. Improvement does get noticed over time but what's far more advantageous to their careers is someone who sees their potential – someone who sees them for who they really are.
The theory is, although players could make the biggest headway in their league, if the right people aren't looking at them, regardless of how monumental their progress is, they'll be overlooked.
Could this be true?
Let's look at Jake Bean for a moment. He's a defenseman drafted out of the 2016 NHL Draft at no. 13 by the Carolina Hurricanes and it was only three years earlier when not one of the 21 WHL teams thought it'd be a good idea to select him in the 2013 Bantam Draft. Last summer, The Hockey Writers asked him why he thought this might have happened and he said that he probably was good enough to get drafted back then but perhaps the team he was playing for at the time didn't get enough exposure and maybe that's why he was overlooked.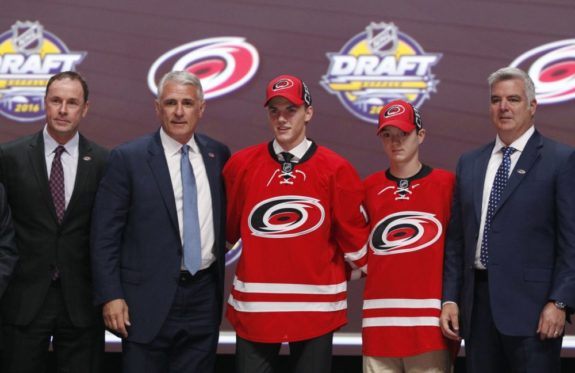 During his NHL draft-eligible year, the International Scouting Services (ISS Hockey) moved him up 15 spots between their November and June rankings, which made Bean the second-most improved player on their Top 31 NHL Prospects list.
Then there's Tanner Pearson, the one who no one saw coming. He was overlooked by NHL scouts in his first two NHL draft-eligible seasons. It wasn't until his third and final draft-eligible year that the Los Angeles Kings finally made a move for him. To prove they could see his true potential, they drafted him at no. 30 and then 67 NHL games later, he won his first Stanley Cup, scoring four goals and eight assists throughout their 24 playoff games that year.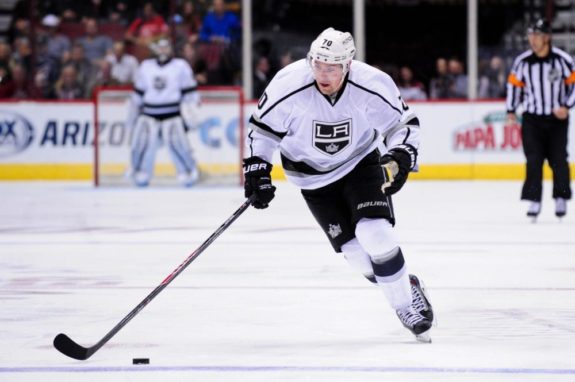 Top NHL Prospects Finally Noticed
When we look at the NHL prospects lists of scouting organizations for the upcoming draft and see players making huge jumps up the rankings, or finally make the rankings, it may mean they've become noticed. That being said, there are some scouting organizations who have a tendency to notice these types of players first.
Below are the publishing calendars for top NHL prospects rankings with each of the major scouting/media ranking service providers. Some publish their updated rankings monthly, while others publish theirs less often.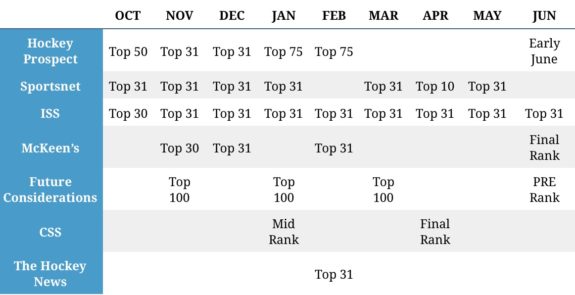 As you can see, Hockey Prospect, Sportsnet, and ISS are the first to publish their lists but you'll notice that players first ranked by McKeen's Hockey tend to find their way to other organization's rankings shortly afterwards.
Cody Glass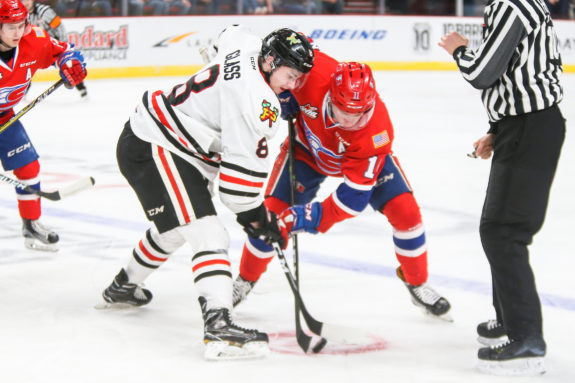 Cody Glass, a centreman who plays for the WHL's Portland Winterhawks has made major headway on every scouting organization's top prospects list since the beginning of the season. With the exception of Future Considerations, whose last rankings were published in March (ranking him at No. 16), Glass' most recent rankings are within every organization's top 10 slots. Future Considerations' preliminary rankings are expected to come out in early June, which still gives them an opportunity to rank Glass within the top 10.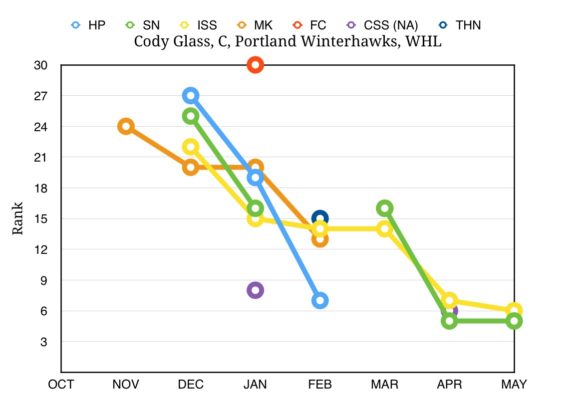 Cale Makar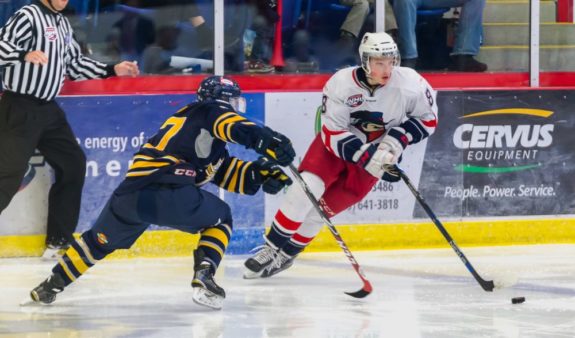 Cale Makar is a defenseman who played for the AJHL's Brooks Bandits this year and made a whole lot of headlines for his impressive offensive skills. He first made the top prospects list of Hockey Prospect and McKeen's Hockey in December and one of the biggest contributing factors for his delayed rankings were due to playing in a league considered lower-tier. Similar to Glass, Makar made significant progress throughout every organization's list and now he ranks within the top 10.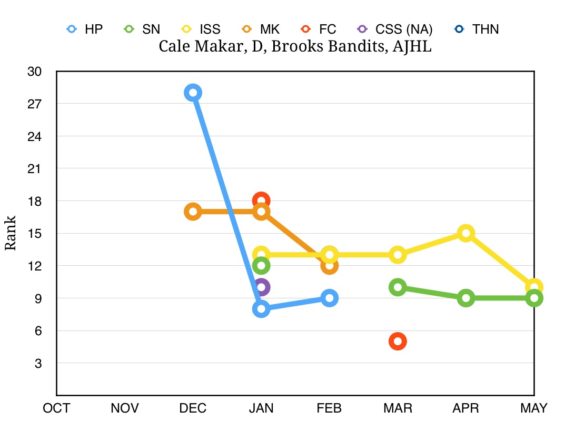 Miro Heiskanen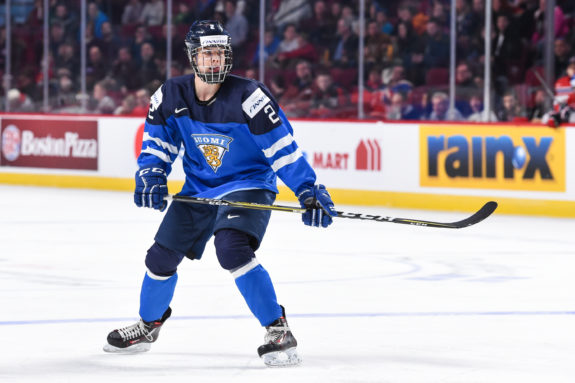 Miro Heiskanen is also a defenseman who plays for HIFK of Liiga in Sweden and he first made a top prospect's list in October for Hockey Prospect. Although he didn't start off on every organization's top prospects rankings, his name has found its way to every list and now ranks within the top 11.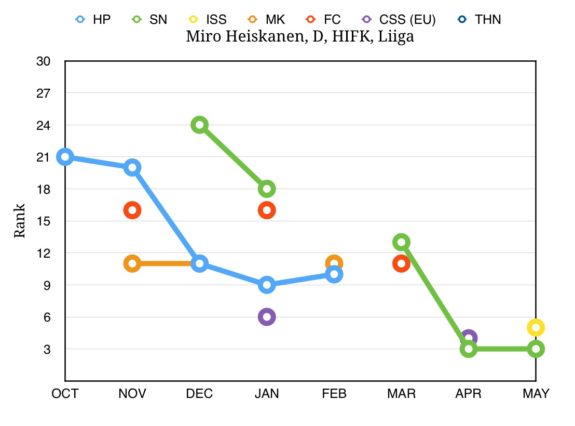 Nick Suzuki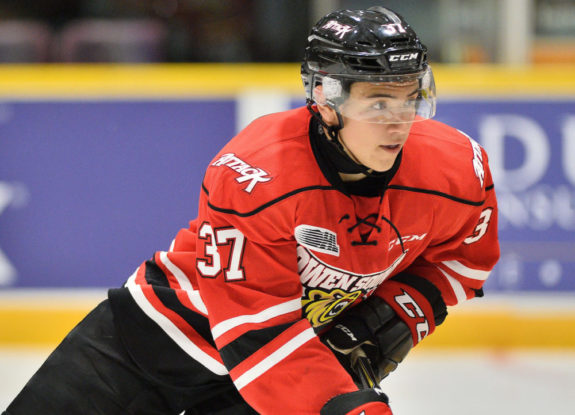 This year Nick Suzuki played center for the OHL's Owen Sound Attack and he also didn't make anyone's rankings until December. The reason for finally cracking a top NHL prospects list likely has a lot to do with his consistent point production throughout the regular season.
In October, he played 12 games and scored 12 points and by February he had doubled his point-per-game rate, playing in 11 games that month and registering 22 points. Every scouting organization's most recent published rankings have Suzuki within their top 19.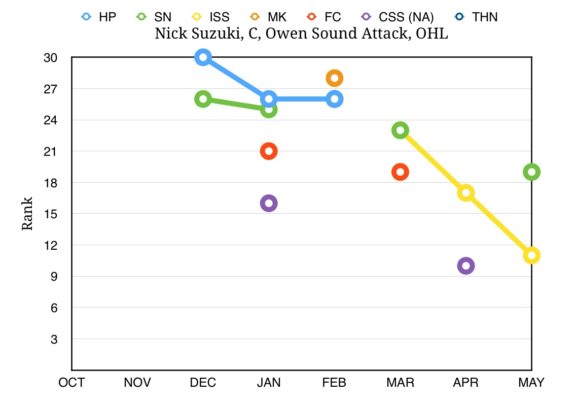 Of the players mentioned above, with the exception of Heiskanen, ISS only added them to their list of top 31 prospects the month after McKeen's Hockey did. Furthermore, in the final draft rankings for the 2016 Draft, McKeen's Hockey most accurately projected Bean's overall draft selection, ranking him at no. 12 in April 2016. Hockey Prospect ranked him at no. 15 in June and Sportsnet ranked him at no. 17 in May.
For hockey addicts and fantasy league participants, when it comes to players flying low or completely off the scouting radars, especially players that few scouts know much about, McKeen's Hockey may be the go-to service when it comes to providing the most accurate talent projection analysis for top NHL prospects.