It was only four minutes into the game against Sweden on August 5th, at the 2016 National Junior Evaluation Camp (NJEC), when 18-year-old Jake Bean, one of Canada's left-side defenders took his first slap shot on Sweden's net. Throughout the game, it became increasingly clearer where Bean's strengths are. He's constantly looking around, and communicating with his linemates. He's quick to the point, well-coordinated, and likes passing the puck. It's easy to understand how he finished the 2015-16 hockey season with double the number of assists as he had in goals.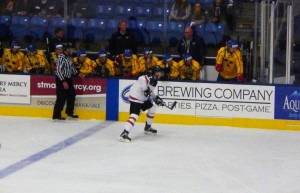 Bean likes going to the attacking zone, and slap-shooting the puck at the net. It's kind of like his signature move. Even though Canada ended up losing 1-5 to Sweden, Bean was still pretty impressed with his team's performance. "A big thing I've learned is how good everyone is, and how at every level, the pace is faster. No matter how good you think you are, there's always guys better than you, and so it's a pretty cool experience to go play with those guys," Bean tells The Hockey Writers. When it comes to his own performance, he was just as pleased. "I thought I played pretty well," said Bean. "I got to play in some key situations, and thought I did pretty awesome."
Bean's father, John, wasn't there to respond, and even though he doesn't have a background in scouting, he is the Chief Operating Officer of the NHL's Calgary Flames. "He's watching on TV," Bean continued. "He likes watching me play, and I always monitor his feedback. I think he's a bit more of a fan, but he definitely sees a few things that I don't see."
Bean vs. the World
Keeping a positive attitude is probably one of Bean's best characteristics as an elite athlete. We all know the process of getting yourself onto Team Canada's roster for the 2017 IIHF World Junior Championship is no walk in the park, and neither is getting drafted into the NHL, let alone the first round. For Bean, it seems that taking walks in the park has always been far from his list of things to do.
Back in 2013, Bean entered his first year of WHL Bantam Draft eligibility, and not one of the 21 WHL teams thought it was a  good idea to draft him. Since then, he's been making milestone improvements, and that's how he got drafted to the NHL at No. 13 earlier this summer. So how could this happen? How could so many scouts have missed this? "I think it was a few things," Bean said. "I think I was looking more college… I was probably good enough to get drafted, but I think maybe where I was playing at the time, I didn't get enough exposure."
Bean was playing at Edge School for the 2012-13 hockey season, "It was just the first year of the program. It's turned into a really good program now. They get lots of exposure, and guys get drafted off of that team every year."
After the on-ice session was done, I asked Bean about scouting and late- bloomers. So you think there's a chance it might have been a lack of exposure versus scouts not being able to identify late-bloomers?
"Probably not," Bean answered. "We played in a lot of tournaments against a lot of good teams. Scouts aren't dumb, they obviously see players when they see them, but maybe I was just a little bit overlooked."
Choosing the Little Guy Becomes a Trend
What Bean said was so profound. Scouts do see players when they see them, and they consciously choose to accept or reject size. Just look at the Toronto Maple Leafs for example. Tangible features such as height are the easiest to identify, and the easiest to justify. The Leafs are really starting to take a front-burner approach to shorter, and often lighter players when it comes to rebuilding through the Draft. Let's take a look at the first two rounds of the 2015 NHL Entry Draft under six-feet tall for a moment:


At the 2016 Draft, three first-round picks were under six-feet tall, but none of them were Leafs' picks. In the second round, though, a whopping 13 out of 31 players were under six feet tall. More teams are beginning to draft "shorties", and so it will be interesting to see how tall these players will be in the next few years. In fact, after passing Jeremy Bracco at the arena, I was surprised to see how tall he looked in person, remembering the number of critics who commented about his height last summer. After doing a Google search, and taking a peek at Team USA's roster list, I learned he had indeed grown an inch. The approach the Leafs are taking to size is obviously one of full acceptance, and it looks like some of their prospects are still growing in height, even after the ripe age of 18.
Marner Vs. Strome at the NJEC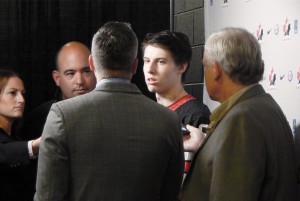 The future of hockey is changing and we're seeing the beginning of this change in every crack and crevasse of the hockey season. As seen in the previous charts, Mitch Marner was the earliest draft pick under six-feet within the first two rounds of the 2015 Draft. He also had the smallest body mass index of the under-six-footers. Not surprisingly, Marner was the first player to get interviewed after the 1:00 p.m. game on Friday. Dylan Strome, the No. 3 pick of the 2015 Draft also played, and they definitely know how to skate. It's really quite beautiful the way their jersey's blow in the wind when they're going fast – it's something you can't fully appreciate when watching on television. Although Strome is 6-foot-3, and weighs 194 pounds, he's equally matched with Marner. Over the next few seasons, hockey is going to get quite a facelift, especially if drafting smaller, fast players become the norm.
National Junior Team Selection Camp
Hockey Canada's National Junior Team Selection Camp, the next camp evaluating candidates for Team Canada's roster at the 2017 IIHF World Junior Championship, is scheduled during the regular hockey season, on December 10 – 14, 2016. Hockey Canada management will send invitations to players after the 2016 CHL Canada/Russia Series, which takes place from November 7 – 17, 2016, at various locations across Canada. The six-game series will be broadcast nationally on Sportsnet, and TVA Sports.