It may be hard to believe but it appears as though the Edmonton Oilers have three capable centres of playing top six minutes for the first time in franchise history. While the guys wearing No. 99 and No. 11 drove the bus during the "Glory Years", none of those teams featured the potential three-headed monster Todd McLellan will have at his disposal in 2016-17. With that said, one can't help but wonder if the presence of Connor McDavid won't ultimately force the Oilers to be a little more creative in their approach.
No. 1 C – McDavid
No. 2 C – Nuge
No. 3 C – Draisaitl

Looks sexy, right? #DepthAtCentreIsABeautifulThing #Oilers

— Baggedmilk, Kool-Aid Drinking Oilers Guy (@jsbmbaggedmilk) July 12, 2016
As intriguing as the notion of watching the trio of Leon Draisaitl, Ryan Nugent-Hopkins and McDavid on a nightly basis might be, there is only so much ice time to go around. While having four units that can contribute to the cause is a necessity in today's game, giving anything more than 20 minutes of combined time to the third and fourth lines would be a major mistake on a team that has No. 97 waiting in the wings. Sorry but no matter how you slice it, the math simply doesn't work.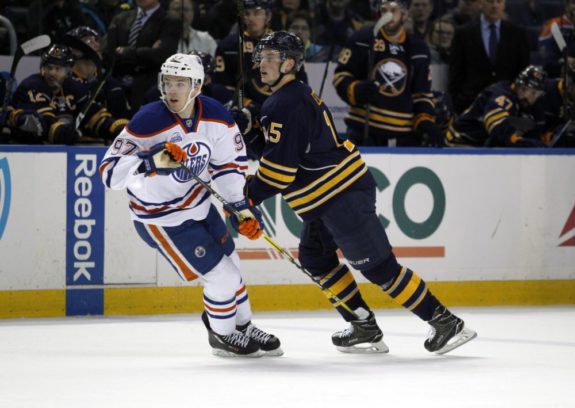 McDavid Is Priority One, Two and Three
By the sounds of it, the Oilers are hoping to put together a fourth line that could deliver close to ten minutes of useful hockey on a nightly basis. That leaves roughly 50 minutes to be divided up between the remaining three lines and if McDavid isn't getting 22 of those, there is a problem. That leaves approximately 28 minutes for the duo of Draisaitl and Nugent-Hopkins to share. Are you starting to see the problem?
[Related Article: Oilers Still Need Ryan Nugent-Hopkins]
Nugent-Hopkins has proven to be more than capable of logging in the neighbourhood of 19 to 20 minutes a night and has never had the good fortune of having a running mate like McDavid. Which means you would be leaving Draisaitl nothing more than scraps in a traditional third line set up. However, that can be easily be rectified by giving the talented German some gravy time on the wing with the 2015 first overall pick.
https://twitter.com/BruinsScience/status/752938893188722688
As things currently sit, Edmonton has Jordan Eberle, Milan Lucic, Patrick Maroon, Benoit Pouliot, Jesse Puljujarvi and Nail Yakupov slated to see regularity duty inside the Oilers top nine. By the sounds of it, Eberle and Lucic will be given the first crack at playing with McDavid and history suggests the duo of Nugent-Hopkins and Yakupov are not a good fit. Meaning two of Maroon, Pouliot and Puljujarvi will find their way onto a line with RNH and the other will join Yakupov, if he's still around, on line number three.
No Need To Rush Draisaitl
Again, rolling three lines is a waste when you have a player like McDavid at your disposal. Someone is going to be forced into giving up some ice and it is not going to be the kid wearing No. 29 on his back. In my mind, splitting Draisaitl's time between centre and the wing could arguably be the best thing for him. Let's not forget he has yet to show the ability to drive a line at this level but did a fantastic job of riding shotgun with Taylor Hall during the first half of 2015-16.
[Related Article: Connor McDavid Is on Another Level]
Call me crazy but my guess is most teams would want no part of handing their so-called "soft-minutes" line the job of having to deal with a Draisaitl – McDavid combo for large chunks of time over the course of 60-minutes. From a matchup standpoint, this has disaster written all over it for opposing coaches. If the Oilers were to take said approach, it truly would be a "pick your poison" scenario for teams and force them to make a choice and hope for the best. However, if Edmonton decides to run with the traditional top nine set up…that would not be the case.
https://twitter.com/SteveBurtch/status/751084890343534594
Obviously, this puts a heavier workload on McDavid but something tells me this guy wants that extra load on his shoulders. While it may seem like a lot to put on a 19-year old in his second season in the NHL, everyone needs to accept the fact this kid isn't your everyday run-of-the-mill player. If you go and take a look at last year's league leaders in "time-on-ice" among forwards, you will see there was not one player who averaged 22 minutes night in 2015-16.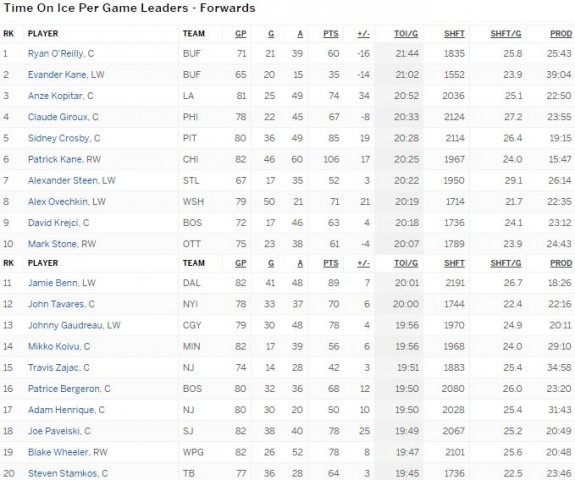 McDavid Really Is That Good
There were actually two players who were north of 21 minutes and both happened to play for the Buffalo Sabres in Ryan O'Reilly (21:44) and Evander Kane (21:02). In fact, only 12 forwards in the entire league averaged at least 20 minutes of ice a night and most of the names on that list are rather predictable. However, none of the players listed, Sidney Crosby and Alexander Ovechkin included, are in the same stratosphere as McDavid. In the eyes of some, that may be a bit of a stretch but my eyes tell me we are about to watch something special unfold over the next few years.
[Related Article: Wayne Gretzky and A Season Like No Other]
The NHL has not seen a player like this since the days of Wayne Gretzky and Mario Lemieux.  They are a rare breed and if an organization is fortunate enough to have one fall into their lap, they have little choice but to loosen the reins and let them go. While the game is far different today than it was during the 1980's, it was not uncommon to see Gretzky and Mark Messier take on 45 minutes of ice-time between them on a nightly basis.
The last two Oilers to step foot on the ice at Rexall Place. #FarewellRexallPlace pic.twitter.com/fCsBKEfrqj

— Sportsnet (@Sportsnet) April 7, 2016
Not surprisingly, the NHL's All-Time scoring leader was regularly double shifted and used in all situations. No. 99 not only saw a ridiculous amount of time on the man advantage but was also a regular fixture on one of the Oilers penalty killing units and you can bet the Richmond Hill native will start receiving similar treatment during the upcoming campaign. While it may be a different era, getting your best players on the ice as much as possible remains a priority for any head coach and McLellan is no different.
[Related Article: Oscar Klefbom, Adam Larsson and the Edmonton Oilers]
Now, will there be evenings when this is not the case? Most certainly but let's not kid ourselves. As of this moment, the only player on this roster who has shown the ability of being a driver at this level is Connor McDavid and this staff will make sure he is used appropriately. So while putting together three traditional scoring lines may be what fans want to see, the chances of that coming to fruition appears rather unlikely. With that said, don't be surprised if No. 97 and six or seven of his friends end up accomplishing the very same thing and the Edmonton Oilers will be better off because of it.