Life has certainly been busy for the Edmonton Oilers this summer. While the departure of Taylor Hall and additions of Adam Larsson, Milan Lucic, and Jesse Puljujarvi have made for a rather hectic last few weeks, there is one other player who has continually seen his name making the rounds in the NHL rumour mill. That player would be none other than Ryan Nugent-Hopkins and barring some kind of ridiculous return, it was all but guaranteed we would be seeing the 2011 first overall pick wearing Orange and Blue come October.
FWIW I would be "stunned" If RNH was moved before the start of the season. Fully expect McDavid, Leon and RNH as center options for…

— Bob Stauffer (@Bob_Stauffer) July 9, 2016
[Related Article: The Ryan Nugent-Hopkins Effect]
Thankfully those rumblings have finally been put to rest in recent days. While there is no question the Oilers were shopping their "$6 million men" across the league, in my mind, it was always a reach to suggest the one who would be leaving was Nugent-Hopkins. My guess is the second Peter Chiarelli decided to pull the trigger on the Hall for Larsson deal, was the moment discussions surrounding the possible departure of No. 93 were immediately put to rest…despite the endless Tyson Barrie rumours.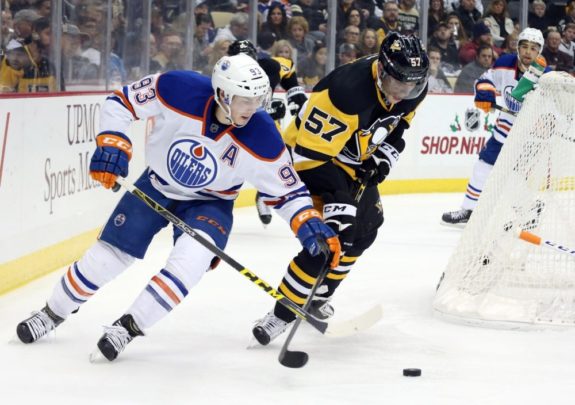 Oilers Not as Deep at Centre as Some Think
In the minds of some, Edmonton apparently has depth at centre but in reality, nothing could be further from the truth. Yes, having two kids as talented as Connor McDavid and Leon Draisaitl is something no other team in the NHL can say but to suggest that now means the Oilers are deep down the middle of the rink is simply not true. Despite struggling to produce offence at even strength in 2015-16, Mark Letestu is serviceable bottom-six option but not in a third-line role. As the fourth guy on the pecking order, the veteran pivot is solid and certainly fills a need in Todd McLellan's lineup.
I think it would be a very good thing if the Oilers kept RNH for as long as humanly possible.

— Arch (@Archaeologuy) July 9, 2016
With Nugent-Hopkins still in the picture, the Oilers would not only have three offensively capable centres on their roster but also a guy who has already proven to be more than capable of taking on the so-called "hard minutes" on a nightly basis. In previous seasons, RNH had to take on all comers and also take on a leading role from a scoring standpoint with little in the way of a supporting cast. With No. 97 now firmly entrenched as the go-to-guy in Edmonton, that will no longer be the ask and Nugent-Hopkins' ability to do the "heavy-lifting" should allow this coaching staff to lighten the load on McDavid.
[Read Article: Trading Nugent-Hopkins is Not the Answer]
To be fair, this is not exactly a new concept and yet many seemed to forget just how young the 2015 first-overall selection and Draisaitl are. Unless you have not been paying attention in recent years or are suffering from a case of amnesia, putting everything on the Oilers young talented forwards hasn't exactly been a successful path to venture down. While the former Erie Otter standout appears to be in a class all his own, handing over the reins in all situations to a 19-year old is a recipe for disaster and more importantly…completely unnecessary.
No Reason Why Draisaitl Can't Play the Wing
Also, let's not forget Draisaitl is still only 20-years of age with a grand total of  109 career games under his belt. That doesn't sound like depth down the middle to me and we should be safe to assume neither does Chiarelli or his head coach. In fact, considering how McLellan ran his three-headed monster of Patrick Marleau, Joe Pavelski and Joe Thornton during his time with the San Jose Sharks, the notion of occasionally using all three inside a top-six role is also nothing new and we already saw the Oilers bench boss go with a trio of Draisaitl, Hall and Nugent-Hopkins during certain stretches in 2015-16.
https://twitter.com/NHLbyMatty/status/752937302704259072
Be it on an occasional basis, pending matchups with opposition, or going out and acquiring a third-line centre on the open market, and yes former Anaheim Duck Brandon Pirri would fit the bill, Edmonton would have the roster flexibility to consider making such moves with Nugent-Hopkins around. Remove him from the equation and this group would instantly be chasing their collective tails and quite literally be one injury away from a catastrophe. Lack of depth at centre has plagued this franchise for a number of years and the idea of going back to a similar situation is something that can not be taken lightly.
[Related Article: Oilers – Lucic Signing Helps Soften Blow]
No matter what side of the fence you land on when it comes to the Taylor Hall for Adam Larsson swap, no one can argue the fact the Edmonton Oilers did not get full value in the deal. While the addition of Milan Lucic helped many fans deal with the lack of return for Hall, losing trades is something no organization can do on a regular basis. Moving Ryan Nugent-Hopkins in the here and now would guarantee that happens for a second time this summer. Call me crazy but despite his want to further improve his backend, Peter Chiarelli has likely come to his senses and put the idea on the backburner…at least for the time being.
Rob Soria is the Author of Connor McDavid: Hockey's Next Great One. He has chronicled the Orange and Blue since creating his Oil Drop blog in 2011 and has also had his writings featured over at HometownHockey.ca and Vavel USA, where he has covered the NHL, MLB and ATP Tour. Rob was born, raised and still resides in Edmonton, Alberta and can be reached via twitter @Oil_Drop.