After battling through a pair of serious shoulder injuries during his first two seasons in the NHL, Edmonton Oilers centre Ryan Nugent-Hopkins had enjoyed back-to-back campaigns in which he managed to remain relatively healthy. While he did struggle with his game during stretches of his third year in the league, following what was essentially off-season shoulder surgery in late April 2013, the former Red Deer Rebels standout had dressed for 156 of 164 games during 2013-14 and 2014-15. With a talent like Connor McDavid in the mix, a healthy and productive RNH appeared to be exactly what the doctor ordered for this organization.
Ryan Nugent-Hopkins will not return tonight. #EDMvsARI

— Edmonton Oilers (@EdmontonOilers) March 23, 2016
[Related Article: Are the Edmonton Oilers Cursed?]
Unfortunately for both the player and club, that is not how things have played out during what has been a rather frustrating season for this once storied franchise. While a 4-2 loss to the Arizona Coyotes has almost become an expected result in this neck of the woods, last night's contest also saw the Oilers lose the services of Nugent-Hopkins early in period two, courtesy of a thunderous hit from Coyotes defenceman Connor Murphy and it did not look good. Be it a concussion, another shoulder injury or some other "upper body" ailment, chances are we won't be seeing the kid back in uniform on Thursday against the San Jose Sharks.
Nugent-Hopkins Was Starting To Heat Up
Considering the 2011 first overall pick had just recently returned to action after an eight-week stint on injured reserve with a broken knuckle, which did require surgery, the timing of last night's events could not have been any worse. After taking a couple of games to find his legs, Nugent-Hopkins had been among the Oilers' best players since returning to the lineup ten days earlier, ironically enough, against the Coyotes. With three goals in his previous three games, the 22-year old found himself back on a line with Leon Draisaitl and Taylor Hall and while the trio was effective during the opening twenty minutes in Arizona, the reunion was short-lived.
Nugent-Hopkins out of game. It is ridiculous how many injuries #Oilers have year after year.

— Jason Gregor (@JasonGregor) March 23, 2016
[Related Article: What Should the Oilers Do With Oscar Klefbom?]
While there is still no word on how severe or what the injury Nugent-Hopkins actually suffered was, his head coach wasted little time in pointing to what has been a lost season of sorts when it comes to evaluating this roster.
Unfortunately, if he is out for any extended period…we got to see our three centres for three or four games and we got about 32 minutes of them back together. It's kind of the story of our season and we still really don't know what we have. Hopefully, he's good tomorrow and comes back and we continue experimenting a little and see what we have.
Losing McDavid to a broken collarbone for three months was obviously a big hit for this group to deal with but it was the Nugent-Hopkins injury that really handcuffed this coaching staff. With that said, the hope was to at least have a look-see at what this group of talented forwards could potentially do up front over the last 12 games on the schedule but yesterday's injury has thrown a wrench into those plans. Which will make what comes next such a tricky situation for Peter Chiarelli and company to deal with during the off-season.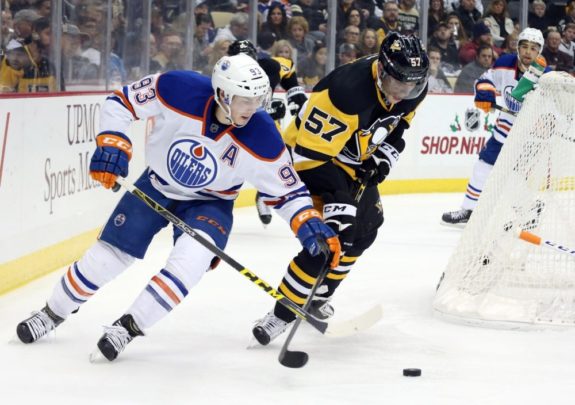 Trading RNH Would Still Be A Bad Idea
As we all know, Edmonton will be looking to upgrade their backend in the summer and it will likely cost them one or two of their current core to try and accomplish just that. As we all know, rumours of Nugent-Hopkins being on the block have been out there for months and while that is likely a bit of a stretch, my guess is Chiarelli has done his due diligence on every player on this roster not named Connor McDavid. So depending on the potential return, we could see anyone of these guys in a different NHL city come next October.
You do NOT trade Ryan Nugent-Hopkins. #Oilers

— Tim Plamondon (@TimPlamondon) March 13, 2016
[Related Article: Trading Nugent-Hopkins Is Not the Answer]
No matter what direction the general manager ends up going in, it will be a risky move but dealing No. 93 in the here and now would be the epitome of selling low and getting pennies on the dollar. With another injury-riddled campaign under his belt and a sub-par year from a production standpoint, the chances of a rival GM coughing up the sort of return Peter Chiarelli would need in order to part with a talent like Ryan Nugent-Hopkins are almost nil. That in itself should make the Burnaby native a virtual lock to still be a member of the Edmonton Oilers in 2016-17 and the foreseeable future.
Rob Soria is the Author of Connor McDavid: Hockey's Next Great One. He has chronicled the Orange and Blue since creating his Oil Drop blog in 2011 and has also had his writings featured over at HometownHockey.ca and Vavel USA, where he has covered the NHL, MLB and ATP Tour. Rob was born, raised and still resides in Edmonton, Alberta and can be reached via twitter @Oil_Drop.