For a team that has won three NHL Draft Lotteries over the past six years, one which ultimately landed them the league's next great player in Connor McDavid, suggesting the Edmonton Oilers organization may be cursed seems a tad ridiculous. While luck has clearly been on their side when it comes to draft placement, they are at the complete opposite end of the spectrum when it comes to losing key contributors to injury for an extended period of time.
#Oilers defenceman Brandon Davidson has been forced out of Sunday's game vs. the #Jets: https://t.co/Tli8iB1IYj pic.twitter.com/pnBvbmdbiz

— Sportsnet (@Sportsnet) March 7, 2016
Edmonton did manage to ride a red- hot Cam Talbot to a 2-1 victory over the Winnipeg Jets during this week's edition of Sportsnet's Hometown Hockey on Sunday evening but as per usual, it was a result that came at a price. As nice as a run of four wins in five games must feel for this group, the fact the Oilers lost another player to injury has to have those inside the organization wondering what on earth is going on. While every organization gets hit by the injury bug from time to time, this has become an almost annual event.
[Related Article: Hall Should Get Chance to Shine at World Cup]
With yesterday's bizarre looking injury to Brandon Davidson now in the books and likely set to cost the young blueliner the remainder of what had been an outstanding rookie season, the 24-year old will join a list that includes Jordan Eberle, Andrew Ference, Oscar Klefbom, McDavid, Ryan Nugent-Hopkins, Benoit Pouliot, Justin Schultz and Nail Yakupov as players who have missed significant time during 2015-16.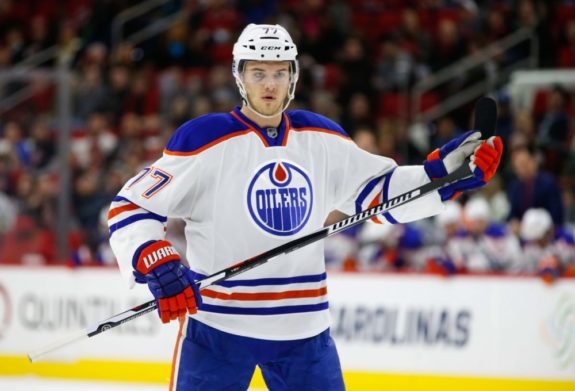 Oilers Recent Injury History Is Absurd
Again, if this were a one-off it would be a completely different story but that is clearly not the case. Since selecting Taylor Hall with the first overall selection in the 2010 draft, Edmonton has watched each and every one of their four top picks suffer at least one and some cases, Hall and Nugent-Hopkins, multiple noteworthy injuries and the same holds true for fellow first-round guys in Eberle and Klefbom.
[Related Article: Connor McDavis Is On Another Level]
In fact, if you want to take it a step further and add Sam Gagner into the mix, the only first-rounders the Oilers have selected since their surprising run to the 2006 Stanley Cup Final who have not had to deal with a significant injury are Leon Draisaitl, Darnell Nurse and the trio of Riley Nash, Alex Plante and Magnus Paajarvi. While the last three never managed to live up to expectations, with both Nash and Plante being massive reaches as top 30 picks, the other two have played a grand total of 155 games between them…so the jury is still out.
It has been whole few games since last #Oilers injury. #HockeyGods are just reminding us who's running this show.

— Taxi Squad RFA 🚕 (@peteroiler11) March 7, 2016
And it's not just the kids who were getting hurt. Just go back and take a look at the injuries this team has had to try and overcome during the past decade and it is seemingly endless. Be it veterans who were brought in to help turn the tide like Nikolai Khabibulin, Sheldon Souray, Lubomir Visnovsky and Ryan Whitney, long-term players like Ales Hemsky and Shawn Horcoff, to everyone else in between.  Not surprisingly, the list is rather lengthy and one that can only leave fans scratching their head and wondering why this is happening to their team.
[Read Article: Maroon Has Immediate Impact On Oilers Lineup]
So where did this stretch of "bad luck" begin, ironically enough, following the aforementioned 2005-06 campaign. While the vast majority of this fan base has no use for Kevin Lowe, it would be difficult to find a season in which a general manager did more to change the look of his lineup than Lowe in '05-'06.  After watching the NHL and Players Association work in conjunction to wipe out the entire 2004-2005 season, the six-time Stanley Cup winner proceeded to build one heck of a roster and nearly produced the ultimate prize.
Kevin Lowe and the 2005-06 Edmonton Oilers
It started in the off-season when he was able to acquire Michael Peca and Chris Pronger in a pair of brilliant trades and brought the whole thing together with what was arguably as good a "Trade Deadline" as we have ever seen. While two of the moves came on the very same day in late January, bringing in defencemen Jaroslav Spacek and Dick Tarnstrom, the final two pieces were added on the eve of and on deadline day, in the form of Dwayne Roloson and Sergei Samsonov.
[Related Article: Steven Stamkos, Connor McDavid, and the Edmonton Oilers]
Six integral pieces of the puzzle were brought on board in a span of just over seven months and just like that, Edmonton found themselves in the Stanley Cup Final for the first time since 1990 and fell just short of earning the sixth championship in franchise history. While it wasn't quite the magical run some made it out to be, as the Oilers were a far better team than their regular season record indicated, it came out of nowhere and ended just as abruptly.
https://twitter.com/oilfan72/status/703703331449864192
From the debacle that was the Pronger's departure to the present day and what will be the tenth consecutive year the club fails to qualify for the post-season, it has been nothing but one disastrous mess after another. During the past decade, the Oilers have changed ownership, minor league affiliations, general managers, coaches and countless players, with next to nothing to show for it. Outside of the kids which currently make up the roster that Todd McLelllan is trying to mold, these have certainly been dark days in the City of Champions.
Where Do the Oilers Go From Here?
So what gives? Did Kevin Lowe and company make a deal with the devil in order to put together the team they did in 2006 or is someone out there sticking pins in Edmonton Oilers voodoo dolls on an annual basis between the months of October and April? Be it a curse or whatever else you want to call it, this does appear to be a little more than just mismanagement and god knows there has been more than enough of that to go around in this neck of woods.
[Related Article: Brophy's Comments Leaking Oil]
For the sake of Oilers Nation, let's hope that a change of scenery from Rexall Place to Rogers Place helps break the trend in 2016-17 because it is hard to imagine them putting up with much more of this. Even the loyalist of fans has a breaking point and this group is on the verge of reaching it. If things don't change by next October or November, perhaps Peter Chiarelli and the rest of the management team may want to look into a holding a séance or something…because this just isn't adding up.
Rob Soria is the Author of Connor McDavid: Hockey's Next Great One. He has chronicled the Orange and Blue since creating his Oil Drop blog in 2011 and has also had his writings featured over at HometownHockey.ca and Vavel USA, where he has covered the NHL, MLB and ATP Tour. Rob was born, raised and still resides in Edmonton, Alberta and can be reached via twitter @Oil_Drop.