As much as the NHL would love to see a rivalry form between Connor McDavid and Jack Eichel over the next decade, there is an extremely good chance that nothing of the sort will ever materialize. Contrary to popular belief, the reason hockey fans will not be treated to another "Sidney Crosby vs Alexander Ovechkin" styled showdown over the foreseeable has little to do with the fact the Buffalo Sabres and Edmonton Oilers play in different conferences…and everything to do with how good a player No. 97 is going to be.
With Connor McDavid and Jack Eichel facing off tonight, we look back at their best plays of the season so far. #RGCLhttps://t.co/tCcVqVCplR

— Rogers NHL LIVE (@RogersNHLLive) March 1, 2016
While it only seemed natural for these two "can't miss" prospects to be hyped as the league's next great 1-2 punch heading into the 2015 Entry Draft, there really is nothing to it. As good a player as the Sabres young rookie appears to be, there is almost zero chance of Eichel ever approaching the level McDavid seems destined to reach. Like it or not, that is the reality of the situation and that does not make the talented American any less of a player. Again, it only further solidifies just how special this kid is.
The Rarity of A Generational Talent
There is a reason why we seldom hear anyone use the phrase "generational talent" when describing young players heading into their draft year…and that is because they are a very rare breed. The NHL has had the good fortune of many talented individuals help grow this game to level it has reached but in the grand scheme of things, there has really only been a handful of players who deserve to be included on such a list and you can pretty much guess who they are.
[Related Article: McDavid Will Win the Calder Trophy]
Outside of the legendary Valeri Kharlamov, who was never granted the opportunity to leave the Soviet Union to play in the NHL prior to his untimely death in 1981, hockey has had a grand total of three "generational" players in the last half a century…Bobby Orr, Wayne Gretzky and Mario Lemieux. In my opinion, neither Crosby or Ovechkin belong in that group, though a healthy No. 87 may have had a shot at joining them but even that would have been a stretch.
[Related Article: The Connor and Sid Show]
The two most important things the trio of Gretzky, Lemieux and Orr all had in common was their ability to dominate and change how the game was played. No player has done that since the days of "99 and 66" but the Oilers rookie phenom looks as though he is headed down that very same path. Obviously, comparing him to the greatest players this game has ever seen after a grand total of 28 games seems rather absurd but that is the beauty in all of this.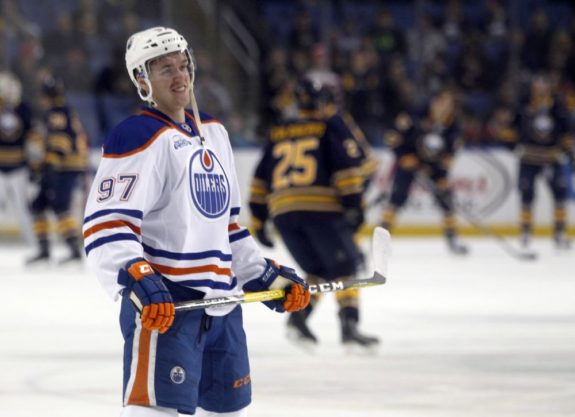 McDavid Is Headed For True Greatness
Simply go and ask anyone who watched those guys do their thing at the height of their powers and they will all tell you the same thing…McDavid is the real deal. This kid is special and we have already seen flashes of his brilliance and he just turned 19-years old in mid-January. By season's end, McDavid will have 45 games of NHL experience under his belt and you would be hard-pressed to find any rational critic or fan who would not consider him an Art Ross Trophy favourite for the 2016-17 season in what will be his sophomore campaign.
Its a #OneManClasshttps://t.co/ASitpQvE9K

— Tye Kalyn (@akaRCN) March 2, 2016
While the hype surrounding this week's showdown between Jack Eichel and Connor McDavid was easily justifiable and rather enjoyable to watch unfold, there is no need to get carried away. This is not currently and nor will it ever be a two-man race to see who ultimately turns out to be the better player. Again, No. 97 is in a class of his own and there is no shame in admitting that. Greatness is what makes sport so special and we are about to be treated to exactly that over the next decade so sit back and enjoy the ride because it could be quite awhile before we seen anything like again.