Despite having missed 37 of the Edmonton Oilers first 50 games, Connor McDavid sits at No. 18 among NHL rookies in scoring. His points per game average of .92 is still tops among first-year players, just ahead of Chicago Blackhawks forward Artemi Panarin's impressive total of .88, albeit over a span of just 13 appearances.
At least McDavid is back next game boys😌😨 #Oilers

— Becca (@RebeccaSugars) January 24, 2016
With the 19-year old phenom set to make his long-awaited return to the lineup from a broken collarbone following the NHL All-Star break, one can't help but wonder if he still has a legitimate shot at grabbing the Calder Trophy as the league's top rookie. Considering he currently sits 33 points back of Panarin in scoring, it would seem unlikely but then again, the idea may not be as farfetched as one might think.
Barring the talented Russian suffering a serious injury or lengthy scoring drought, McDavid won't be catching him in the rookie scoring race. However, there is a real possibility he pushes the trio of Max Domi, Jack Eichel and Dylan Larkin for second spot and that in itself could be enough to swing the vote in his favour.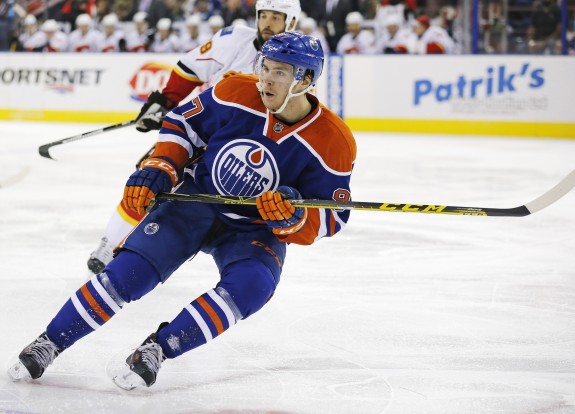 Expect McDavid To Hit the Ground Running
Should he play in all of the Oilers remaining 32 games, is it such stretch to think he pushes the 50-55 point mark? In my mind, if he doesn't and it would actually be fair to consider the second half of his rookie campaign a bit of a disappointment. Let's be honest here, the kid was just getting comfortable in his NHL skin before his injury and it's not as if Edmonton is rushing him back into the lineup. In fact, it has been the complete opposite…as McDavid has been practicing with the club for the entire month of January. If there is rust to shake off, you can bet it won't take very long.
[Related Article: Hurry Back Connor, the Power Play Misses You]
If you project his earlier PPG average over the Oilers remaining games, we are talking about McDavid adding another 30 points to his total that would leave him with 42 on the year. In order to bump that total to 50, he would have to score at just a shade under 1.2 PPG for the remainder of the year. Is that really that much of a stretch? With all due respect to Leon Draisaitl but if the talented German pivot can collect 32 points in his first 30 games, expecting just a bit more out of McDavid isn't exactly wishful thinking.
While not having Ryan Nugent-Hopkins around until probably early March could prove to be problematic, the Oilers second-half schedule is far friendlier and should allow them to continue to stay in most games. Add to that a power play that has essentially gone in the toilet since McDavid's departure, as they were 10-45 (22.2%) prior to his injury and are currently sitting at 24-145 (16.6%) on the year, you can pretty much bank on things turning around on the man advantage over the final ten weeks of the season.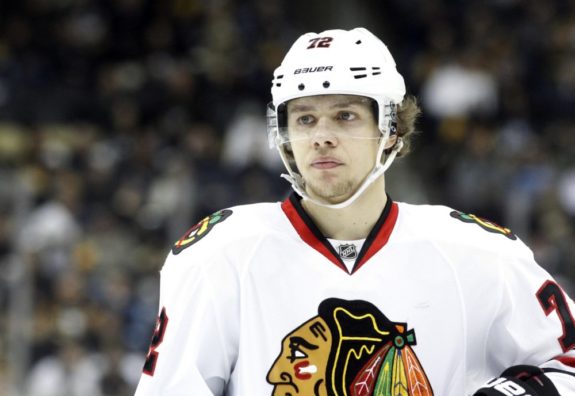 Panarin Has Been Dynamite But Will It Be Enough?
Now, if Panarin were to remain on his current pace for the rest of the season and end up eclipsing the 70-point barrier, chances are the kid gets the award but my guess is he comes back to earth just a tad in the second-half and that could prove to be the difference. Should McDavid find a way to cut the gap between the two down to say somewhere in the neighbourhood of 15 points, while playing roughly half as many games, my guess is the Oilers will finally have their first Calder winner in franchise history.
McDavid back next week! Watch out rookies… This horse is back in the #Calder race

— Andrew Evans (@FigmentofYour19) January 24, 2016
Also, let's not lose sight of the fact the league has essentially missed out on its opportunity to cash-in on the "McDavid-hype" heading into his rookie year due to the aforementioned injury. While we can't go back in time and change what has already occurred, my guess is Gary Bettman and company would love nothing more than to watch the game's next "generational talent" become the NHL's newest star attraction and the talk of the hockey world over the next two and half months.
[Related Article: Oilers Will Be In Tough, With or Without McDavid]
So as discouraged as fans of the Edmonton Oilers may be with their team limping into the All-Star break on a three-game losing skid and back in the basement of the Western Conference, they can take solace in the fact their new saviour is about to return. While it may not lead to many more points in the standings, Connor McDavid's presence will once again make the Oilers "appointment viewing" and allow their fans to at least be entertained in what will ultimately be another string of meaningless games down the stretch.
Rob Soria is the Author of Connor McDavid: Hockey's Next Great One. He has chronicled the Orange and Blue since creating his Oil Drop blog in 2011 and has also had his writings featured over at HometownHockey.ca and Vavel USA, where he has covered the NHL, MLB and ATP Tour. Rob was born, raised and still resides in Edmonton, Alberta and can be reached via twitter @Oil_Drop.