If you haven't paid close attention to the Dallas Stars this season and just glance at statistic sheets every so often, you may not know that they are currently stocked with a good supply of talented young defensemen. Perhaps even to a fault. John Klingberg has established himself as one of the premiere offensive-defenseman in the game while players like Jyrki Jokipakka, Patrik Nemeth and Jamie Oleksiak have been in and out of the lineup.
Why?
Not one of those last three players mentioned has truly established themselves as NHL regulars but at the same time, they are entirely too good to spend any significant time in the AHL. They also all require waivers to be sent down and would certainly be claimed by another team should they be sent down. So unless a trade is on the horizon, they are stuck in roster purgatory. And just to make things a little more interesting, Esa Lindell just received a call-up and has played the last few games.
Lindell has been the best Texas Star defenseman so far this season and has lit up the scoreboard as well (7G-18A-42GP). He looked alright in his first NHL game, not awful but not spectacular either. His call-up shows what little confidence the front office and coaching staff have in Jokipakka, Nemeth and Oleksiak right now. With Benn out for the foreseeable future, those players need to take advantage of the opportunity if they plan on staying in Dallas for much longer.
Jyrki Jokipakka
The man they call Kevin has had his share of ups and downs this season.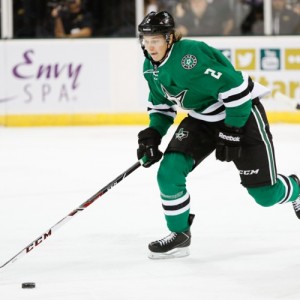 Jokipakka has been in the lineup more often than Nemeth and Oleksiak, generally playing with Jordie Benn. He has played in 36 games and scored his first two NHL goals this season. He has also added four assists. While Jokipakka's 51.07 corsi-for-% is the lowest of the three, the rest of his game been a little more complete. Only one regular defenseman on the Stars (Jason Demers) has been on the ice for fewer goals. Of all the Stars' regular defensemen this season, only Jordie Benn has fewer giveaways than Jokipakka.
He takes the fewest penalties of any player on the team while still being relatively physical.
The one knock on Jokipakka is he has played somewhat sheltered minutes, especially when you compare him to the rest of the defensemen on the team. His offensive-zone-start-% (ZSO%) at even strength is 56.47, well ahead of anyone else on the Stars blue-line. Even with that, he has been the more consistent player out of him, Nemeth, and Oleksiak.
Patrik Nemeth
You have to feel for Patrik Nemeth. He joined the Stars late in the season in 2013-14 and was an important piece in the Stars' playoff appearance. The next season he made the team out of training camp and Stars' fans finally thought they had the big defensive-defenseman they had been missing for so long. And then this happened. (Warning: Skate Blade Injury Video)
This happened very early last season. Nemeth just hasn't looked the same since and quite frankly that isn't all that surprising. Is his mindset different, playing the game a bit safer? Maybe, and nobody could blame him if he is. However I think the larger part of Nemeth not being able to find his game again is the fact that he missed almost an entire season in what was a crucial development year.
His numbers in just 11 games aren't terrible. His ZSO% is 48.54, one of the lowest on the team. He's posted a 51.57 CF% in his appearances but that is good for a -4.14 CF% relative to the rest of the team during that time span. Flip that stat towards high-danger chances given up and it looks better for Nemeth. His high-danger-scoring-chances-for-% is 56.25 at even strength during his games. That is good for a 9.91 HSCF% relative to the rest of the team which is the best on the Stars. He's been good at suppressing quality chances during his limited time on the ice this season.
We'll see if he can put a good stretch together. It's gotta be tough being in and out of the lineup but he needs to make a case to be a regular.
Jamie Oleksiak
It is really tough to get a read on big Jamie Oleksiak. I'm sure the thought of trading him has crossed Jim Nill's mind, as he probably holds the most value of the three fringe defenseman despite being the least-impressive of the three in their NHL careers. The fact remains that he is a very big body (6'7″ 250 lbs) and is a former first round pick. The issue with Oleksiak as he just hasn't seemed to be able to play as big as he is.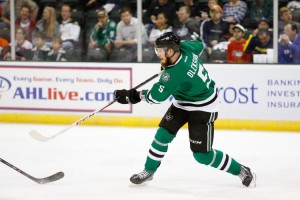 He doesn't have a booming shot from the point. He doesn't clear the crease like a maniac. He doesn't do most of the "big guy" stuff that you would expect him to and it has led him to be pretty ineffective at the NHL level.
Oleksiak has seemed to make efforts to be a more physical player this season. He has 37 hits in just 11 games which is close to the 40 that Jokipakka put up in his 36 appearances. He's posted a solid 53.53 CF% in his 11 games but a -0.29 CF%rel in that time frame. Much like Jokipakka, he has been pretty sheltered in his minutes, starting over 55% of his shifts in the offensive zone compared to the defensive zone.
Everyone is holding out hope that he can still be something great, but his time in Dallas might be running short.
One Must Step Up
The Stars are struggling in large part to the defensive side of their game. One of these guys has to make a stand and permanently grab this spot on the blue line. It would do a number of things.
It would increase the confidence of the player stepping up, leading to a better overall defensive game for the team as a whole. That confidence rubs off on players in front of him and if the players in front of you trust you, they are probably going to score more.
It would make at least one of the other players expendable, allowing the Stars to to potentially trade one of them in a package for a better player or for future talent.
They need one of Nemeth, Jokipakka, Oleksiak, or even Lindell to step up and take on the spot full-time. The uncertainty has gone on far too long.