Considering the Edmonton Oilers closed out 2015 with just one victory in their last eight games and are currently riding a four-game losing skid, one would think this group was due for some good fortune to kick off 2016. Something tells me having Connor McDavid return to practice for the first time since breaking his collarbone in early November against the Philadelphia Flyers would certainly qualify.
Connor McDavid is on the ice for Oilers practice this morning

— Bob Stauffer (@Bob_Stauffer) January 1, 2016
While Oilers Nation has been buzzing since the news of McDavid's inclusion in the club's New Year's Day practice hit social media, fans would be wise to keep their expectations in check when it comes to the rookie sensation. There is no question his return will instantly make this lineup better but that does not necessarily mean it will translate into more wins for Todd McLellan's crew. With that said, it will at least give them a puncher's chance.
[Related Article: Where Do the Edmonton Oilers Go From Here?]
The inclusion of No. 97 into the mix will add some much-needed scoring depth up front and potentially spark what has truly been an awful power play over the last number of weeks. Add to that a much easier schedule over the next couple of months and things should start to improve in the Alberta capital. After all, is there anyone that follows this team that doesn't want to see what a potential duo of Jordan Eberle and McDavid can deliver on a nightly basis? My guess is the answer to that question is a resounding no.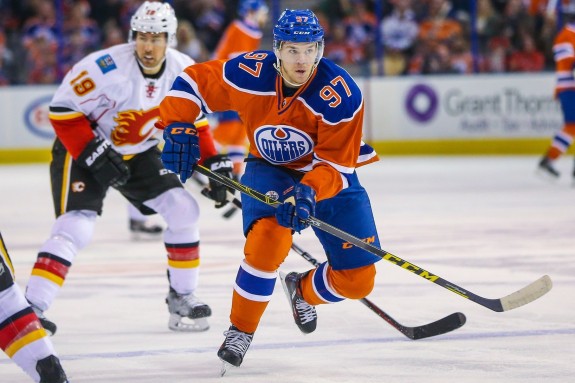 Next 25 Games Will Be Crucial To Oilers Future
The next two months will be crucial in determining what direction Peter Chiarelli ultimately goes when it comes to addressing this roster in the summer. Be it finding out if there is a special chemistry waiting to be discovered between the likes of Eberle and McDavid or seeing where Nail Yakupov and perhaps even Zach Kassian fit. The coming weeks are essentially a trial run for this head coach to figure out where the pieces of this current puzzle go. Unfortunately, this team's shortcomings on the backend are not going away anytime soon, which will make winning enough games to stay in the playoff picture for the remainder of the season a rather difficult task.
[Related Article: Oilers Hand Zach Kassian A Lifeline]
By the sounds of it, Oscar Klefbom will be out of action longer than expected, as he is apparently now battling both upper and lower body injuries. Not surprisingly, the Oilers have gone 2-7 since the talented Swede was forced out of the lineup and chances of that trend changing with the current blue line are not very good. A potential top-six made up of Brandon Davidson, Mark Fayne, Brad Hunt, Eric Gryba, Darnell Nurse, Justin Schultz and Andrej Sekera is not exactly a comforting thought.
Sorry but anyone who believes that group is good enough to allow Edmonton the opportunity to win games on a nightly basis is either completely off their rocker or simply trying to make the best of a difficult situation. There is little doubt Chiarelli would love nothing more than to upgrade his defence in the here and now but expecting him to get that done is simply unrealistic. Unless you have not noticed, those are the types of deals that almost never get done during the season in today's NHL.
McDavid Will Need Time To Relocate His Game
Make no mistake, having McDavid back in the lineup will undoubtedly give this group a much-needed boost but even that will wear off at some point. Also, let's not forget that he had played a grand total of 13 games and was just starting to find his legs before getting hurt. The momentum he had gained is all but gone and one would think there could very well be some signs of hesitation in his game upon his return. While the fact McDavid suffered a broken collarbone as opposed to a shoulder injury is likely far better for his long-term health, the uncertainty a player feel upon returning from a major injury is quite real and rather understandable.
[Related Article: The Streaking Edmonton Oilers]
With that being the case, is really fair to expect this kid to hit the ground running upon his return and immediately help Taylor Hall and Leon Draisaitl carry this offence? In my mind, it is and that is something which simply cannot be overlooked. We are talking about a player who is roughly two weeks shy of his 19th birthday and yet he is being looked upon to be some sort of saviour for this team over the next three and a half months. Are we really that delusional? One would hope not.
There is no questioning just how good a player Connor McDavid is and will be over the course of his NHL career but let's not be silly here. No one player, no matter how talented he is, can fix what is wrong the Edmonton Oilers. That can only be accomplished via trade, drafting and developing and/or the free agent market. As of this moment, that job belongs to Peter Chiarelli and it will be up to him to ensure he surrounds No. 97 and company with the necessary pieces to help them hold up their end of the bargain.