We are now 34 games into the Edmonton Oilers 2015-16 schedule and one thing has become very apparent about this group. Be them good or bad, this is one heck of a streaky hockey club. After reeling off six consecutive wins to start the month of December, the Oilers have followed up their most impressive run in recent memory with three straight losses over a five-day span and are now trying to stop the bleeding before it gets out of control.
To this point in the season, Edmonton has already "put together" seven streaks of at least three consecutive wins or losses.
October 8 to 15 – four losses (STL, NAS, DAL, STL)
October 17 to 21 – three wins (CGY, VAN, DET)
October 23 to 27 – three losses (WSH, LA, MIN)
November 12 to 18 – three losses (ARZ, LA, CHI)
November 23 to 27 – three losses (WSH, CAR, DET)
December 2 to 14 – six wins (BOS, DAL, BUF, SJ, NYR, BOS)
December 15 to 19 – three losses (NYR, CHI, COL)
In other words, 74% of the Oilers schedule has seen them headed in either one direction or the other. So what does it mean? While on the surface that number is rather overwhelming, it is hardly surprising. For a team with as few "impact" veterans on its roster as this one and so many inexperienced players seeing crucial minutes on a nightly basis, the rollercoaster ride should have been expected. A lack of depth, mixed in with an abundance of youth is essentially the perfect recipe for a lack of consistency and that is exactly what we have seen.
Oilers: Learning To Win Ugly
Make no mistake, every team is going to lose their fair share of games over the course of a season and suffer through a handful ugly stretches. However, the difference between a good team in today's NHL and a side like the one Todd McLellan is currently trying to mold into a playoff team is not nearly as big as you might think. Obviously, having better talent is a huge advantage but so is coaching a group of players who not only believes in their individual abilities to get the job done but also those of their teammates.
Despite having nothing more than a makeshift blue line and a forward group that has seen only Taylor Hall and Leon Draisaitl play near the top of their game on a consistent basis, Edmonton has still found a way to stay in almost every one of their 34 games. While much of that can be attributed to the improved play of their netminders and the fact the group no longer quits on itself, they still finding themselves coming out on the wrong side of the final score on too frequent a basis.
[Related Article: The Edmonton Oilers and the NHL Trade Deadline]
Good teams tend to find ways to win games they have no business being in. Learning to win ugly is a must, as is not losing games in which you are the better team. We saw examples of both during the Oilers recent road trip, as they stole two points against the Boston Bruins thanks to a  terrific performance from  Cam Talbot and let a pair slip away against Semyon Varlamov and the Colorado Avalanche on Saturday night. Mix in a solid showing versus the New York Rangers that ultimately turned into a tough 4-2 loss and yet another schooling at the hands of the Chicago Blackhawks and just like that, Edmonton headed home on a three-game losing skid and a 1-3 record for the trip.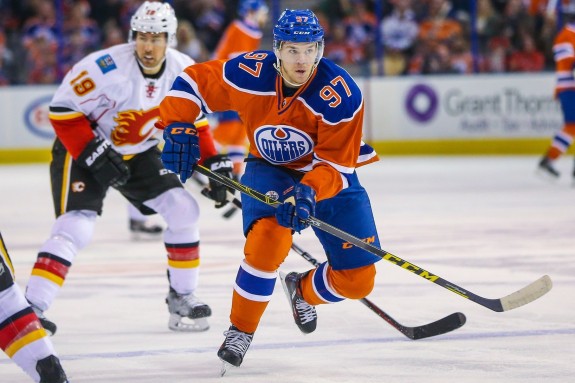 McDavid's Return Will Certainly Help
Again, those things are going to happen over the course of an 82-game season but the better teams in the league find ways to keep from dropping more than a game or two in a row. As of this moment, the Oilers are not equipped to pull that off with any sort of regularity and the results back that up. With that said, progression has been made and with the return of Connor McDavid on the horizon, perhaps we will see this year's squad take that next step in their development over the coming months and put itself in a position where they will be fighting for a post-season berth in early April.
[Related Article: Hurry Back Connor, the Oilers Power Play Misses You]
In order to have a realistic shot of doing that, the Edmonton Oilers are going to have to stay away from extended losing streaks and grabbing two points from the Winnipeg Jets on Monday evening would go a long way in helping them do just that. As important as that six-game win streak was to the team's overall psyche, one can argue keeping their current skid from reaching four straight could be just as important for how things ultimately play out.