So at what point will the Edmonton Oilers bashing end? While there is no question the organization has been in complete and utter disarray since falling in Game Seven of the 2006 Stanley Cup Final to the Carolina Hurricanes, the constant targeting of the franchise by certain fractions of the eastern media has become rather tiresome. The most recent addition to that list comes courtesy of long-time hockey writer Mike Brophy.
The NHL must prevent the last-place Oilers from getting another No. 1 pick, says @HockeyBroph: https://t.co/wxhhh97qUi

— The Hockey News (@TheHockeyNews) December 5, 2015
Now, before we go any further let me state for the record that I have always been and continue to be a fan of Brophy's work over at The Hockey News. With that said, the Burlington, Ontario native is off base in his assessment on the Oilers and their current predicament.  While one would expect the various fan bases across the league to take issue with Edmonton's "run of luck" at the NHL Draft lottery, seeing the same sort of thing coming from your so-called "traditional" media is more than a little disappointing.
It is no secret the start of the 2015-16 season hasn't gone exactly as Peter Chiarelli and company had hoped but to even suggest the Oilers are in tank mode is flat-out inaccurate. In fact, you can even take it a step further in saying this organization has not willingly "thrown in the towel" since the end of the 2010-11 campaign.  There is no question the following four seasons were ugly, but their lineups were simply not good enough to help them get over that hump.
This Was Never Going To Be A Quick Fix
Unfortunately, the combination of poor management decisions and having a team that had not had a sniff of the post-season since that memorable 2006 playoff run made attracting quality veteran players and/or pulling off trades without giving up substantial future assets next to impossible. Simply put, there was never going to be a quick solution for this group. While it has taken longer than anyone had envisioned, one cannot lose sight of the fact Edmonton has only finished in the bottom of the standings on two occasions.
In essence, they have been handed a pair of No. 1 picks by sheer dumb luck. It is an inarguable point and one that is ignored on far too many occasions. In all fairness, it is not the Oilers fault that some ping-pong balls fell their way and netted them two extra first-overall selections. So because of that, the NHL should now change the rules? Come on. That doesn't fly and it comes across as nothing more than whining.
[Related Article: Oilers – The Sky Is Not Falling]
While Brophy does suggest a team's "failure should not be rewarded", is that not the entire purpose of the draft? Bad teams miss the playoffs and get the "privilege" of taking young talent in hopes of improving.  This is not a novel concept and while this is a different time, I don't remember the masses jumping all over the Quebec Nordiques when they called the names of Mats Sundin, Owen Nolan and Eric Lindros from 1989-91.
Ironically enough, it was the trading of Lindros that played such a large role in helping the organization reach their ultimate goal as Stanley Cup Champions after moving to Colorado and becoming the Avalanche. Any Oilers fan can tell you how frustrating it has been to watch this team add one highly skilled player after another and seeing no real improvement in standings. Contrary to what some may think, the last nine years haven't exactly been a walk in the park for this fan base or franchise.
Outside of the usage of the word "atrocity", the line that stood out most from Brophy's piece was the following:
"Building a champion is more than good drafting. It involves developing players, making wise trades and building an organization players aspire to join".
While I agree with all those points, the fact of the matter is this organization is in the midst of doing just that. Despite their record, Edmonton has been far more competitive in 2015-16, than they have in some time and it is noticeable to anyone who actually watches them play on a regular basis…as opposed to watching a highlight pack. Have there been blunders along the way? Of course but they are not the first, nor the last, sports franchise to bungle an attempted rebuild.
[Related Article: Give These Edmonton Oilers Credit]
It is funny how many initially gave Edmonton credit for sucking it up and going about doing it the "right way" but have since turned on them for not getting it right. Unfortunately, there are no guarantees and in some ways, it truly is a crapshoot. Having said that, this continued targeting of the Oilers appears to have far less to do with their failures in securing wins and everything to do with them landing Connor McDavid.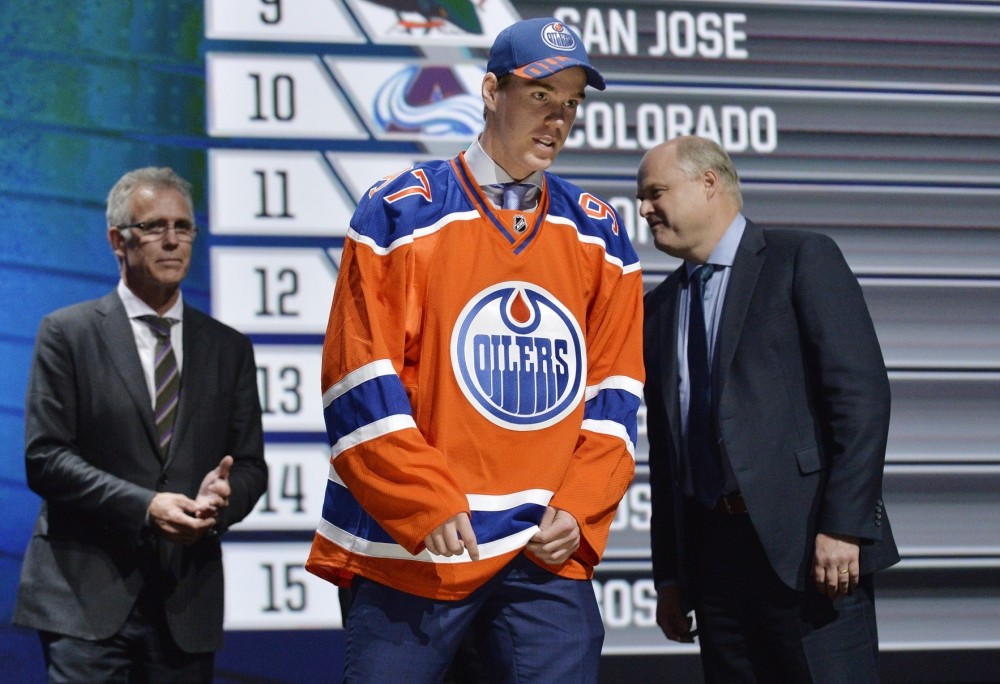 Time To Move On
How else can you explain an article that focuses on a team possibly finishing in last place…during the first week of December? Heading into Sunday's action, the Oilers had a league worst 22 points but were sitting five points back of the Arizona Coyotes for 20th in the overall standings. This team is by no means buried and considering the injuries they have had to deal with, the difficulty of their schedule and the fact they are traditionally a better second half team in recent seasons, all signs point to them finishing higher in the standings come April 9, 2015.
And yet that is all much of the eastern media can focus on and it all goes back to the guy wearing No. 97. Don't get me wrong, I understand the frustration. The NHL has had two generational talents grace their league over the past 35 years in Wayne Gretzky and Mario Lemieux, a possible third in Sidney Crosby and potential fourth in McDavid.  Ironically enough, all four landed with either the Edmonton Oilers or Pittsburgh Penguins, despite all of them being Eastern Canadian boys. While it may not seem fair, it is the reality of the situation.
Sorry folks but you need to turn the page and move on. Instead of wondering aloud on the potential likelihood of the Oilers drafting Auston Matthews, perhaps the focus should remain on the much-loved Toronto Maple Leafs and what Mike Babcock has in store for your side in the coming years. Don't worry about Connor McDavid and company…they will figure it out soon enough.
Rob Soria is the Author of Connor McDavid: Hockey's Next Great One. He has chronicled the Orange and Blue since creating his Oil Drop blog in 2011 and has also had his writings featured over at HometownHockey.ca and Vavel USA, where he has covered the NHL, MLB and ATP Tour. Rob was born, raised and still resides in Edmonton, Alberta and can be reached via twitter @Oil_Drop.