His name may not have been included among Team Canada's initial list of sixteen who will make up their roster at the 2016 World Cup of Hockey but there is almost no chance of Edmonton Oilers winger Taylor Hall not being a part of this team. While many across the hockey world have seemed almost reluctant to give the former first-overall selection his due, thanks in large part to the Oilers inability to climb out of the basement of the NHL's overall standings, this tournament could go a long way in helping change that mindset.
You can name the wingers better than Taylor Hall on one hand. And yet .. https://t.co/eAS8UgcUUz

— Travis Yost (@travisyost) March 2, 2016
Anyone who has watched the two-time Memorial Cup MVP on even a semi-regularly basis can tell you just how good a player he has become since his 2010-11 rookie campaign and yet he has received next to no national recognition. Unless you consider the countless times many of in the national media do nothing but focus on the flaws in the 24-year old's game. Contrary to popular belief, you would be hard-pressed to find another player in the league that has both produced at the same level as Hall and is of the same "vintage" that does not have shortcomings in their all-around game.
[Related Article: Taylor Hall Continues to Quiet His Critics]
In fact, one could easily make the argument that the vast majority of the NHL's top point producers suffer from the very same problem. Sorry, but the ever popular "200-foot player" that actually produces at an elite level are few and far between in today's game. And yet the four-time 20-goal scorer is almost never given the benefit of the doubt or cut any slack for playing on a team that has been poorly built since his arrival into the pro game. From a statistical standpoint, the numbers speak for themselves.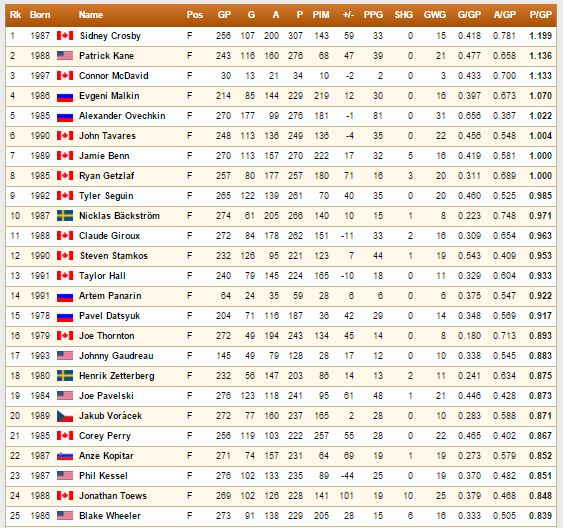 Hall's Production Cannot Be Disputed
Since the start of the 2012-13 season and up to and including all of Saturday's action, Hall sits thirteenth in points per game at .933 and continues to be among the most productive forwards in the NHL. If you were to remove Connor McDavid from table pictured above, as the rookie phenom has played just 30 games to this point in his career, the Oilers No. 4 sits seventh among Canadian forwards on the list. Six of those seven have already been named by Hockey Canada as participants for the highly anticipated event and the seventh, Philadelphia Flyers centre Claude Giroux, is essentially a lock to make the final cut.
[Related Article: Hockey Canada and P.K. Subban]
In other words, his addition to Canada's roster should be nothing more than a foregone conclusion as is the case with Giroux, Boston Bruins forward Brad Marchand and Anaheim Ducks winger Corey Perry. However, when it comes to head coach Mike Babcock and sort of player he wants and/or trusts to have on his team, hello P.K. Subban, you can never say anything is a guarantee. With that said, we will go on the assumption that all four of the names listed above will be in the mix come September.
While the former Windsor Spitfires standout has yet to have the opportunity to show what he can do during the post-season, Hall has played for Team Canada at the World Championships on two separate occasions and was a key contributor in helping Todd McLellan's side win gold at last year's event in the Czech Republic. It was during that tournament that Hall likely made his first real impression on those selecting this team and it is was that impression that could ultimately put him over the top and place him into a key role in this lineup.

Crosby-Hall Comb Should Be An Automatic
After routinely watching anyone not named Chris Kunitz struggle to find a level of comfort playing alongside Pittsburgh Penguins captain Sidney Crosby, one would think those involved with Hockey Canada took notice of how will he seemed to gel with Hall and fellow Oilers teammate Jordan Eberle during the 2015 World Championships. With that being case would the following four line combinations not make perfect sense as a potential starting point for Babcock and company to consider for the World Cup of Hockey?
My World Cup F:
Hall-Crosby-Stamkos
Benn-Toews-Seguin
Tavares-Getzlaf-Perry
Marchand-Bergeron-Giroux
Nash

— Tye Kalyn (@akaRCN) March 2, 2016
Not sure about any of you but those four combos look awfully enticing and the idea of having Crosby centre a line with Hall and Steven Stamkos sounds almost too good to pass up on. It is essentially a perfect balance of youth and experience, as well as high-end skill coupled with those most consider to be among the best two-way players in hockey. Seems pretty straightforward and should Taylor Hall be afforded the opportunity, my guess is all this talk surrounding his "risky" style of play will quickly become a thing of the past and he will finally be recognized as one of the premier players in the NHL…which is something that cannot happen soon enough.