Perception can sometimes be a funny thing. While he has been among the NHL's most consistent point-producers since becoming an everyday player in 2010-11, many hockey observers seemed almost unwilling to give Edmonton Oilers winger Taylor Hall his due. It may still be early, but it looks as though the 2015-16 season may end up being the year in which that finally starts to change.
NHL 3 stars of the week: ⭐️ Brad Marchand ⭐️⭐️ Jake Allen ⭐️⭐️⭐️ Taylor Hall https://t.co/takWUuWyAf pic.twitter.com/J1E9uV5WtL

— theScore (@theScore) November 2, 2015
After getting off to his usual slow start over the opening week of October, the 23-year old has been on fire ever since. Over his last ten games, Hall has scored six times and "chipped in" with ten assists and climbed all the way up to fifth in league scoring. He is currently riding a seven-game point streak and with rookie Connor McDavid out of action for the foreseeable future, he could not have picked a more opportune moment to find his stride.
While a large chunk of the media has gone on at great length about his so-called "improved" play, and to a certain a degree they would be correct, scoring points at this level is not exactly out of character for the kid the Oilers selected first overall at the 2010 NHL Entry Draft.
[Related Article: Oilers Would Be Wise to Turn to Draisaitl, Eberle, and Hall]
Despite missing twenty-nine games due to injury in 2014-15 and suffering through what was arguably his most inconsistent season to date, only eight players have averaged a higher point per game average since the start of the 2012 season. Here are the names of those who have been able to eclipse his total of .989 PPG during said time period: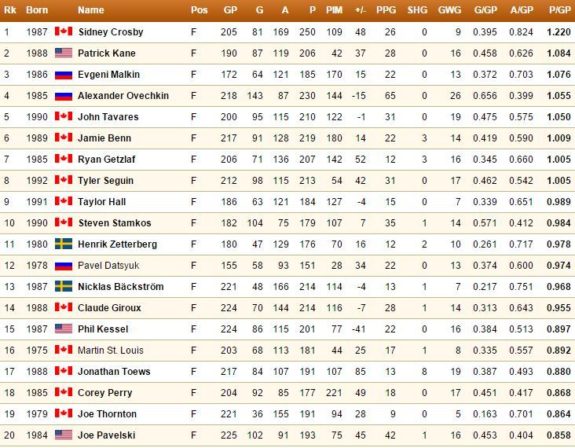 Some Pretty Impressive Numbers
Not sure about all of you but that list appears to include a "who's who" of hockey and yet the masses seem to have little interest in acknowledging just how productive the Oilers' No. 4 has been during his brief career. Yes, Edmonton has been awful during that time but for anyone to suggest that he has somehow been part of the problem, is simply not accurate.
There is no question Hall has flaws in his game, most notably on the defensive side of the equation, but that is not exactly uncommon when talking about the premier offensive threats in the league. Given his age and taking into account he has played his entire career for an organization which has essentially forced him to fend for himself with next to no support, one can make the argument that his level of production is even more impressive.
Of the players listed ahead of Hall, not one has had to deal with what this kid has gone through on a nightly basis and outside of Tavares, all of them have has a running mate to help along the way. While both Jordan Eberle and Ryan Nugent-Hopkins are good young players, neither one can be mentioned alongside the likes of a Nicklas Backstrom, Marian Hossa, Corey Perry, and Jonathan Toews.
The Straw That Stirs the Drink
And yet there Hall sits, among the best of the best and no one seems to really care. Instead of being hailed as one of the best young players in the game, all we hear about is how often he "turns over the puck" or refuses to make the "simple play". Well, guess what? You could say the same thing about a lot of highly skilled players in the NHL and that number becomes even higher when talking about guys who are under 25 years of age.
[Related Article: Disaster Strikes Oilers, McDavid and NHL]
While some will point to this season as some sort of coming out party for the two-time Memorial Cup MVP winner, nothing could be further from the truth. Let's not forget that Taylor Hall finished inside the Top Ten in scoring in both 2013 and 2013-14. He is not exactly in uncharted territory here. If anything…it is the complete opposite and hopefully this time around the rest of the hockey world is paying attention.
Rob Soria is the Author of Connor McDavid: Hockey's Next Great One. He has chronicled the Orange and Blue since creating his Oil Drop blog in 2011 and has also had his writings featured over at HometownHockey.ca and Vavel USA, where he has covered the NHL, MLB and ATP Tour. Rob was born, raised and still resides in Edmonton, Alberta and can be reached via twitter @Oil_Drop.