With Connor McDavid unavailable for the foreseeable future and the Edmonton Oilers lack of centre depth being what it is, Todd McLellan has been put into a rather difficult situation. He either moves Anton Lander up to the second line in hopes the hard-working Swede catches lightning in a bottle and starts producing offence or he bumps Leon Draisaitl from what is the hottest line in all of hockey and into a role the 19-year old is truly not ready for.
Oilers GM Chiarelli on Draisaitl possibly moving to centre with McDavid out: "Leon gives us a very good option." https://t.co/7qUoH1MDul

— Sportsnet (@Sportsnet) November 4, 2015
While neither one is an option the former San Jose Shark bench boss would like to turn to, there really is no decision to make. Despite the fact, the trio of Draisaitl, Taylor Hall and Ryan Nugent-Hopkins have combined for 20 points in the three games since being put together prior to the Oilers come from behind 4-3 win over the Montreal Canadiens, McLellan has little choice but to reshuffle the deck chairs before taking on the Pittsburgh Penguins.
[Related Article: Disaster Strikes Oilers, McDavid and NHL]
With Jordan Eberle set to make his season-debut against the Pens, Edmonton will now have a plethora of talented wingers to use inside their top-six. In a perfect world, allowing the Nugent-Hopkins line the opportunity to come back down to earth before changing things up would be ideal but that is not the situation this team currently finds itself in. Just take a look at their upcoming schedule and one can easily understand why being proactive is the way to go.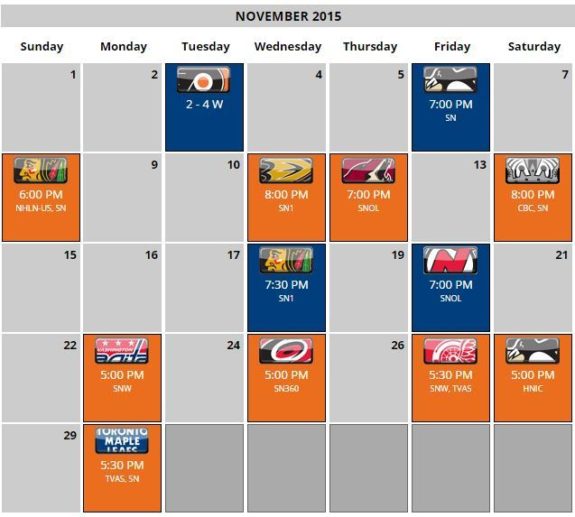 Oilers Will Be Road Weary
Regardless of how things play out against Sidney Crosby and company on Friday night, the Oilers will play nine of their next eleven games away from Rexall Place and teams generally tend to stay away from trying "new things" on the road. Reason being, the head-to-head matchups are not going to be favourable to start with and throwing the monkey wrench of new line combinations into the mix is usually a recipe for disaster…especially for a team as inexperienced as this one.
In my mind, McLellan has three options at his disposal and none of them include Lander seeing top six minutes.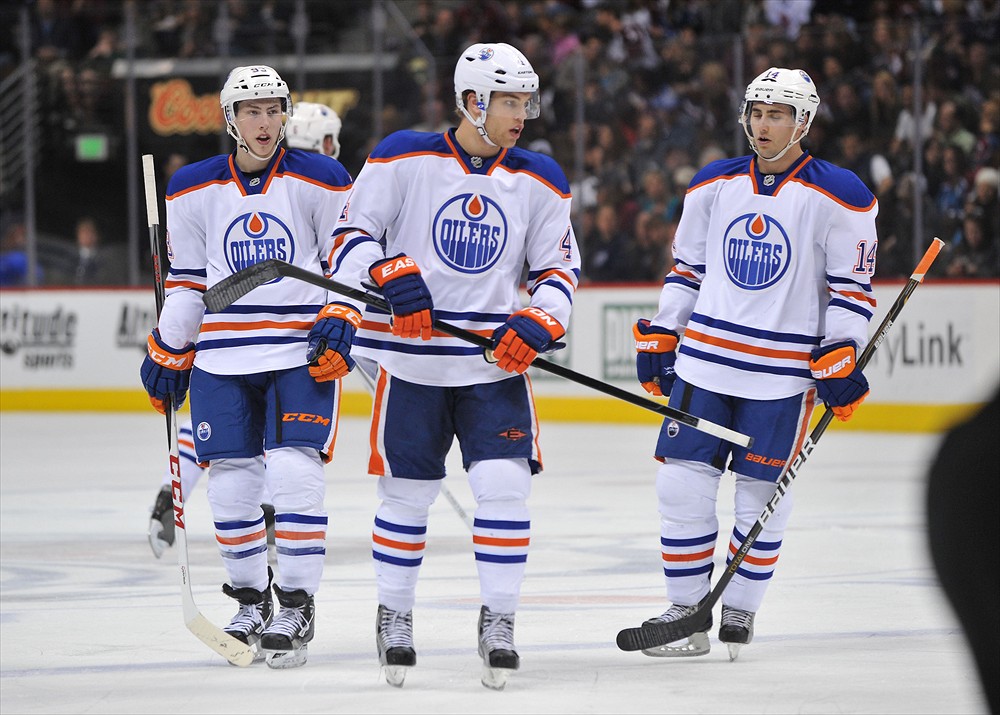 Option #1:
Hall – Nugent-Hopkins – Eberle
Pouliot – Draisaitl – Yakupov
Going back to the "old reliable" top line is never a bad idea and with a pair of extended road trips in Edmonton's immediate future, having a unit that can do much of the heavy-lifting wouldn't hurt. The three have proven capable of holding their own against most teams in previous seasons but it has also tended to leave the Oilers with little scoring depth on their second line.
While that could change with this new set-up, the idea of playing Draisaitl and Yakupov together with no responsible centre is a scary proposition. Be it in the neutral zone or in their own end of the rink, that duo could be too much to overcome and it could quite possibly ruin both players positive starts to the year.
Option #2:
Pouliot – Nugent-Hopkins – Eberle
Hall – Draisaitl – Yakupov
The Eberle, Nugent-Hopkins and Pouliot trio was by far and away Edmonton's best line in 2014-15 and there is no reason to believe they could not rekindle that magic upon Eberle's return from injury.  The idea of keeping Draisaitl and Hall together is certainly an intriguing one but again, the lack of a two-way centre could likely prove problematic on that second unit.
Option #3:
Eberle – Draisaitl – Hall
Pouliot – Nugent-Hopkins – Yakupov
While this is likely the riskiest of the three options, it is the one that could quite possibly produce the most balanced results.  Eberle and Hall have had chemistry from Day One and contrary to what some may think, both have improved their play away from the puck over the years. There is no reason to think that would not continue playing with Draisaitl and creating scoring chances should not be a problem.
In using Yakupov with Pouliot and Nugent-Hopkins, it allows the youngster to not only play with a pair of responsible linemates but two guys he has shown a comfort level with. While these units may not give McLellan a true "top-line" to lean on, the addition of a useful third-line consisting of Matt Hendricks, Mark Letestu and Teddy Purcell may afford him the opportunity to use all three in a somewhat balanced manner.
[Related Article: A Potential Turning Point]
Don't get me wrong, none of these are great options but at this stage of the game there is little else they can do. While I am not a fan of the Oilers using Leon Draisaitl at centre, barring Peter Chiarelli going out and pulling off some sort of trade, there is no one currently in the system that is a better option. So if this is the hand Edmonton has been dealt, this organization had better make sure they insulate the kid as much as possible and that can only be accomplished be having him play with No.4 and No. 14.
Rob Soria is the Author of Connor McDavid: Hockey's Next Great One. He has chronicled the Orange and Blue since creating his Oil Drop blog in 2011 and has also had his writings featured over at HometownHockey.ca and Vavel USA, where he has covered the NHL, MLB and ATP Tour. Rob was born, raised and still resides in Edmonton, Alberta and can be reached via twitter @Oil_Drop.