When the Edmonton Oilers 2015-16 campaign officially comes to an end in Vancouver on April 9th, defenceman Oscar Klefbom will have missed the final 52 games of the season. Considering he left the Oilers December 11th contest against the New York Rangers with a fractured finger, no one could have ever imagined the kid would end up being out of action for what will turn out to be a four-month stretch.
https://twitter.com/DKingBH/status/711762256816676864
[Related Article: Oilers, Jets, Jacob Trouba and 2016 Entry Draft]
Well, when you add what was clearly a severe staph infection to the equation, as first reported by TSN 1260's Jason Gregor over at Oilers Nation, an early return date was never going to be a realistic option. While the 22-year old had shown signs of being ready to carry the load that comes with being a legitimate top-four blueliner in the NHL during the first 107 appearances of his career, this latest setback has to have those inside organization a little considered.
Dealing With Injury Is Nothing New
Since taking Klefbom with the nineteenth overall pick of the 2011 Entry Draft, the Oilers have not only watched him mature into a heck of a player but also a guy who appears as though he could be a bit of injury concern moving forward. Back in March of 2014, long-time Oilogosphere icon and current host of TSN 1260's the Lowdown with Lowetide, Allan Mitchell wrote the following about the talented Swedish rearguard over at Oilers Nation:
Sept 2/11: Swedish Oil: Klefbom was unlucky enough to get cut on his thigh by an ice skate, the wound was sewn with ten stitches, and when the stitches were removed there was an infection. Now Klefbom is on penicillin which also prohibits him from playing. 
Nov 14/11: Sami Hoffrén: Klefbom was hit to the head by a Russian forward and he had to leave the game. Didn't play in the tournament after that hit. I assume Klefbom suffered a concussion.
Oct 9/12: he lost his season to a shoulder injury.     Oscar Klefbom: "It happened on Oct. 9 playing against Vaxjo," Klefbom said. "I dumped the puck in the offensive zone and I got a small hit from behind and I lost my balance and I flew into the boards. I had to catch myself with my left arm. Afterwards, I couldn't feel my arm, it was like a dead arm. I didn't know what happened."
Sept 12/13: Oilers announce they are following concussion protocol after Klefbom is injured in the U of A game.
2013-14: He spent various portions of the season out of the lineup with injury. 
Once we take all of that information and add it to what has happened this season, which also included Klefbom taking a stick to the eye and "blocking" a number of shots in games leading up to his ill-timed injury against the Rangers, it is rather difficult to look at the history and simply dismiss it as nothing more than coincidence.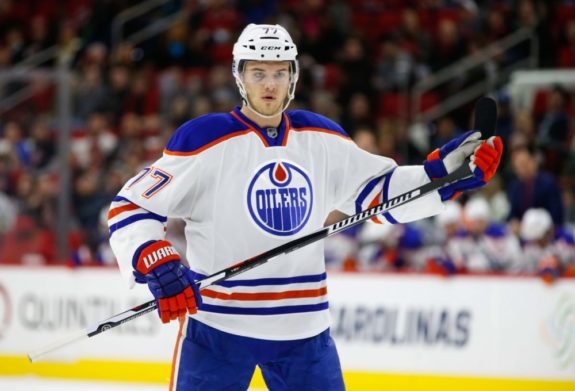 Klebom's Absence Has Been Noticeable
Not surprisingly, the Oilers have struggled badly with Klefbom out of the lineup, posting a 16-24-5 mark in his absence after essentially playing .500 (13-5-2) over the first couple of months of the season. On a blue line that lacked any sort of real depth to begin with, removing anyone from inside the top-four was always going to create problems. With that said, when you lose the guy who is arguably the best of the bunch, you get the mess we have all watched unfold in Edmonton over the past few months.
The Oilers really miss Oscar Klefbom. Best all-around D. Tilt's the ice when he plays. Under-rated offensively as EVS points/60 supports

— Bob Stauffer (@Bob_Stauffer) January 9, 2016
Despite having not dressed for a game in over three months, Klefbom trails only Andrej Sekera and his team-leading total of 26 points among defencemen with 12 points in 30 games. Think about that for a second. This club has seven games left on their schedule and have just one defenceman on their roster with more than 12 points. A scary thought indeed and one that only further illustrates just how valuable No. 77 is to this lineup and that doesn't even take into account his abilities as a defender nor give enough credit to his proficiency at transitioning the puck up ice.
[Related Article: Oesterle, Reinhart Making Most of Opportunity]
Having said all of that, with Oscar Klefbom set to enter the first year of a seven-year deal that well see him earn $29 million the fact he has yet to prove to be capable of  staying healthy for an entire NHL campaign is something general manager Peter Chiarelli cannot ignore. Obviously, the plan is for this kid to be a major piece of the puzzle moving forward but is that truly a realistic option for this player? In my mind, he has always been a lock to develop into a No.2/No. 3 defenceman but staying healthy is part of the equation and at this stage of the game…there is no guarantee of that happening.
Rob Soria is the Author of Connor McDavid: Hockey's Next Great One. He has chronicled the Orange and Blue since creating his Oil Drop blog in 2011 and has also had his writings featured over at HometownHockey.ca and Vavel USA, where he has covered the NHL, MLB and ATP Tour. Rob was born, raised and still resides in Edmonton, Alberta and can be reached via twitter @Oil_Drop.