Reading too much into what a player does or doesn't do during the final weeks of an NHL season for a team playing out the string is, more often than not, a pointless exercise. Different guys react in different ways to taking part in meaningless games and in some cases, it can be a dangerous time for organizations. The Edmonton Oilers find themselves in that very situation when it comes to a pair of young defensemen in Jordan Oesterle and Griffin Reinhart.
Reinhart/Oesterle pairing: 45 minutes, +4, 11 blocked shots.

— Jack Michaels (@EdmontonJack) March 19, 2016
[Related Article: Fans Need To Be Patient with Griffin Reinhart]
While the sample size may be small, the two have been surprisingly solid since being put together prior to the Oilers 6-4 win over the St. Louis Blues and looked even better during last night's 2-0 victory over the Vancouver Canucks. In  fact, the pair actually led all skaters in ice-time, with Reinhart logging a team-high of 23:37 on the evening. Again, getting carried away with a two-game stretch is silly but considering how the year has gone for the former fourth overall pick of the New York Islanders, it is certainly a step in the right direction.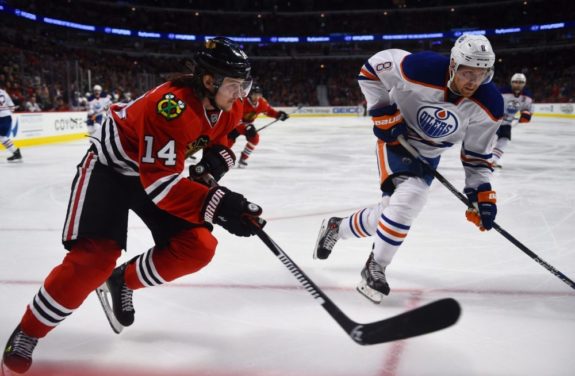 The Bakersfield Condors Duo
After struggling to find his niche during two previous stints earlier this season, Reinhart appears to have found a comfort level during his third kick at the can and much of that credit belongs to his head coach. Instead of bringing the former Edmonton Oil Kings captain back into the fold and continue to use him in situations that were not necessarily good fits, Todd McLellan did the smart thing and put the youngster into a scenario he had previously enjoyed success in and the results speak for themselves.
Coach McLellan discusses the Reinhart-Oesterle D tandem, Talbot's shutout & more on the #Oilers 2-0 victory.https://t.co/0nvMQ1283p

— Edmonton Oilers (@EdmontonOilers) March 19, 2016
The 22-year old had spent a good chunk of his time in the AHL playing alongside Oesterle and with the Oilers backend being the cluster that it currently is, going with a tandem that is inexperienced but had some familiarity seemed to make sense and it has paid off in spades. The move also allowed McLellan the opportunity to fill a hole on the right side of his blue line by swapping Reinhart over, something which he did with some regularity and a great deal of success during his days in the WHL.
[Related Article: Griffin Reinhart Could Be In For A Rough Ride]
No matter how you look at it, this has been a win-win situation. By no means is that to suggest the towering blueliner is out of the woods and a lock to become a part of this team's future. Reinhart's lack of foot speed remains a concern, as does his willingness to use his size to his advantage in the defensive zone. With that said, his hockey IQ is not a concern and contrary to what some may think, the kid can pass the pass the puck but the jury is still out and nothing that happens over the next three weeks will change…and nor should it.
.
Oesterle Is Turning Heads
As far as Oesterle goes, it is hard to not be impressed with how good the 24-year old has looked during his 9-game stint to this point in the season. Considered by most to be nothing more than a minor-league depth guy, the American blueliner has certainly opened the eyes of both the fan base and this coaching staff. With the Oilers inability to move the puck up ice an ongoing issue, this kid has been a breath of fresh air and pretty darn reliable in his own end to boot.
Jordan Oesterle is looking to challenge Brandon Davidson for the 'Come out of Nowhere' award. -bm #Oilers

— Oilersnation.com (@OilersNation) March 19, 2016
Add to that his ability to get pucks on net during the power play and in the blink of an eye, the Western Michigan University grad has become a go-to-guy of sorts for the Oilers new bench boss. To be fair, on a backend that has seen the likes of Adam Pardy play 20 minutes a night and Adam Clendening dress on a regular basis, no one should be completely shocked to see Oesterle be handed the opportunity he has. While this coaching staff may have been forced into making the move, there is no question the player deserves all the credit for seizing the moment.
[Related Article: Oilers Hoping Oesterle Makes Most of Audition
My guess is if you had asked Todd McLellan back in October what the chances were of him turning to a tandem of Griffin Reinhart and Jordan Oesterle in a mid-March game as a go-to pairing, though the tandem of Andrej Sekera and Mark Fayne remain this club's top duo, the answer you would have received was zero. Well, things do not always go according to plan and the 2015-16 NHL season has not played out in the manner the Edmonton Oilers had hoped and it has resulted in a door being open for others to show what they can do.
Rob Soria is the Author of Connor McDavid: Hockey's Next Great One. He has chronicled the Orange and Blue since creating his Oil Drop blog in 2011 and has also had his writings featured over at HometownHockey.ca and Vavel USA, where he has covered the NHL, MLB and ATP Tour. Rob was born, raised and still resides in Edmonton, Alberta and can be reached via twitter @Oil_Drop.