Even after a few years of seemingly solid drafting, the back end still very much remains an issue for the Canucks, as it has for a while. That said, the tides may be changing, with a handful of intriguing and potentially effective young defenders on the way through the Canucks pipeline.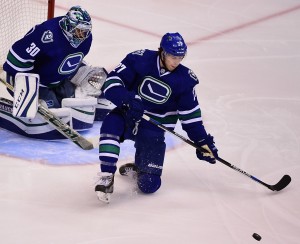 Ben Hutton
After coming into the season with next to no expectations, Ben Hutton has emerged as a revelation for the Canucks this season. Playing upwards of 20 minutes recently with the injury to Alex Edler, Hutton has demonstrated outstanding poise and confidence playing in a top-pair shutdown role alongside Chris Tanev. In addition to his excellence on the defensive side of the game, Hutton has established himself as the Canucks' best puck mover and has been quarterbacking the top unit power play in Edler's absence. The 22-year-old has 22 assists in 62 games, among the best totals when talking about a rookie defenceman, and by far the best among Canucks defenders and third behind only the Sedins in helpers. After much talk about a lack of future top-pair blueliners, they may just have one on their hands with Ben Hutton.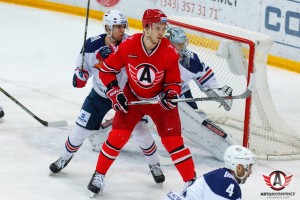 Nikita Tryamkin
Seldom have we seen a player come into Vancouver with as much as hype as Nikita Tryamkin. The hulking Russian – clocking in at 6'8″ and 240 pounds – is a specimen that stands out on the Canucks blue line. On a defense core that is made up of mid-to-lower sized players, Tryamkin stands out as particularly effective and adds another dynamic to a rather stagnant D-core. In addition to his tremendous size, Tryamkin demonstrated a high skill and puck moving level in his time in the KHL, and is said to have a booming slap shot. Additionally, the 21-year-old appears to have NHL caliber poise and positioning, as he rarely looked out of place and looked generally effective in his NHL debut against the Colorado Avalanche. His long reach appeared to be of great advantage for Tryamkin, and could be of good use going forward. This organization appears to have Nikita Tryamkin in their long-term plans going forward, and he may be the most intriguing defense prospect the team's seen in a while.
Andrey Pedan
While he may not have the buzz of his country-mate Tryamkin, Pedan has nonetheless emerged as a popular and noteworthy name among Canucks fans. Coming in at a towering 6'4″, Pedan brings an element of toughness to the Canucks blue line after leading the Utica Comets with 83 penalty minutes through 42 games. In addition to that, Pedan has been said to have strong puck moving ability and strong offensive instincts. While decision making remains an issue with Pedan, he has demonstrated enough potential and enough tools that he will be a player to watch, and one that could be a difference maker going forward. He's certainly anywhere in the realm of a safe-and-steady shutdown defenceman, but Pedan brings enough to the table in other ways that he more than makes up for it. Certainly an intriguing prospect worth keeping an eye on.
Jordan Subban
Jordan Subban, selected in the 3rd round of the 2013 entry draft, is a dynamic offensive blue liner bursting with point producing potential. He's also quite undersized for a defenceman. Subban, 21, has managed to put issues regarding his size to the side this season, putting up 32 points in 52 games in his AHL rookie year. These numbers have many supporters of the Canucks excited, as the team has rarely seen such offensive output from its blueliners. Along with a hard slap shot, Subban is a quick skater and has a dynamic edge to his game that few Canuck skaters do. While size will also be the issue with the youngest of the Subban brothers, it's hard to deny the skill, and that kind of potential game-breaking ability has to be exciting for many.