Injuries have prevented the Oilers from seeing their top-three centerman at the same time for the majority of the season. But now, with all of Connor McDavid, Ryan Nugent-Hopkins and Leon Draisaitl healthy, the team will get a glimpse of the three-center model they have been waiting to deploy. Unfortunately, injuries are part of the game, making depth at all positions crucial for every team. The organizations who stock their farm well will be able to overcome. Those who don't, well they'll feel the brunt of those inevitable injuries all the more.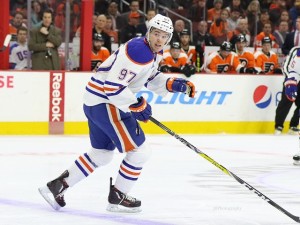 Top-flight centermen don't grow on trees. Many a team has struggled because they simply didn't have strength down the middle. A lot of GM's are constantly on a mission to find those true centerman, and the Oilers have three beauties sitting in their lap. Take the Nashville Predators for example. They have an elite defence corp and a really good goalie, but were forced to trade one of their young blueliners to get who they hope is a top-centerman in Ryan Johansen. Or look at the Montreal Canadiens. They have their fingers crossed that Alex Galchenyuk will continue to emerge as a front line centerman, because they don't have much else.
The best teams in the league, among other things, have really good players at the center ice position. The Oilers appear to have that covered. Blowing that up will be like taking a step backwards. And their head coach is in agreement. Todd McLellan brought up the solid point that you can never have too many good centermen, because it's easier for them to slide over and play the wing than it is for a winger to play center.
"I firmly believe a centre can go over to the wing and be comfortable, feel fairly good. Collecting centremen isn't a problem from my perspective; we can move them around a little bit. I feel comfortable about that and we've done that before." [Cult of Hockey]
Not everyone would concur, however. I can understand the sentiment that a top defenceman is just as important, and the Oilers may be forced to deal one of their core players in order to acquire that type of guy. (Although dangling a possible first overall pick in a trade may be a good idea too). With all things being equal, and the Oilers having their three centerman healthy at the same time, is it a formula for success? There are varying degrees of opinion on the matter.
If you keep all three, either someone will have to play the wing, or center the third line, thus getting less minutes. And do you want a six+ million dollar player on your third line? Is acquiring a cheaper, veteran center a better option, someone who can move up if need be? (Having three lines that are a threat is pretty nice option to have, though.) Obviously you don't want to plan your roster around potential injury, but losing Nugent-Hopkins exposed the Oilers weakness at center. Maybe it's a good problem to have an abundance. But how do the Oilers centerman compare to other teams in the league, particularly those who have had success?
Edmonton Oilers:
Connor McDavid ($832,500) 14 goals, 25 assists, 39 points. 41% on faceoffs
Ryan Nugent-Hopkins ($ 6 million) 10 goals, 22 assists, 32 points. 45% on faceoffs
Leon Draisaitl ($832,500) 18 goals, 30 assists, 48 points. 47% on faceoffs
Washington Capitals:
Nicklas Backstrom ($6.5 million) 18 goals, 45 assists, 63 points. 49% on faceoffs
Evgeny Kuznetsov ($2.2 million) 20 goals, 53 assists, 73 points. 48% on faceoffs
Marcus Johansson ($3.75 million) 15 goals, 23 assists, 38 points. 48% on faceoffs
Boston Bruins:
Patrice Bergeron ($8.75 million) 28 goals, 33 assists, 61 points. 57% on faceoffs
David Krejci ($7.25 million) 15 goals, 39 assists, 54 points. 49% on faceoffs
Ryan Spooner ($950,000) 12 goals, 34 assists, 46 points. 43% on faceoffs
Los Angeles Kings
Anze Kopitar ($6.8 million) 24 goals, 40 assists, 64 points. 53% on faceoffs
Jeff Carter ($5.27 million) 18 goals, 33 assists, 51 points. 49% on faceoffs
Nick Shore ($600,000) 3 goals, 7 assists, 10 points. 52% on faceoffs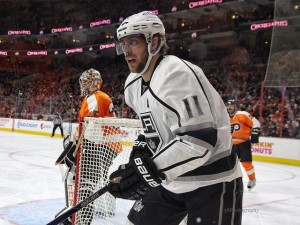 Chicago Blackhawks
Jonathan Toews ($10.5 million) 25 goals, 25 assists, 50 points. 59% on faceoffs
Artem Anisimov ($3.28 million) 19 goals, 19 assists, 38 points. 44% on faceoffs
Andrew Shaw ($2 million) 11 goals, 20 assists, 31 points. 45% on faceoffs
Tampa Bay Lightning
Steven Stamkos ($7.5 million) 33 goals, 24 assists, 57 points. 49% on faceoffs
Tyler Johnson ($3.3 million) 12 goals, 21 assists, 33 points. 49% on faceoffs
Brian Boyle ($2 milion) 11 goals, 3 assists, 14 points. 49% on faceoffs
Anaheim Ducks
Ryan Getzlaf ($8.25 million) 11 goals , 44 assists, 55 points. 49% on faceoffs
Rickard Rakell ($894,000) 19 goals, 21 assists, 40 points. 44% on faceoffs
Ryan Kesler ($5 million) 16 goals, 25 assists, 41 points. 59% on faceoffs
New York Rangers
Derick Brassard ($5 million) 25 goals, 26 assists, 51 points. 51% on faceoffs
Derek Stepan ($6.5 million) 16 goals, 22 assists, 38 points. 46% on faceoffs
Eric Staal ($4.1 million) 11 goals, 25 assists, 36 points. 54% on faceoffs
Pittsburgh Penguins
Sidney Crosby ($8.7 million) 31 goals, 41 assists, 72 points. 52% on faceoffs
Evgeni Malkin ($9.5 million) 27 goals, 31 assists, 58 points. 42% on faceoffs
Nick Bonino ($1.9 million) 5 goals, 9 assists, 14 points. 53% on faceoffs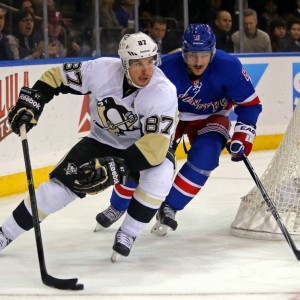 (All line combinations courtesy of Daily Faceoff, salary information courtesy of General Fanager, stats courtesy of NHL.com)
Playing center is not only about producing and putting up points. It's also about being able to win key faceoffs, control the play, distribute the puck, make the players around you better, and make the right decisions in both zones. Do the Oilers have the right kind of centermen in place? Should they be after the more "defensive" minded guy for the third line, or can someone like Nugent-Hopkins become that guy? Today's NHL is all about driving possession, because the more you have the puck, the less chance the other team has to score. Which is why having the stud puck-moving defenceman is so important.
I see both sides of the argument. I understand that what the Oilers have isn't working and it may be time to make some big changes. But, on the flip side, Connor McDavid is only in his first year, and with everyone healthy, the Oilers can start to roll three strong lines. Would you move forward with the model as constituted, or "blow things up" in order to try and change the tide? Have your say in the comment section below.
Marcy, a former hockey player, is a hockey correspondent on CTV News and TSN radio. She began her career as a Sports Journalist in 2009 and has been part of The Hockey Writers since 2010, where she is currently a senior writer and editor.