Give the Edmonton Oilers credit. After trading away Taylor Hall to the New Jersey Devils for defenceman Adam Larsson, they were well aware of the fact there would be major pushback from much of the fan base after making such a deal. However, by pulling the trigger on the swap when he did, Peter Chiarelli gave both himself and the organization an easy out to help soften the blow. They played it perfectly and after feeling the heat for the better part of 48 hours, all seemed to be forgiven after announcing the signing of Milan Lucic to a 7-year/$42 million pact.
"They weren't a tough team to play against. You didn't leave the rink with many ice packs. We need to change that." Lucic on playing vs. Edm

— Jason Gregor (@JasonGregor) July 1, 2016
From a roster construction standpoint, adding a player with the skill-set of the 28-year old unrestricted free agent was arguably exactly what the Oilers needed. After being pushed around and essentially dismissed by every other team in the league for the last numbers of seasons, something Lucic willingly gave up during his introductory press conference,  the hulking winger will play a large role in helping erase that notion in short order and this fan base could not be happier.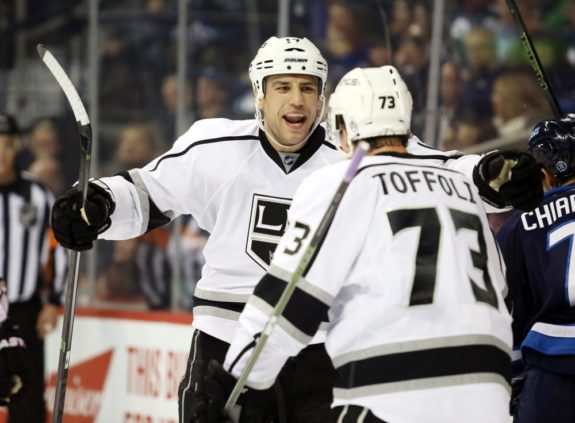 Lucic is Exactly What the Oilers Need
The 2006 second-round pick has been a force from the moment he entered the league with the Boston Bruins and has never looked back since. While he has yet to duplicate his lone 30-goal campaign from 2010-11, Lucic is arguably coming off one of his finest all-around seasons. His stay in Los Angeles may have been brief but the Kings could not have asked for much more than what he delivered in 2015-16. What's not to like about a 20-goal, 55-point year while employing the defence-first system that Darryl Sutter has his troops play on a nightly basis.
[Related Article: Oilers Playing Dangerous Game With Hall and Lucic]
From the moment he arrived, Lucic made an immediate impact on the Kings and helped re-establish their ability to play with the so-called "big boys" of the Western Conference. He played a major role in helping them get back to the postseason after a one-year hiatus. Despite his play, it was clear Los Angeles would not be able to afford his asking price and all signs were pointing to the Oilers taking a serious run at bringing him on board…and it came to fruition during the opening minutes of the NHL's annual Free Agent Frenzy on July 1st.
"Hopefully Todd puts us on a line together." @MilanLucicCFC17 on opportunity to play with @cmcdavid97, says they've been texting today

— Edmonton Oilers (@EdmontonOilers) July 1, 2016
Not surprisingly, the Vancouver native was giddy when talking about Connor McDavid and did not shy away from letting it be known that he ultimately chose to sign with Edmonton because of the kid. When it comes to the Oilers, you would be hard-pressed to find a better fit for a left-winger to play with No. 97. While the length of the deal Lucic received has long-term problems written all over it, the chances of this being a bad signing over the next three to four years are next to non-existent.
Chiarelli Still Made A Bad Trade
While it's all well and good to be excited by the move, pretending as though yesterday's signing should now somehow change Wednesday's deal into being viewed as Hall for Larsson and Lucic is not only ridiculous but downright embarrassing. In my mind, it is bad enough that a fraction of this fan base is actually putting this notion out there as if it were reality but the fact that some of the local media and those who are employed by the club are also trotting this angle out is insulting. Try and dress it up however you would like but there is a reason why the vast majority of the hockey world did a double-take when the trade was announced.
[Realted Article: Oilers Miss the Boat in Hall, Larsson Trade]
Anyone who reads my work or follows me on twitter with any sort of regularity knows exactly what my feelings on the deal were. In my opinion, Chiarelli was taken out to the woodshed and abused by Devils general manager Ray Shero and am not alone in thinking that. However, I do not want to sit her and rehash what was said a few days back but when Sportsnet's Mike Johnson comes out and bluntly says "Taylor Hall is too good for that kind of return" during the opening segment of their Free Agent Frenzy coverage and the entire panel went silent, it speaks volumes.
"I definitely wasn't looking to trade Adam Larsson but I may never get a chance again to get Taylor Hall." – Ray Shero, New Jersey Devils General Manager-
That quote comes courtesy Pierre LeBrun's piece over at ESPN that took a look at what truly was a crazy day across the NHL on the 29th of June. It also puts the Taylor Hall for Adam Larsson swap into perspective and tells us everything we need to know. New Jersey was well aware of what they were doing and Edmonton panicked and took the bait. Plain and simple. Luckily for them, the timing of the move fit in perfectly with Peter Chiarelli's to-do list and it played out to perfection yesterday afternoon. Well done Peter…it was a masterful piece of work.