San Jose Sharks general manager Doug Wilson made his intentions clear quickly in free agency: bolster both defense and forwards. With players who not only make San Jose better, but also allow them to match-up better against the last team to beat them, Pittsburgh.
I've thought Wilson's primary responsibility was to decide if this upcoming season is another 'go for it' season and, if so, to find a 'move the needle' forward which makes much of the roster better. Coming off a Stanley Cup Final appearance, there was little doubt about Wilson's choice.
The Additions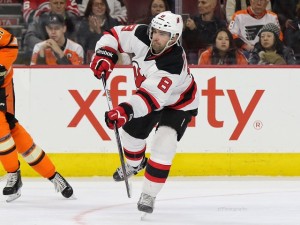 Wilson added two players on day one of free agency. First to sign was defenseman David Schlemko, a puck mover who has bounced around the NHL for the past several seasons. The left-hander looks to slot in with fellow left-hander Brenden Dillon on the third defensive pair. Dillon, a slower a less agile puck-handler has shown he's better off with a quicker, more agile puck-handler as a partner. Roman Polak, Dillon's partner for the season's final 48 games, is a good defenseman, but he and Dillon carried the same liabilities. These showed up during the playoffs and were badly exposed against Pittsburgh. Schlemko is there to fix this problem.
This move likely means Dylan DeMelo, a right-handed rookie last season with similar characteristics as Schlemko, is starting the season either in the AHL (if the Sharks want him to play regularly) or on the bench as the seventh defenseman. It also suggests the promotion of highly-touted Mirco Mueller to the Sharks from the AHL Barracuda is not just around the corner.
The second move Wilson made was to add speedy winger Mikkel Boedker to the team. Boedker is a capable player, with offensive flash and defensive challenges. The Sharks are a mature team, which should be helpful for Boedker to develop a defensive mindset. Should he evolve on that front, he can be a top six forward. Which is what the Sharks need. Boedker's upside is still a bit of a mystery, having played in a talent-challenged, high turnover environment for most of his career in Arizona (Dave Tippett, it should be noted, is a good coach and one of the few things consistent in Boedker's career in Arizona). It is possible Boedker is a top line talent, hidden by inconsistent play surrounding him.
What It Means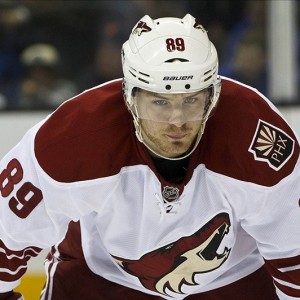 To me, Wilson made the move he had to make, which is Boedker. I would have preferred he collect a higher talent even with a higher price tag.  Andrew Ladd and Kyle Okposo would have fit the bill. But it is not clear if those two players were even interested in San Jose. If landing a top talent meant San Jose would forego Schlemko and give DeMelo the chance to develop into the sixth defenseman spot, it would have been preferable to me. I see Schlemko as a rather modest upgrade over DeMelo and his potential. If DeMelo did not prove adequate, a Schlemko-level player could be a mid-season acquisition.
Wilson did make a move which not only holds the potential to upgrade one of the Sharks top lines, but also drives forward talent into lower lines. This is key. San Jose was at its best when rolling four lines, Boedker makes it easier for San Jose to do this next season.
The Sharks defensive pairings appear set, with Schlemko filling the lone opening opposite Dillon.
The forwards, though have many combinations enabled by Boedker's signing. I'll take a quick look at how lines might look. It becomes apparent how Boedker's signing creates value through the line-up. I'll start by keeping the top line the same, Tomas Hertl, Joe Thornton and Joe Pavelski. I'd like to see Boedker get a shot on the second line with Logan Couture and Melker Karlsson. Couture and Karlsson showed tremendous chemistry against Pittsburgh. Adding a fast, capable winger should be a good fit.
This would push Joonas Donskoi to the third line, where a variety of potential linemates would fit. Elder statesmen Patrick Marleau and Joel Ward would be the leading candidates, along with Matt Nieto and Tommy Wingels. I'd like to suggest Nieto, Donskoi and Chris Tierney on a line. This combination can play fast together, as shown on the brilliant goal below. This would push Wingels, Ward and Marleau to the fourth line, giving the Sharks talent to roll four lines, game after game.
More To Come
There is the possibility the Sharks will promote top prospects Nikolay Goldobin or Timo Meier to the NHL roster. Barclay Goodrow does not come with the pedigree of Meier or Goldobin, but he is capable of playing in the NHL. There is a chance Doug Wilson will find another mature rookie in Scandinavia, as he did in the past two seasons with Donskoi and Karlsson.
It is unlikely Doug Wilson is done making moves. Three Sharks forwards remain in the trade discussion, Matt Nieto, Tommy Wingels and Patrick Marleau. Moving Marleau would have made the most sense before free agency started. It did not happen. I would be surprised if both Wingels and Nieto are with the Sharks on opening night.
The Sharks have upgraded at both forward and defense. If there is a common theme in the initial moves, it is puck-handling and agility over size and physicality. This is the second consecutive season the Sharks have gone this path. This is the area San Jose struggled to match up with Pittsburgh in the Stanley Cup Final. It seems San Jose wants another shot at the Penguins, and intend to be better prepared when it happens.
Zeke's Notes
Boedker is yet another signing with a connection to coach Peter DeBoer. DeBoer coached Boedker with the OHL Kitchener Rangers. The working relationship between the coach and general manager is much different with DeBoer than it was with his predecessor.
This marks the second consecutive season San Jose has made significant moves in free agency. In Wilson's first decade in San Jose, major free agent signings were a rarity, let alone multiple signings in a single offseason.