By his own admission, Arizona Coyotes' general manager John Chayka did not completely check everything from his shopping list.
While the Coyotes were one of more active teams in the NHL during the opening day of free agency, there seems a cushion, perhaps a comfort zone, which may separate Chayka what he did Friday and what remains on his agenda.
In concert with signing defenseman Alex Goligoski last week and inking forward Jamie McGinn on Friday to a reported three-year, $10 million deal, these two important parts are designed to help elevate the Coyotes' fortunes. An argument can be raised about McGinn's health and his history of back issues, including back surgery. Pronounced himself fit and ready to join his fifth team in a seven-year NHL career, McGinn said his abilities and the Coyotes search for ascendency represented a good fit. Plus, there was a significant reason which attracted the 27-year-old to the desert.
"One of the ways I want to grow as a player is to assume a greater leadership role," McGinn said in a conference call with Arizona reporters. "On the ice, I like to break for the net and be a big, physical presence. At the same time, I'd like to help out in a leadership role."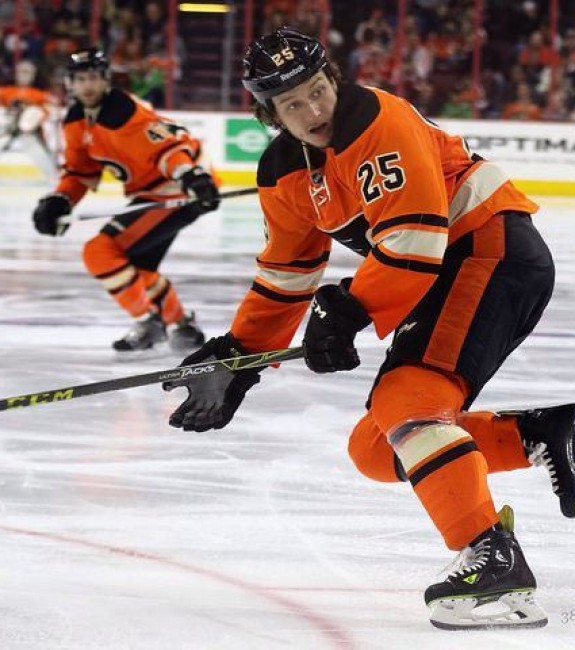 Having played against and viewed Arizona captain Shane Doan from afar, McGinn said the presence of Doan was a significant reason to hang his newest shingle in the desert. Coming off a 22-goal season with combined Buffalo and Anaheim last season, McGinn indicated he is ready to reach the next level.
"I can surpass what I did last season," he said. "If I was satisfied with last season, there would be no improvement, and I continue to strive and get better."
Declaring the Phoenix metro region his new home, McGinn comes with a history of the area. His brother Tye, originally drafted by the Philadelphia Flyers in 2010, played for the Coyotes during the 2014-15 season and picked up two points (one goal, one assists) in 18 games. When discussing his move to the Coyotes, McGinn reached out to Tye and Brock, another brother who was selected by the Carolina Hurricanes in 2012, for direction. Tye, in particular, raved about coach Dave Tippett, his communications skills and coaching abilities. When he arrived at Phoenix's Sky Harbor airport, McGinn was greeted by Tippett and Chayka this past Wednesday, whisked to Gila River Arena and quickly engaged in serious discussions.
By Friday, a deal was struck and McGinn now joins a considerable restructuring effort.
From Chayka's perspective, building blocks are slowing cementing in place.
In addition to signing McGinn Friday, the Coyotes inked forward Ryan White, who picked up 11 goals, and five assists in 73 games with the Flyers, and also complied 110 penalty minutes. Among restricted free agents, Chayka signed defenseman Kevin Connauton to a two-year deal and inked defenseman Klas Dalhbeck, goalie Justin Peters, defensemen Jarred Tinordi and Jamie McBain along with forwards Chris Mueller and Garret Ross.
With all of the activity, perhaps the puzzling omission remains the status of captain Shane Doan.  On Friday, Doan became an unrestricted free agent, but remains quite adamant in his desire to remain with the Coyotes. While there has been an open line of communication between Chayka, Doan's agent Terry Bross and Doan, there is nothing firm at this point.
"There's no real sense of urgency," Chayka said of getting a deal done with Done. "There no pressure internally, but the external environment feels differently."
Regarding stability on blue line with Goligoski and power around the net in McGinn's presence, these are two elements clearly missing from the Coyotes' game from last season. Add the speed of promising players like Tobias Rieder, Max Domi, Anthony Duclair and others, and Chayka's vision of the future appears coming into focus.
Coming Up
Beginning Monday, the Coyotes will hold their annual prospect camp in Gila River Arena. In the past, this camp was held at the Ice Den in Scottsdale, the Coyotes practice rink.
This move to the NHL building is designed to accommodate more fans and give the players a glimpse into life in an NHL arena.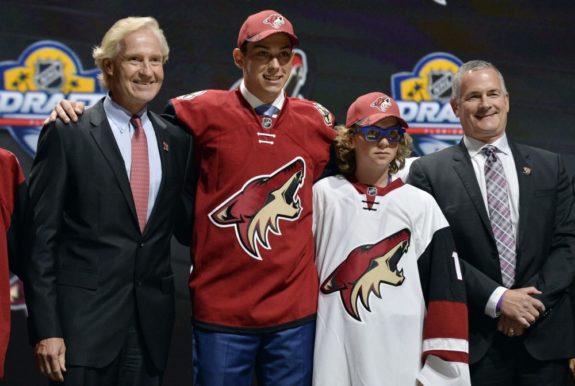 Among the top prospects expected to attend the camp include 2016 draft choices Clayton Keller, Jakob Chychrun, Cam Dineen, Patrick Kudla and Dean Stewart as well as former first round draft choices Dylan Strome (2015), Nick Merkley (2015) and Brendan Perlini (2014). In addition, prospects including forwards Christian Dvorak, Ryan MacInnis, Christian Fischer, Michael Bunting and Conor Garland as well as defensemen Kyle Wood, Dysin Mayo,Kyle Capobianco and Connor Clifton and goaltenders Marek Langhamer and Adin Hill will attend.
Mark Brown is a former sports editor for daily newspapers in the Philadelphia and Cincinnati markets. He was named Best Sports Columnist, honorable mention 2004 by the Associated Press Society of Ohio. He is a contributor to major daily newspapers, including the Chicago Sun Times, Philadelphia Inquirer, Honolulu Star-Bulletin, Milwaukee Journal, Arizona Republic, Nashville Tennessean and the Associated Press. He was a Featured Columnist for bleacherreport.com and covered the Arizona Coyotes.