It is not uncommon to see hockey players come and go. With the infamous salary cap, it is becoming rare to see players at a particular team for a long period of time, and even more rare to see a team reach dynasty status. Since the Chicago Blackhawks won the Stanley Cup in 2010, 2013, and 2015, the team has reached dynasty status, and has six players on the current roster who have been with the Blackhawks since the 2009-10 season.
Jonathan Toews
Often cited as one of the best captains in the NHL, the 28-year-old center never ceases to amaze. Among three Stanley Cups he has also has two Olympic Gold Medals for Team Canada, a Mark Messier Leadership Award, Selke Trophy, and a Conn Smythe Trophy to his name. Toews entered the Blackhawks in the 2007-08 season alongside teammate Patrick Kane and the Blackhawks renaissance began. Skilled to the point where hockey legend and Toews' childhood idol Steve Yzerman states that Toews is "just a better hockey player" than he ever was, Toews is essential to Chicago's success and is no doubt a future Hall of Fame member.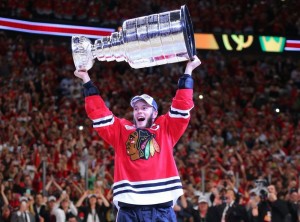 Patrick Kane
Kane entered Chicago along with Toews during the 2007-08 season at only eighteen years old and has been a legend in Chicago ever since. Along with his three Cups, Kane is also an Olympic Silver Medalist for Team USA, Calder Trophy and Conn Smythe Trophy recipient. More recently, Kane became the first American-born player to win the Hart Memorial Trophy as well as the Ted Lindsay Award and Art Ross Trophy. With a historic season with a 26-game point streak behind him, the 27-year-old forward is not only an essential to the Blackhawks, but to USA Hockey as well.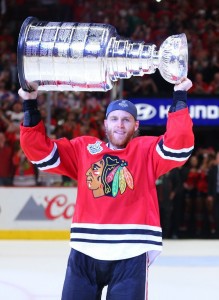 Marian Hossa
After entering the 2008 Stanley Cup Finals as a Pittsburgh Penguin where the victory went to the Detroit Red Wings, and the reverse the year after, Marian Hossa was as hungry for the Cup as ever when he entered Chicago for the 2009-10 season. Luckily for Hossa, the third time was the charm and he won the Stanley Cup with the Blackhawks on June 9 2010 at age 31. At 37, he is bound to finish his career as a Blackhawk.  Entering Chicago brought out the best in Hossa as he has become one of the top players on the team and a fan favorite.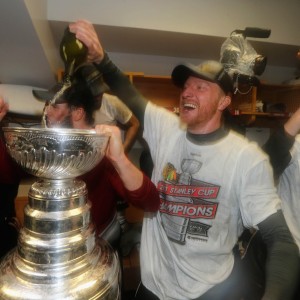 Duncan Keith
Drafted to Chicago in 2002 and making his NHL debut in the 2005-06 season, alternate captain Duncan Keith is noted to be one of the top defensemen in the league. At 32, Keith has two Olympic gold medals for Team Canada, two Norris Trophies and one Conn Smythe trophy to his name as well as his three Stanley Cups. He is also noted for his philanthropic work through his charity Keith Relief Foundation which launched in 2011. The charity's mission is "dedicated to alleviating the financial and emotional burdens of families and individuals suffering from medical crisis."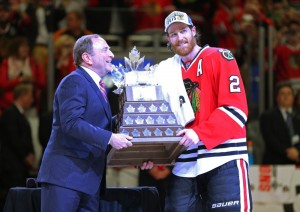 Brent Seabrook
Seabrook was drafted to Chicago in 2003 and began his NHL career in the 2005-06 season with fellow defenseman Duncan Keith. Seabrook was named alternate captain in the 2015-16 season after the departure of Patrick Sharp. At only 31, Seabrook has an Olympic Gold Medal from Team Canada along with this three Stanley Cups.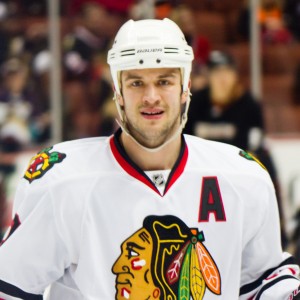 Niklas Hjalmarsson
Possibly the most underrated of the six, 29-year-old defenseman Niklas Hjalmarsson was drafted to Chicago in 2005 and made his NHL debut in the 2007-08 season along with Jonathan Toews and Patrick Kane. In addition to three Stanley Cups, Hjalmarsson received an Olympic Silver Medal in 2014 for Team Sweden.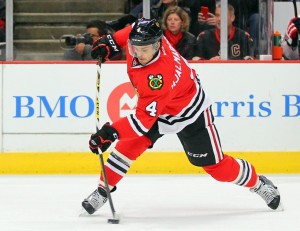 Honorable Mention: Patrick Sharp
Traded to Dallas in July 2015 due to the Salary Cap, Patrick Sharp is the only former Blackhawks player to have three Stanley Cups from his time in Chicago. He was alternate captain with the Blackhawks and won an Olympic Gold Medal for Team Canada in 2014.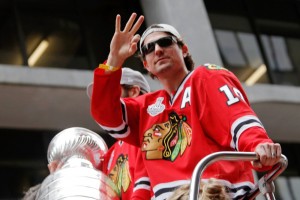 Illinois State University graduate and lifelong Chicago Blackhawks fan. I also write for The Odyssey at Illinois State and Fans Talk Sports. Other than hockey, I love to write historical fiction and nonfiction.