Well, the Edmonton Oilers wasted no time when the July 1st Free Agency period officially opened, quickly signing arguably the top UFA available in Milan Lucic to a massive seven-year, $42 Million contract.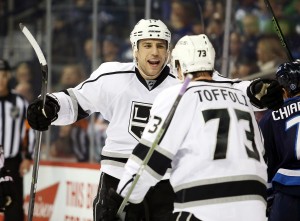 The deal itself carries an annual cap hit of $6 Million, and will see Lucic remain an Oiler through the 2022-23 NHL season, or until he is 34 years of age. Lucic's contract also features a No-Move Clause over the first four years, which then becomes a Modified No Trade Clause in the final two years of the deal, providing the power-forward with added security late in his career.
On paper, signing Lucic is a great decision. His unique combination of grit and skill will immediately change the culture in Edmonton and will provide the Oilers with size up front in addition to the likes of Zack Kassian and Patrick Maroon.
Further, Lucic has been a consistent offensive producer throughout his NHL career to date, and has three seasons of 20+ goals as well as one of 30. He his a virtual lock for 20 goals and 50+ points, not to mention what playing alongside McDavid could do, while his proven track record in the Playoffs as well as Stanley Cup Championship will make him a valuable player in Edmonton both on and off the ice.
However, of all things, it is Lucic's freshly signed contract which could be the most risky facet of his presence with the Oilers.
Over-Valued, or Over-Paid?
Given the ink has yet to dry on his new deal, it would be extremely unfair to paint Lucic as overpaid without having played a single game in an Oilers uniform. However, in the future, this is exactly what Lucic could become, as his contract may become a significant impediment in Edmonton's future plans, especially so given his NMC/NTC status.
Almost half of Lucic contract is in the form of signing bonus money; full NMC all 7 years and limited NTC (list of teams) last 2 years

— Pierre LeBrun (@Real_ESPNLeBrun) July 1, 2016
In looking at the Oilers' financial situation, all of Jordan Eberle, Ryan Nugent-Hopkins and the recently departed Taylor Hall were signed to deals with the exact same annual cap hit: $6 Million. However, their ages at the time of signing were 22, 20 and 20, respectively. Therefore, at the time of signing their extensions, said players had their entire careers ahead of themselves and a world of potential.
While Lucic is certainly a competent player, he is reaching, if not in the climax of his career, meaning his play will in all likelihood begin to fall off in the near future. Come the age of 32, four years into his new contract and when his NMC becomes a NTC, will Lucic still be worth his $6 Million annual price tag?
Might Milan Lucic be in decline in years 6 and 7 of contract? Sure. I'll watch the first 5 years and worry about that MAYBE later.

— Robin Brownlee (@Robin_Brownlee) July 1, 2016
The fact that Lucic's play could regress at a consistent pace is one factor which makes his signing a risky one. Sure, his play could excel, but odds are given his style of play and age, his play, like the vast majority of NHL players, will slowly begin to fall off over time. When or if this happens, will his $6 Million annual salary be seen as an advantage or disadvantage?
Cap Crunch
At the moment, or as the 2016-17 season approaches, the Oilers currently hold over $7 Million in cap space, a decent amount of flexibility moving forward.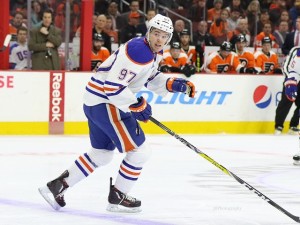 However, where the Oilers will certainly run into complications, especially so now due to Lucic's contract, is when it comes to signing the team's rising young stars. Connor McDavid, Leon Draisaitl and Darnell Nurse will all need new contracts in the next two years, while the former two will undoubtedly be looking for long-term contracts.
McDavid, who is the definitive face of the Oilers franchise, will surely be deserving of a contract of similar financial term to those signed by Eberle, Hall and Nugent-Hopkins before him, if not considerably more. To say McDavid won't be earning close to $10 Million within six years, if not more would be an uneducated perception at best. Further, Draisaitl, whose entry-level contract expires following the 2016-17 season, will also undoubtedly be seeking a similar long-term deal, likely in the $5-7 Million range.
In McDavid and Draisaitl alone – the team's projected future first and second line centre-ice men – the Oilers will have roughly $12+ Million locked down to long-term contracts in the near future. Keep in mind this is not considering the contract of Nurse, who, although looking at a much shorter term contract, will be in line for a significant raise.
If Lucic's contract interferes with Edmonton's ability to re-sign its young stars, which it certainly could, the decision to sign the power-forward to such a lucrative, long-term deal could be a risk the Oilers come to regret, especially so in the later years of Lucic's deal.
The Big Picture
At the end of the day, the signing of Lucic is nothing but a positive for the Oilers at present day. His presence will bring an immediate sense of accountability to an Edmonton team which at times in recent years has seemingly lacked will and emotion.
"They weren't a tough team to play against. You didn't leave the rink with many ice packs. We need to change that." Lucic on playing vs. Edm

— Jason Gregor (@JasonGregor) July 1, 2016
The best years of Lucic's tenure will surely come in the first three to four years of his deal. As his play begins to fall off, his $6 Million salary will have an increasingly greater impact on the Oilers' ability to ice a consistently skilled and deep roster.
While signing the hulking power-forward to such a lucrative deal was a great move, the risks associated with Lucic's contract could be a significant threat to the long-term well-being of Edmonton's roster.
Brett Slawson is a four-year veteran of The Hockey Writers who covers the Toronto Maple Leafs, NHL prospects, and the OHL's Mississauga Steelheads.
Contact Brett on Twitter @brettslawson92, or by email at brett_slawson@hotmail.com.