At high noon (Eastern time) on July 1, the NHL's free agent flood gates opened wide. Within minutes, the biggest UFA names signed multi-year, eight-figure deals. Twitter, as well as salary cap-centric websites Cap Friendly and General Fanager, struggled to keep up. All told, the 30 teams signed 129 players to contracts worth over $646 million, with the majority of those deals getting done within the first hour.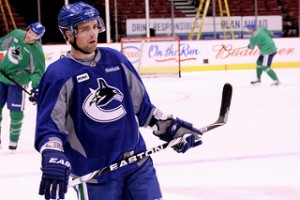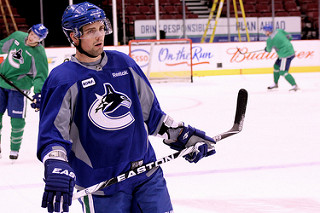 Just over an hour into the aptly-named "free agent frenzy," the Dallas Stars made their first move, signing veteran defenseman Dan Hamhuis to a two-year contract worth $3.75 million per. Minutes later, they re-signed winger Patrick Eaves to a one-year, $1 million deal. General Manager Jim Nill capped off the day by inking two minor-league defensemen, Andrew Bodnarchuk and Dustin Stevenson, to short-term deals.
Friday was the perfect day for Stars fans to wonder if this is what it feels like to be merely "whelmed." Dallas signed a veteran NHL defenseman, two AHL defenders and a utility forward. What does it mean? Here are my three takeaways from July 1:
Welcome, Dan Hamhuis! So long, _____
Signing the 33-year-old Hamhuis gives the Stars a veteran defenseman to replace departed vets Alex Goligoski, Jason Demers and Kris Russell. With youngster Esa Lindell ready to make the jump to the NHL, the addition of Hamhuis also gives the Stars eight defensemen. They carried eight last year, and it was problematic.
I agree. It was a bad situation last year. We'll see what happens next season. Plenty of time for change. https://t.co/HcDgrVBCRc

— Mike Heika (@MikeHeika) July 2, 2016
The biggest problem is the lack of ice time for the two d-men at the bottom of the depth chart. Nill is famous for saying he wants prospects to be "overripe," but there's a fine line between "overripe" and "rotten." Last season, Patrik Nemeth and Jamie Oleksiak played just 57 games, combined. To grow and develop, young players must play.
Assuming Jordie Benn is Dallas' designated seventh defenseman, Nemeth and Oleksiak will battle each other for one open spot in the top six. Nill simply cannot allow the loser of that battle to spend another season in the press box, as that player loses value to the team and as a trade asset. The addition of Hamhuis means either Nemeth or Oleksiak must go.
The Ben Bishop Buzz
Stars are very interested. Not sure Tampa wants or needs to move him. https://t.co/AQx0Qaa5c2

— Mike Heika (@MikeHeika) July 1, 2016
Though Kari Lehtonen and Antti Niemi combined to win 50 games in the regular season, they were inconsistent in the playoffs and a factor in the Stars' second-round exit. Dallas would like an upgrade in net.
The emergence of Andrei Vasilevskiy has made the Tampa Bay Lightning's Vezina Trophy finalist, Ben Bishop, an expensive ($5.95 million) luxury. Tampa still has to sign four restricted free agents, including 30-goal man Nikita Kucherov, but they currently have just under $13 million in cap space. Moving Bishop, who has one year left on his contract, would give the Lightning some breathing room.
The Stars say they're fine with Lehtonen, Niemi and eight defensemen. The Lightning say they're fine with Bishop and Vasilevskiy, and they've got the cap room they need to sign all their RFAs. Both sides are bluffing.
Bittersweet Departures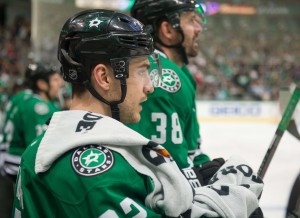 Two former Stars forwards found new homes on July 1: Colton Sceviour will get additional (and well-deserved) ice time on the Florida Panthers' third line; he signed a two-year, $1.9 million contract with the Cats Friday at noon. Also, fan favorite and alternate captain Vernon Fiddler will keep living his NHL dream for another year, albeit in New Jersey.
While Fiddler and Sceviour will be sorely missed by their fans in Dallas, their departures create opportunities for younger players. When the puck drops in October, the Stars' forward lines may very well look like this (all lines subject to "Ruffling," of course):
Jamie Benn-Cody Eakin-Tyler Seguin
Patrick Sharp-Jason Spezza-Valeri Nichushkin
Antoine Roussel-Radek Faksa-Ales Hemsky
Curtis McKenzie-Mattias Janmark-Brett Ritchie
Patrick Eaves
Next spring, Pierre McGuire will say to a national television audience, "The Stars' McKenzie-Janmark-Ritchie trio is the best fourth line in the NHL," and he'll be right. That line has "playoff difference maker" written all over it. And that thought, Stars fans, should send a refreshing chill down your spine in the middle of a long, hot Texas summer.