A few weeks ago the NHL announced the addition of a Las Vegas franchise and the NHL Expansion Draft for the new Las Vegas team. The expansion draft will not take place until June of 2017, but it is never too early to look at how the draft could impact your team.
The rules for the 2017 Expansion Draft were made to help make sure the Las Vegas team will have a chance to be competitive in the league rather quickly, unlike in past expansion drafts.
According to NHL.com, teams have two options when it comes to the amount of players they can protect from being drafted by Las Vegas. The first option is protecting seven forwards, three defenseman, and one goalie.  The second option is protecting eight total skaters and one goalie.
One look at the Nashville Predators roster and it becomes apparent that General Manager David Poile is going to have some difficult choices to make next June.
Who To Protect
In my opinion, there are three skaters that the Nashville Predators protect not matter what the circumstances. Those three players are P.K. Subban, Filip Forsberg, and Ryan Johansen. The Predators traded away Shea Weber and Seth Jones in order to acquire Subban and Johnansen, so it is safe to say they are here to stay for a while. Filip Forsberg is an incredible young talent that just signed a big contract with Nashville, so he is certainly not going to be left unprotected.
Now the question becomes, does David Poile choose to protect more defenseman or more forwards?
There is a solid argument to be made for keeping this young defensive core together. The current core the Predators have are all under the age of 28, give Nashville a fast group that can push the pace, move the puck, and protect their own defensive zone.
If Poile chooses to go the route of keeping the defense together, then P.K. Subban, Roman Josi, Mattias Ekholm, Ryan Ellis, and Anthony Bitetto could all be protected. It is worth noting that all five of these skaters can only be protected if another veteran free agent defenseman is signed to the roster for two years.
This leaves room to protect only three forwards. As stated earlier, Filip Forsberg and Ryan Johansen are locks to be protected. So now we are talking about protecting one more forward. The top contenders for this spot should be Colin Wilson, Mike Ribeiro, James Neal and Craig Smith. It seems that James Neal is the one player to pop off that list.
Neal is a 30 goal scorer with a hard shot and has a knack for scoring in big moments. One down side of protecting James Neal is that once the expansion draft takes place, he is only under contract for one more season. It is possible he could be lost the following year, so Poile could select a younger forward with more term like Craig Smith instead.
What Could Change Everything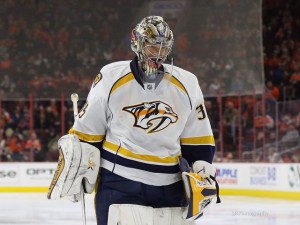 One thing David Poile and the Predators could do is leave Pekka Rinne unprotected. So, Marek Mazanec would be their protected goalie. This would allow David Poile to protect basically every single skater because the Las Vegas general manager can only take one Predator and would probably drool over seeing Pekka Rinne available. If Mazanec happens to play well this season, it would not be too surprising to see this scenario play out.
The expansion draft will be something general managers will be considering and thinking about all season long.