If both players manage to stay relatively healthy throughout their NHL careers, there is no question that the Edmonton Oilers will end up on the wrong end of the Taylor Hall for Adam Larsson swap. Trading away a 24-year-old proven driver and point producer for a guy who "could" one day turn into a legit top pairing defenceman,  is a deal that has potential disaster written all over it. While the return was certainly underwhelming, the addition of the former New Jersey Devils blueliner will instantly upgrade Edmonton's paper thin backend.
Adam Larsson is good.
Oilers trading for him is a really good thing.

It's not on him that the Oilers overpaid to get him.

Remember this

— NateInVegas (@NateInVegas) June 30, 2016
[Related Article: Oilers Miss the Boat in Hall, Larsson Trade] 
From an organizational standpoint, one can certainly understand why Peter Chiarelli had his sights set on acquiring the Swedish rearguard. While it took him time to grow into his NHL skin, with 274 games under his belt and still just 23-years of age, Larsson is about to enter the prime years of his career. Add to that what is essentially a $4.2 million cap-hit for the next five years and it makes sense why the Oilers general manager pegged him as one of his primary targets.  Again, it was the cost that was the issue but what's done is done.
Expectations Could Be Unrealistic
After playing top pairing minutes in New Jersey with Andy Greene in 2015-16, Larsson will be asked to play a similar role in Edmonton but will probably not have the luxury of skating alongside as good a player in 2016-17. With that said, he will have some familiarity with the guy he is most likely to start his time in Orange and Blue with, in fellow countryman Oscar Klefbom. As things currently stand, it would seem as though Todd McLellan will be turning to the Swedish blueliners as his go-to pairing during his second year behind the bench.
[Related Article: Confidence Is Everything for Adam Larsson]
While having the likes of Andrej Sekera and possibly Mark Fayne rounding out the top four could be rather helpful, counting on a couple of 23-year-old defencemen to carry the load could prove problematic. However, if Brandon Davidson can deliver more of what we saw during his first full season as a regular and Darnell Nurse show some real growth from what was a rather uneven rookie campaign, perhaps the Oilers will have three viable pairings on the backend for the first time in ages but that is a pretty big if.
New Because Oilers:

In which I find out Larsson is very, very good defensively, or is it Greene?https://t.co/IWmNPHm59G

— Woodguy (@Woodguy55) July 3, 2016
Darcy McLeod did a superb job of detailing what type of player Larsson was during his time in New Jersey on his blog back in early July and not surprisingly, his time with Greene make his analytic numbers look good. Unfortunately, until we get an extended viewing in his new stomping grounds, all any of us can do is guess as to what he might be. Again, there is no Greene in Edmonton and while Klefbom has started to show signs of possibly being the real deal, it may be an unrealistic ask in the here and now. With that said, they could prove to be better than expected.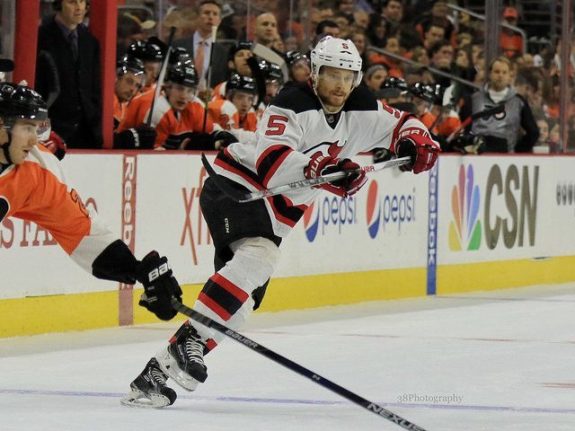 Lack of Offence Could Prove Problematic
While the general manager appears to believe Larsson could potentially be a point producer in the right situation, the actual numbers, be it with the Devils or during his time with Skelleftea AIK of the Swedish Elite League, tell a different story. Granted, if he sees enough minutes with Connor McDavid there is a chance the fourth overall pick in the 2011 NHL Entry Draft could pick up the odd point here and there, but we are talking about a guy with one 20-point campaign under his belt…at any professional level.
[Related Article: Oilers Still Need Ryan Nugent-Hopkins]
On the flipside, Klefbom has 32-points in his last 90 games and was trending in the right direction prior to having his 2015-16 season cut short due to injury. It is no coincidence Edmonton's season essentially came off the rails the moment he went down and that was on a backend that did not include a guy like Larsson playing top four minutes. There is no question the Oilers defence will be much better in 2016-17 but will it be good enough to compete for a playoff spot in the Western Conference? Hard to say but you can bet they will go as far as their Swedish duo carries them and for Peter Chiarelli's sake…that better include this team playing meaningful games in early April.
Rob Soria is the Author of Connor McDavid: Hockey's Next Great One. He has chronicled the Orange and Blue since creating his Oil Drop blog in 2011 and has also had his writings featured over at HometownHockey.ca and Vavel USA, where he has covered the NHL, MLB and ATP Tour. Rob was born, raised and still resides in Edmonton, Alberta and can be reached via twitter @Oil_Drop.